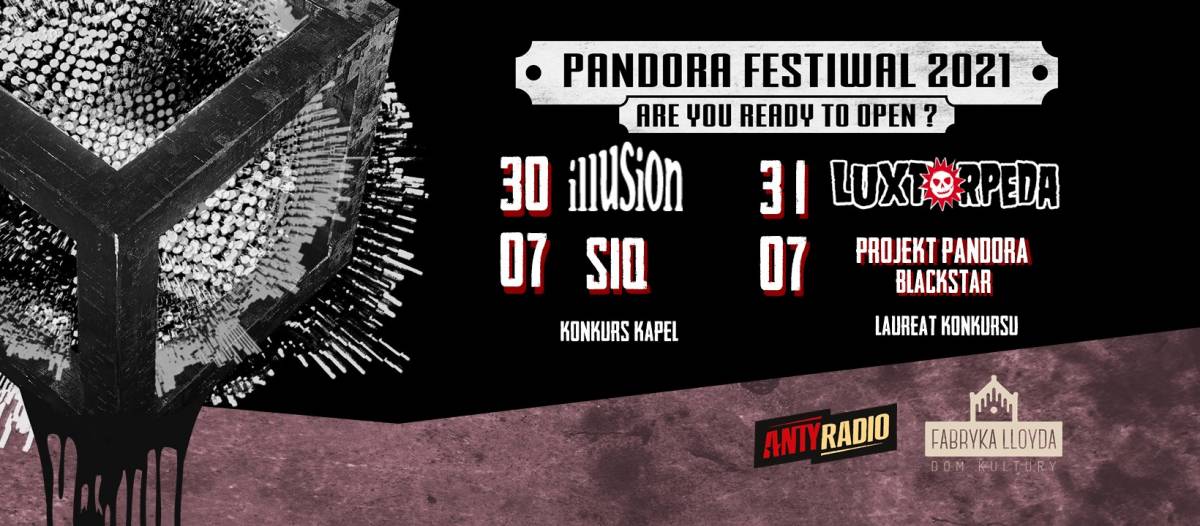 Informacje od Organizatora:
Bilety:
https://goingapp.pl/wydarzenie/pandora-festiwal/lipiec-2021
Pole namiotowe: https://www.zimnewody.com/
Pandora Festiwal 2021 to plenerowy festiwal rockowo-metalowy planowany w dniach 30 i 31 lipca 2021 w letniej strefie Fabryki Lloyda w Bydgoszczy.
Inicjatywa prowadzona przez bydgoski zespół Projekt Pandora i klub Fabryka Lloyda na nowo wyznacza koncertowy poziom w regionie. Dwa dni intensywnych wrażeń muzycznych i esencja letniego plenerowego festiwalu.
Wydarzenie skupia legendy polskiej sceny rockowej oraz energię i entuzjazm młodych muzyków. Mobilizując grono niezależnych twórców zaangażowanych w szeroko pojętą "scenę", dodatkowo koncentruje wokół siebie artystów leżących u jej fundamentów. Koncerty takich gwiazdy jak Luxtorpeda, Illusion, The Sixpounder czy SIQ gwarantują niezapomniane emocje i obecność artystów wielokrotnie nagradzanych i docenianych przez całe rzesze fanów mocnego grania.
Nasza impreza odbywać się będzie głównie w strefie plenerowej klubu, gdzie wystawiona zostanie scena z zadaszeniem. Duży obszar zapewni możliwość zaproszenia nawet do 1000 osób, w spodziewanym reżimie sanitarnym i z możliwością zachowania odpowiedniego dystansu.
Program festiwalu przewiduje m.in.:
- PRZEGLĄD KAPEL pod patronatem sieci salonów muzycznych Riff - zagrają: Pale Path, Transgresja, Rottin' Green, Methopia, Mr. Tea - zespoły oceni wybitne jury na czele z Anią Brachaczek i Maciejem "Ślimakiem" Starostą znaną z takich formacji jak Biff, Pogodno, SIQ czy współpracy z Acid Drinkers.
- WARSZTATY INSTRUMENTALNE pod patronatem sieci salonów muzycznych Riff – prowadzone przez Macieja "Ślimaka" Starostę (Acid Drinkers, Flapjack)
- SPOTKANIA Z TWÓRCAMI - Tomasz "Lipa" Lipnicki opowie o swoim pierwszym solowym albumie "Dźwięki słowa" oraz niedawno wydanym wywiadzie-rzece pt. "Jeżozwierz" - spotkanie poprowadzi Piotr Lenkiewicz
- KONCERTY NA ŻYWO - Illusion, Siq, Luxtorpeda, The Sixpounder, Projekt Pandora, BlackStar oraz koncert finałowy i przesłuchania w ramach przeglądu kapel
WSTĘPNY HARMONOGRAM:
Piątek 30.07.
15:30 - Otwarcie bramek
16:00 - Przegląd kapel
17:00 - 19:00 Spotkanie z twórcami - Tomasz Lipnicki o książce "Jeżozwierz"
19:00 - 19:50 "The Sixpounder"
20.00 - 21.00 "SIQ"
21:00 - 21:15 Ogłoszenie wyników konkursu
21.30 - "Illusion"
Sobota 31.07.
12:00 - 17:00 Warsztaty instrumentalne
17:00 - Otwarcie bramek
18:00 - 18:45 Koncert Laureata Konkursu
19:00 - 19:45 "BlackStar"
20:00 - 21:15 "Projekt Pandora"
21:30 - "Luxtorpeda"
____________________
Kalendarz wydarzeń odbywających się w Bydgoszczy miej zawsze pod ręką dzięki aplikacji mobilnej (Android i iOS).
______________________
Informacje o wydarzeniach przesyłajcie na adres wydarzenia@visitbydgoszcz.pl
______________________
Bydgoskie Centrum Informacji nie ponosi odpowiedzialności za jakiekolwiek zmiany miejsc, godzin i dat wydarzeń.