Metropolia za pół ceny 2023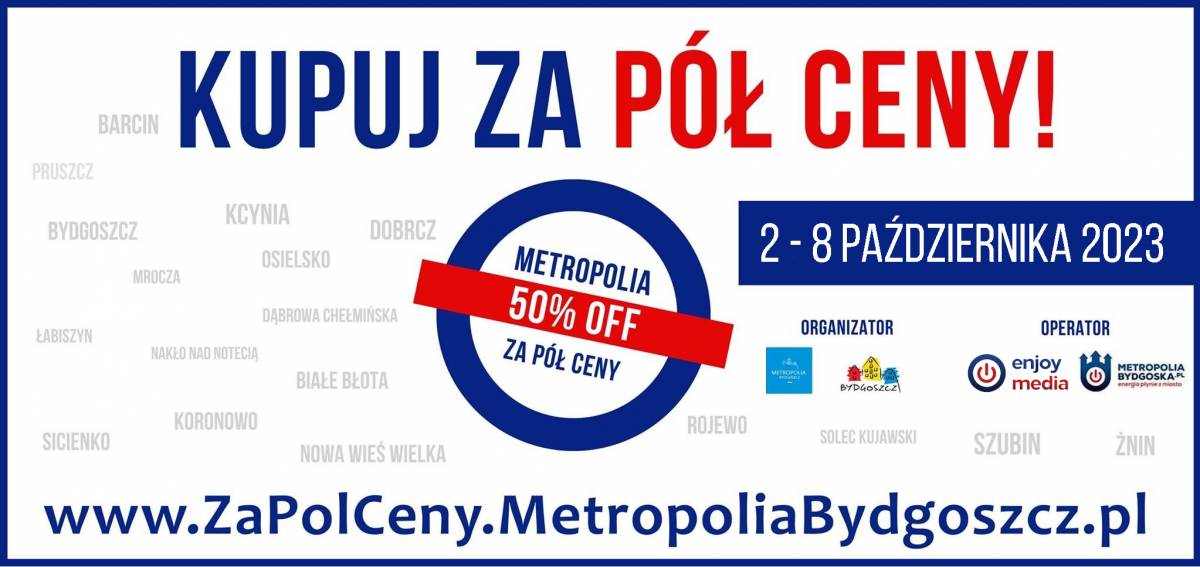 Informacje od Organizatora:
Tydzień pełen zniżek w ramach Metropolii za pół ceny 2023 powraca. Zgłoś się już dziś!
Corocznie organizowana akcja Metropolia za pół ceny odbędzie się na początku października. Udział w niej to szansa na zaprezentowanie swojej działalności szerokiemu gronu odbiorców z Bydgoszczy i regionu, a także zrobienia zakupów w promocyjnych cenach. Trwa nabór chętnych do udziału w akcji.
W tym roku Metropolia za pół ceny 2023 rozpocznie się 2 października i trwać będzie tydzień, do 8 października włącznie. Wydarzenie jest kontynuacją znanej i lubianej akcji Bydgoszcz za pół ceny, która zasięgiem obejmuje także gminy wchodzące w skład Stowarzyszenia Metropolia Bydgoszcz, czyli Białe Błota, Barcin, Bydgoszcz, Dąbrowę Chełmińską, Dobrcz, Kcynię, Koronowo, Łabiszyn, Mroczę, Nakło, Nową Wieś Wielką, Osielsko, Pruszcz, Rojewo, Sicienko, Solec Kujawski, Szubin oraz Żnin.
W akcji co roku uczestniczą firmy z przeróżnych branż. Są to między innymi restauracje, siłownie, baseny, sklepy odzieżowe czy instytucje kultury. Informacje o nich i oferowanych zniżkach są na bieżąco publikowane na stronie akcji www.zapolceny.metropoliabydgoszcz.pl
Aby wziąć udział w akcji należy zgłosić się poprzez wypełnienie prostego formularza zgłoszeniowego i przesłanie jego skanu lub zdjęcia na adres mailowy: zapolceny@metropoliabydgoska.pl Udział jest całkowicie bezpłatny! Dołączyć do niej mogą nie tylko sklepy stacjonarne, ale również firmy oferujące zakupy online czy realizacje innych usług.
Ze zniżek będzie można korzystać przez tydzień, lecz nie wszędzie. Każda zgłaszająca się firma i instytucja samodzielnie określa, w które dni trwania akcji weźmie w niej udział i zaproponuje swoje wybrane produkty lub usługi za połowę ceny. Nie trzeba wprowadzać obniżek przez cały tydzień! Jednak muszą to być minimum 3 dni w przedziale od 2.10.2023 r. do 8.10.2023 r., np. poniedziałek-środa, piątek-niedziela, itd.
Organizatorem akcji jest Miasto Bydgoszcz oraz Stowarzyszenie Metropolia Bydgoszcz, zaś koordynowaniem zajmuje się agencja Grupa Enjoy Media.
______________________
Kalendarz wydarzeń odbywających się w Bydgoszczy miej zawsze pod ręką dzięki aplikacji mobilnej (Android i iOS).
______________________
Informacje o wydarzeniach przesyłajcie na adres wydarzenia@visitbydgoszcz.pl
______________________
Bydgoskie Centrum Informacji nie ponosi odpowiedzialności za jakiekolwiek zmiany miejsc, godzin i dat wydarzeń.