"PROCH" Film dokumentalny o życiu i twórczości Roberta Procha (30′) - premiera
Gdzie?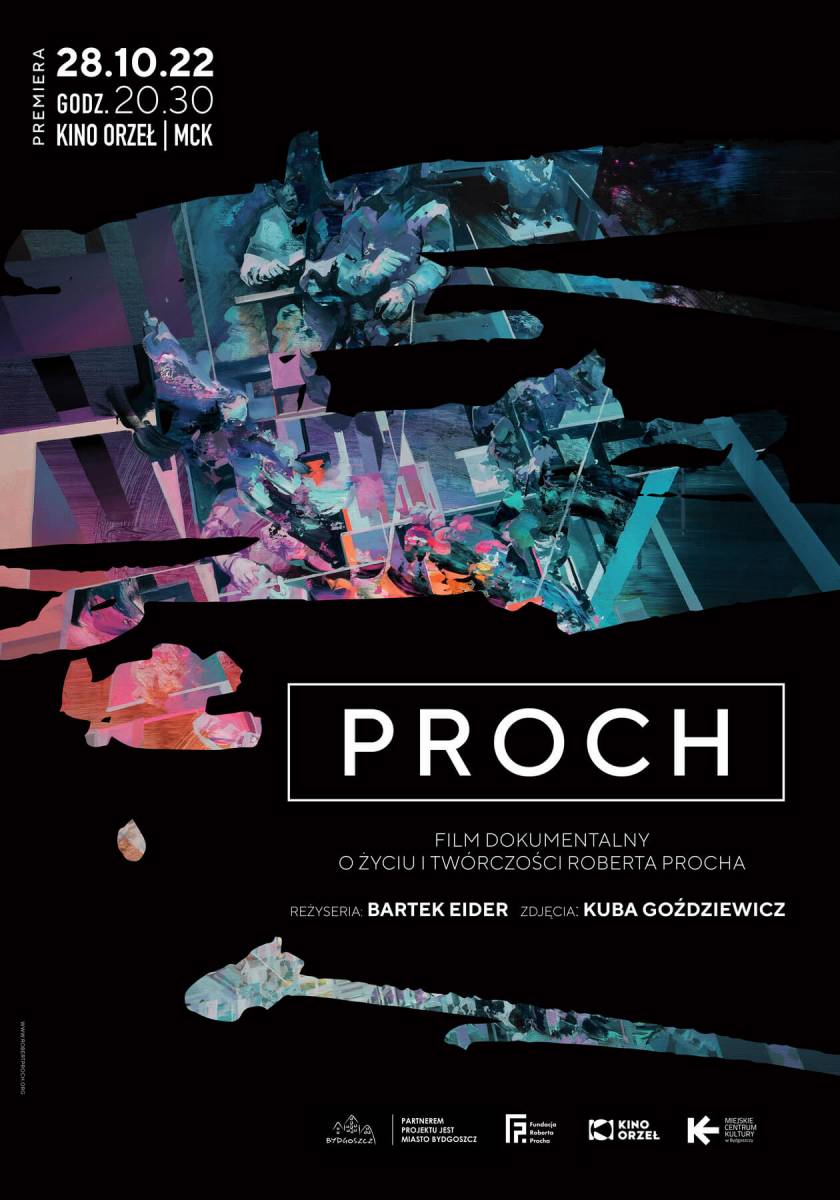 Informacje od Organizatora:
"PROCH" Film dokumentalny o życiu i twórczości Roberta Procha – premiera
reż. Bartłomiej Eider,
zdj. Kuba Goździewicz,
Polska, 2022, 30'
Seans będzie poprzedzony projekcją filmów animowanych w reżyserii artysty (15'), a w holu kina i w Music Cafe Szpulka zaprezentowane będą najważniejsze prace wielkoformatowego malarstwa twórcy.
wstęp wolny, darmowe wejściówki do odbioru w kasie MCK
"PROCH" (Polska, 2022, 30') to film dokumentalny o Robercie Prochu (1986-2019) – twórcy uznawanego za jednego z najwybitniejszych przedstawicieli urban artu na świecie.
Malarz, grafik, street-artowiec, animator – sztuka Roberta Procha nigdy nie dawała się zamknąć w sztywnych ramach. Wymykała – i wciąż się wymyka – tradycyjnym formułkom, szufladkom i prostym kategoriom. To sztuka, która porusza, prowokuje, niepokoi i zachwyca równocześnie. Obok której nie sposób przejść obojętnie.
"PROCH' to opowieść o artyście, który zawsze był w ruchu. Który w swojej twórczości nie zatrzymywał się ani na chwilę. Którego sztuka podlegała nieustającej przemianie i który w poszukiwaniu tej zmiany i nowych form artystycznego wyrazu zatracał się bez reszty. Artyście, który kochał ryzyko i na swojej drodze nigdy nie szedł na kompromisy.
Ale przede wszystkim – "PROCH" to opowieść o człowieku. O mężu, o ojcu, o przyjacielu. O człowieku, którego poznajemy w słowach ludzi, którzy Roberta otaczali. Ludzi których kochał i którzy kochali jego. To opowieść o niezwykłym życiu, które skończyło się zbyt wcześnie…
Robert Proch (09.07.1986-17.07.2019 ) był autorem murali, obrazów i wielokrotnie nagradzanych animacji. Artystyczny ślad tego urodzonego w Bydgoszczy twórcy na trwałe wzbogacił przestrzeń nie tylko jego rodzinnego miasta, ale i wielu miast w Polsce i na świecie. Był pierwszym polskim artystą, który miał indywidualną wystawę w kultowej londyńskiej galerii Steve'a Lazaridesa – współpracownika, kuratora i promotora Banksy'ego. Absolwent Liceum Plastycznego im. Leona Wyczółkowskiego w Bydgoszczy z 2005, w 2010 Ukończył studia na Wydziale Komunikacji Multimedialnej Akademii Sztuk Pięknych w Poznaniu (specjalność animacja), gdzie później pracował również jako asystent.
Twórczość Roberta Procha była prezentowana na kilkudziesięciu wystawach grupowych oraz indywidualnych w Europie i USA.
Robert Proch jest szczególnie ceniony za styl, umiejętność zatrzymania ruchu na płótnie oraz sprawne poruszanie się w świecie złożonych metafor. Jego przywiązanie do detalu, dobór kolorów czy bogactwo kontekstów sprawiają, że każde z dzieł jest wielopłaszczyznową opowieścią.
Autorzy filmu to Kuba Goździewicz (zdjęcia) oraz Bartłomiej Eider (reżyser).
Kuba Goździewicz – filmowiec z Gdyni, który od 2007 roku pracuje w branży filmowej. Pierwsze lata życia spędził bez okularów, mimo znacznego wady wzroku. Kiedy miał sześć lat, zaczął nosić okulary i od tego czasu jest za soczewką. Specjalizuje się w produkcji reklam i filmów dokumentalnych. Zajmuje się zarówno nagrywaniem, jak i montażem. Jego filmy prezentowane były na pokazach w wielu krajach świata.
Bartłomiej Eider (rocznik 1980) – dziennikarz, scenarzysta, producent. Od ponad 20 lat związany z mediami (m.in. Aktivist, Radiostacja, Newsweek, Polsat, RMF, TVN24) i sztuką wizualną. Pasjonat kina, muzyki filmowej, polityki (niekoniecznie polskiej) i historii. Ojciec 7-miesięcznej Idy.
Projekt współfinansowany przez Miasto Bydgoszcz.
______________________
Kalendarz wydarzeń odbywających się w Bydgoszczy miej zawsze pod ręką dzięki aplikacji mobilnej (Android i iOS).
______________________
Informacje o wydarzeniach przesyłajcie na adres wydarzenia@visitbydgoszcz.pl
______________________
Bydgoskie Centrum Informacji nie ponosi odpowiedzialności za jakiekolwiek zmiany miejsc, godzin i dat wydarzeń.