KOCIE PARTY (to nie żarty)
Gdzie?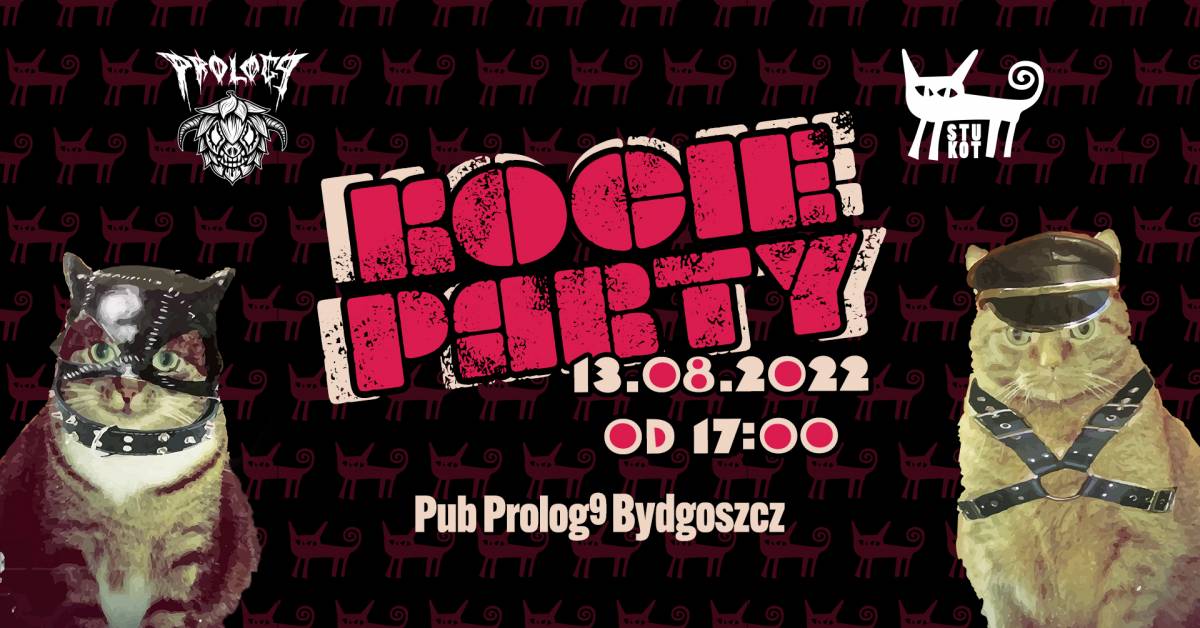 Informacje od Organizatora:
Kocie Party? To nie żarty!
Stowarzyszenie Stukot oraz Prolog mają zaszczyt zaprosić na pierwszą edycję imprezy
KOCIE PARTY.
Weź udział w konkursie i wygraj jeden z trzech, wyjątkowych zestawów.
Zasady są proste: kupujesz saszety – wygrywasz pakiety.
Co zrobić, by wygrać?
1. Wpłacając na konto Stukota darowiznę o minimalnej kwocie 35zł , pomagasz kupić wartościową karmę oraz pokryć rachunki leczenia naszych kotów.
W zamian masz szansę wygrać jeden z trzech pakietów ufundowanych przez topowych bydgoskich tatuatorów, restauratorów, fotografów oraz wiele innych firm, które dołączyły do grona darczyńców.
Numer konta do wpłaty: 88 1600 1462 1827 4686 0000 0001
Tytuł przelewu: Darowizna + Imię i nazwisko, które posiadasz w nazwie konta na Facebooku
(np. Darowizna Adam Kowalski)
2. W komentarzu pod postem konkursowym wykonujesz zadanie polegające na ułożeniu wierszyka o kocie, którego imię widnieje w nazwie pakietu, o który grasz.
Nie posiadasz konta Facebook? Wyślij zadanie konkursowe na adres kontakt@stukot.org.pl
3. 13/08 przychodzisz na Kocie Party do Prologu i bierzesz udział w premierze piwa Do StuKotów! uwarzonego na tę okazję przez Browar Monsters.
O godzinie 20:00 wręczymy nagrody osobom, których koci freestyle poruszy nas najbardziej.
Co to za pakiety w zamian za saszety?
Pakiet KOT BEHEMOT sponsorują:
Artzone tatuaż i piercing
Wake Park
Physio Clinic Dominik Buzalski
Kawiarnia Fanaberia
Palarnia Kawy Baumgart
Pakiet KLAKIER sponsorują:
Studio tatuażu Demolka
Restauracja Naturalna
Księgarnia ToNieBajka
Palarnia Kawy Baumgart
Pakiet CATWOMAN sponsorują:
Nimithril – fotografia plenerowa
BodyBalance
Holistic Place
SimpleHair – zabieg nawilżający włosy JOICO
Palarnia Kawy Baumgart
NIE PRZEGAP!
Co kilka dni będziemy publikować posty opisujące działalność poszczególnych darczyńców oraz szczegóły dotyczące nagród.
https://stukot.org.pl/kocie-party/
____________________
Kalendarz wydarzeń odbywających się w Bydgoszczy miej zawsze pod ręką dzięki aplikacji mobilnej (Android i iOS).
______________________
Informacje o wydarzeniach przesyłajcie na adres wydarzenia@visitbydgoszcz.pl
______________________
Bydgoskie Centrum Informacji nie ponosi odpowiedzialności za jakiekolwiek zmiany miejsc, godzin i dat wydarzeń.