Tylko zwierzęta nie błądzą
Gdzie?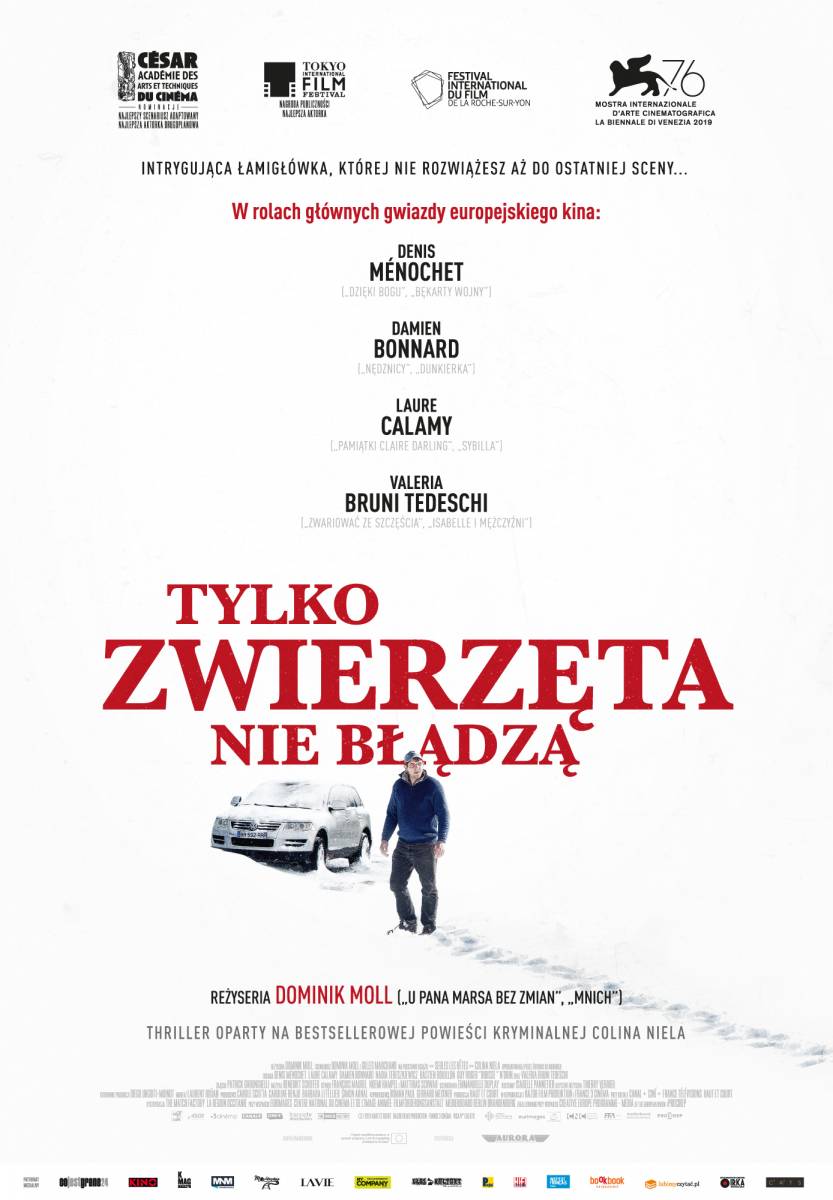 Rewelacja MFF w Wenecji, nominowany do Cezarów nowy film cenionego reżysera Dominika Molla to trzymająca w napięciu i pełna zwrotów akcji kryminalno-miłosna układanka. W rolach głównych wystąpiły gwiazdy europejskiego kina Denis Menochet ("Dzięki Bogu", "Bękarty wojny"), Damien Bonnard ('Nędznicy", "Dunkierka") oraz Valeria Bruni Tedeschi ("Zwariować ze szczęścia", "Isabelle i mężczyźni"). Film oparty jest na bestsellerowej powieści kryminalnej Colina Niela. Zagadkowe zniknięcie kobiety podczas burzy śnieżnej sprawi, że pięć osób zostanie uwikłanych w tajemnicę, która wykracza daleko poza senne górskie miasteczko gdzieś we Francji. Każda z postaci ma coś na sumieniu i najwyraźniej nie chce dzielić się wszystkimi swoimi sekretami. Większość z nich to idealiści, którzy marzą o ucieczce od szarej rzeczywistości, odnalezieniu miłości czy spełnienia. Łączy ich poczucie frustracji oraz nietypowa sytuacja, w jakiej się znaleźli. Poświęcone poszczególnym postaciom rozdziały filmu pokazują tę samą historię z perspektywy innego bohatera. Każda z części obrazuje inny punkt widzenia na temat zaginięcia Evelyn. Stopniowo odkrywane są również zależności między bohaterami, z czasem kolejne elementy tej oryginalnej układanki zaczynają do siebie pasować. Reżyser umiejętnie gubi tropy i steruje uwagą widza, zapewniając mu zarówno pełną napięcia intrygę, jak i ekranową rozrywkę. Gatunek: Thriller; Reżyseria: Dominik Moll; Obsada: Denis Menochet, Laure Calamy, Damien Bonnard, Valeria Bruni Tedeschi; Produkcja: Francja, Niemcy; Premiera: 12 lutego 2021
______________________
Kalendarz wydarzeń odbywających się w Bydgoszczy miej zawsze pod ręką dzięki aplikacji mobilnej (Android i iOS).
______________________
Informacje o wydarzeniach przesyłajcie na adres wydarzenia@visitbydgoszcz.pl
______________________
Bydgoskie Centrum Informacji nie ponosi odpowiedzialności za jakiekolwiek zmiany miejsc, godzin i dat wydarzeń.