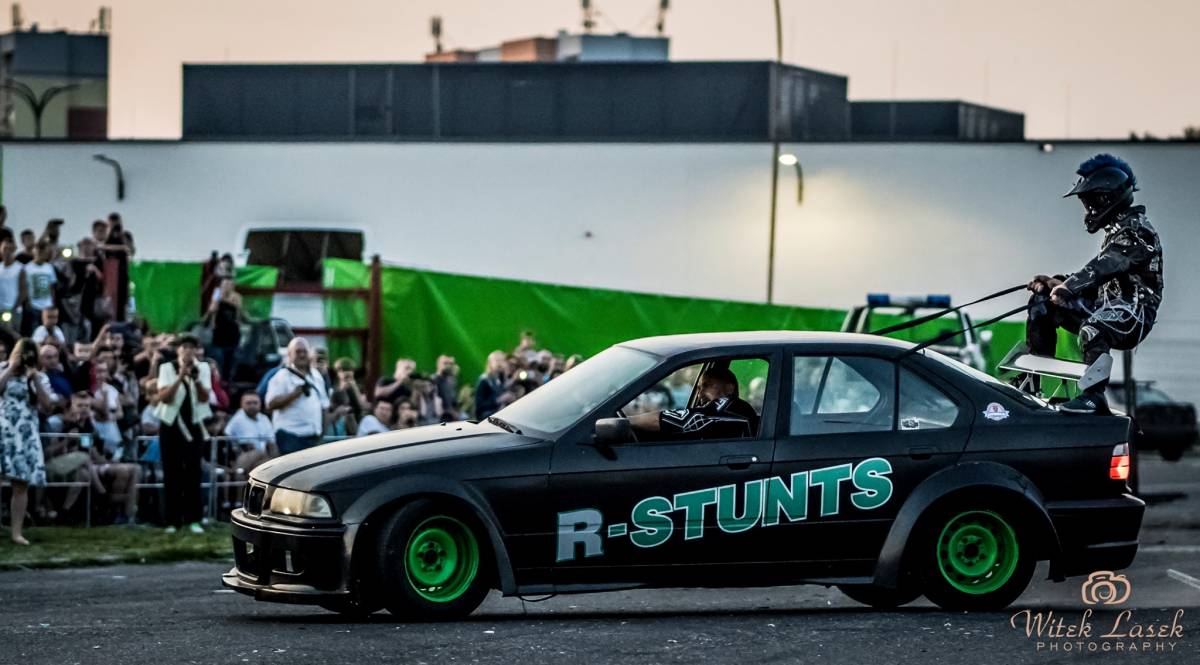 Informacje od Organizatora:
Ryk sportowych silników, większe i mniejsze kraksy oraz wiwaty podnieconego tłumu z pewnością zrobią na Tobie wrażenie. Widzimy się w Bydgoszczy na parkingu przed marketem E'Leclerc przy ul. Skłodowskiej-Curie już w niedziele 29 sierpnia o godzinie 17:00.
Emocje gwarantowane!!!
Zapraszamy Cię na imprezę na świeżym powietrzu przepełnioną muzyczną energią, efektownymi efektami świetlnymi z elementami pirotechnicznymi – zabawa ogniem i robienie dymu to nasza specjalność!!! Zapewniamy zmagania na najwyższym poziomie połączone z ekstremalnym widowiskiem:
- POKAZY DRIFTU przy akompaniamencie rozgrzanych silników i kłębach dymu spalonych opon,
- KONTROLOWANE WYPADKI,
- PRZEJAZDY PRZEZ ŚCIANĘ OGNIA Z CZŁOWIEKIEM NA MASCE,
- PRZEBIJANIE GŁOWĄ PŁONĄCEJ ŚCIANY BĘDĄC JEDNOCZEŚCIE NA MASCE BMW,
- JAZDA NA BOCZNYCH KOŁACH SAMOCHODEM CZY QUADEM,
- Zaciekłą jazda i demolka ogromnym MONSTER TRUCKIEM wyposażonym w pokaźną V8
- A jeśli ktoś uważa, że ekstremalna jazda to hobby przeznaczone wyłącznie dla mężczyzn to z tego błędu wyprowadzi go Rajmund biorąc z publiczności odważne kobiety na przejażdżkę SAMOCHODEM NA DWÓCH KOŁACH
- JEDYNY W POLSCE DRAGSTER!
- I TO NOWE "COŚ" - JEDYNY W POLSCE AUTOROBOT -niepowtarzalna okazja do zobaczenia z bliska cudów motoryzacyjnej techniki,
- oraz zupełnie nowy MONSTER TRUCK
Wychodząc naprzeciw naszym najmłodszym fanom na zakończenie pokazu będą mogli zupełnie za FREE przejechać się jednym z naszych potężnych MONSTER TRUCKÓW!!!
UWAGA! Bilety do nabycia w naszych kasach, bezpośrednio przed danym programem!!!
BYDGOSZCZ - 29.08 NIEDZIELA 17:00 -UL. SKŁODOWSKIEJ-CURIE - PARKING PRZED MARKETEM E'LECLERC

INFO KASA: 513 190 570
____________________
Kalendarz wydarzeń odbywających się w Bydgoszczy miej zawsze pod ręką dzięki aplikacji mobilnej (Android i iOS).
______________________
Informacje o wydarzeniach przesyłajcie na adres wydarzenia@visitbydgoszcz.pl
______________________
Bydgoskie Centrum Informacji nie ponosi odpowiedzialności za jakiekolwiek zmiany miejsc, godzin i dat wydarzeń.