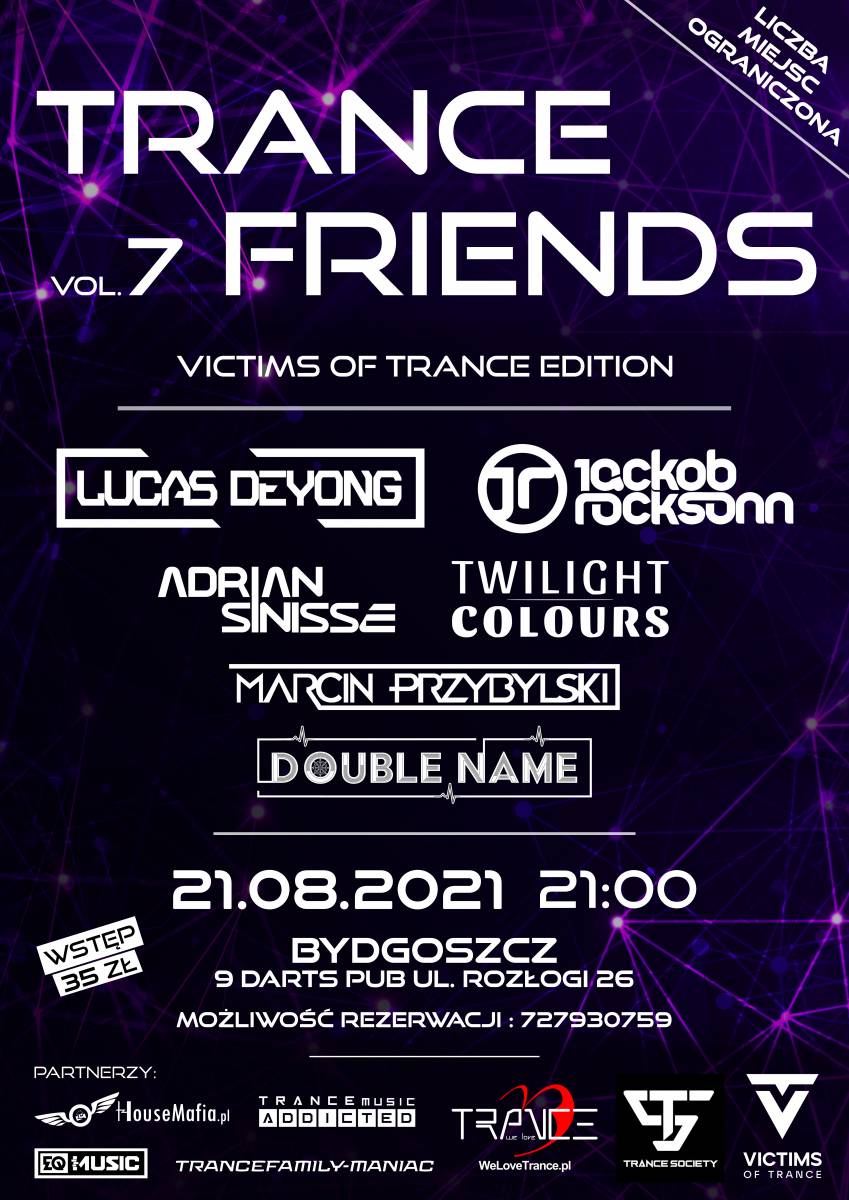 Informacje od Organizatora:
"Tym razem na 7 edycji która ponownie odbędzie się w Bydgoszczy zawitają artyści z różnych stron Polski.
Po line up widać, że bawiący się przy muzyce elektronicznej klubowicze nie będą mieć zbyt dużo czasu na przerwę
A wystąpią:
Jackob Rocksonn - dj/producent z bogatym CV. Jego utwór "Dynamic" został wybrany jako 3 Wonder Of The Year 2016 przez słuchaczy "Future Sound Of Egypt"
Współpracuje z takimi wytwórniami jak:
Universal Nation(Black Hole) , Auditory(Black Hole) , Mondo , Echelon , Aria Digital , Melodika , Adictive Sounds.
Wystąpił na takich eventach jak:
Electrocity 9 pres. FSOE 350, Gnievhouse Fesrival, Tranceformations, Euforia Festival ,Back & Forth, We Love Trance a scenę dzielił m.in. z Bryan Kearney, Will Atkinson, Vini Vici, Simon Patterson, Ferry Corsten, Markus Schulz, Cosmic Gate, Giuseppe Ottaviani, Sean Tyas
Rank1, ReOrder, Ben Gold, Jordan Suckley i wielu innych. Założyciel kolektywu Victims of trance.
Lucas Deyong - dj/producent pochodzący z Polski. Do jego ulubionych nurtów z pewnością należą Tech-Trance, UK-Trance, Uplifting oraz Techno oscylującę w okolicach 140BPM.
Swoją muzykę wydaje m.in. w takich wytwórniach jak: Black Hole Recordings i Enhanced Music. Jego twórczość zyskała uznanie i wsparcie u takich artystów jak: Armin Van Buuren, Paul Van Dyk, Giuseppe Ottaviani, Sean Tyas, M.I.K.E Push, RAM, Will Atkinson, Greg Downey, Sneijder, Paul Webster, David Forbes, David Rust, Shugz, Ben Nicky, Jordan Suckley, Stoneface & Terminal, Billy Gillies, Nitrous Oxide, Will Rees, Jase Thirlwall i wielu innych.
Jest uczestnikiem takich eventow jak Trancenation Prague, Target One Festival oraz klubowych m.in We Love Trance CE, Trance Your Life Events, Trance Sounds, Trance Journey. Członek kolektywu Victims of trance.
Marcin Przybylski - znany także jako Wildeffect . Polski producent i dj z bardzo wszechstronnym gustem muzycznym od rytmów hardstyle/hardcore po techno, trance i progressive. Jego nazwisko znalazło się na płycie Pure Trance Vol. 5 żywej legendy muzyki trance Solarstone.
Założyciel marki EQ Music która organizowała największe warsztaty z tworzenia muzyki w kraju z takimi gwiazdami jak Richard Durand, ReOrder, A.R.D.I. Pomysłodawca serii eventów Black Sugar, na których gościli m.in. Regain, Robbie Seed i A.R.D.I. Jego utwory grały takie gwiazdy jak Cosmic Gate, Mark Sherry, Mark Pledger i inni.
Adrian Sinisse - zawsze z pasją i miłością do muzyki trance...Adrian Sinisse, a prywatnie Adrian Przybylski. Od zawsze zafascynowany muzyką trance. Płynące melodie rozbudzające zmysły, piękne vocale działające jak narkotyk oraz przypływ emocji powodujących łezkę w oku - to wszystko sprawiło, że Adrian pokochał muzykę trance. W 2018 wygrał konkurs i zagrał na Emotions Festival w Karlinie gdzie gwiazdami byli 4 Strings i Mike Push.
W sierpniu 2019 wystąpił na We Love Trance w poznańskim Forcie Colomb A w grudniu 2020 na We Love Trance CE 036 gdzie gwiazdą był Ciaran McAuley. Ulubione style muzyczne: uplifting trance, vocal trance, emotional trance.
Twilight Colours - polski dj i producent wydający swoje utwory w takich labelach jak Redux Recordings czy Tecnomind Music. Tworzył wcześniej pod aliasem Gain, wydając kawałki pod szyldem Elevation Audio, TAR#138 i State Control Recordings.
Wielki fan uplifitng trance, euforycznych melodii i wokali, ale także mocniejszego brzmienia z pogranicza tech-trance i psytrance. Ma za sobą również krótki epizod związany z gatunkiem chillout - w tym collab z Angel Falls. W 2020 zagrał warm-up na evencie Ready4Trance w Toruniu. Tym razem zaprezentuje zamykający imprezę set, w którym nie zabraknie emocjonalnych nut, odrobiny muzycznych wspomnień jak również mocnego uderzenia.
DOUBLE NAME - Piotr Ernest to dj, który w niesamowity sposób tworzy klimat muzyczny. Od 20 lat wielki pasjonat muzyki elektronicznej. Ulubione style muzyczne: uplifting trance, tech-trance, psy-trance, progressive trance, progressive house. Twórca wtorkowych audycji "In The Trance Space". Członek i ambasador grupy EQ Music. Współorganizator wydarzeń Black Sugar 1 i 2 na których zagrał wspólnie z takimi gwiazdami jak Regain, Robbie Seed, A.R.D.I . Pomysłodawca, organizator i rezydent eventu "Trance Friends"
Miejsce wydarzenia 9 Darts Pub ul. Rozłogi 26 w Bydgoszczy 21.08.2021r.
Gramy 21:00-5:00
____________________
Kalendarz wydarzeń odbywających się w Bydgoszczy miej zawsze pod ręką dzięki aplikacji mobilnej (Android i iOS).
______________________
Informacje o wydarzeniach przesyłajcie na adres wydarzenia@visitbydgoszcz.pl
______________________
Bydgoskie Centrum Informacji nie ponosi odpowiedzialności za jakiekolwiek zmiany miejsc, godzin i dat wydarzeń.