Król - Dziękuję - concert
Gdzie?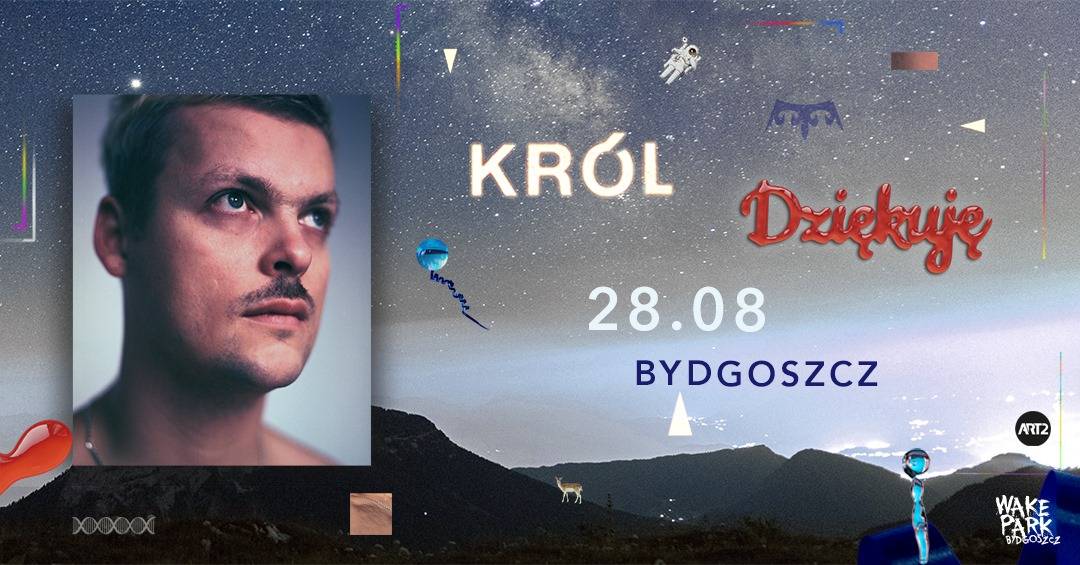 Zmiana terminu na 4 grudnia 2021, Fabryka Lloyda
Błażej Król po krótkiej przerwie powraca z nową płytą. Album "Dziękuję" to psychodeliczna laurka dla fanów artysty. Jeszcze lepszym prezentem będzie jednak długo wyczekiwana trasa koncertowa!
Błażej Król to jeden z najzdolniejszych muzyków i tekściarzy młodego pokolenia. Od 2014 roku regularnie wydaje albumy, które najpierw zapewniły mu ważną pozycję na scenie alternatywnej, a teraz przynoszą kolejne nagrody i zapewniają licznych fanów.
Przełomem była dla niego płyta "Przewijanie na podglądzie", za którą został nagrodzony ,,Mateuszem Trójki". Za kolejną płytę – ,,Nieumiarkowania" – Król otrzymał Paszport "Polityki" i Fryderyka. Jesienią 2019 roku słuchacze pokochali utwór ,,Te smaki i zapachy" - singiel przez sześć tygodni utrzymywał się na pierwszym miejscu Listy Przebojów Trójki.
W 2020 roku Błażej Król, wspólnie z Darią Zawiałow i Igo, kierował orkiestrą Męskiego Grania. Dzięki temu projektowi muzyk dotarł do znacznie szerszej publiczności.
Po rocznej przerwie Król wraca z szóstym solowym albumem – "Dziękuję". To płyta pełna różnorodnych muzycznych fascynacji i lirycznych niedopowiedzeń.
Król – koncerty w ramach trasy "Dziękuję"
"Dziękuję" Król określa "psychodeliczną laurką dla swoich fanów". Krążek składa się z aż 18 utworów, a wszystkie mają potencjał, żeby stać się przebojami. Jak będą brzmieć na żywo? Okaże się podczas trasy koncertowej, którą artysta zaplanował na lato.
____________________
Kalendarz wydarzeń odbywających się w Bydgoszczy miej zawsze pod ręką dzięki aplikacji mobilnej (Android i iOS).
______________________
Informacje o wydarzeniach przesyłajcie na adres wydarzenia@visitbydgoszcz.pl
______________________
Bydgoskie Centrum Informacji nie ponosi odpowiedzialności za jakiekolwiek zmiany miejsc, godzin i dat wydarzeń.