Środowe CZYTANIE I DZIAŁANIE w Kamienicy 12
Gdzie?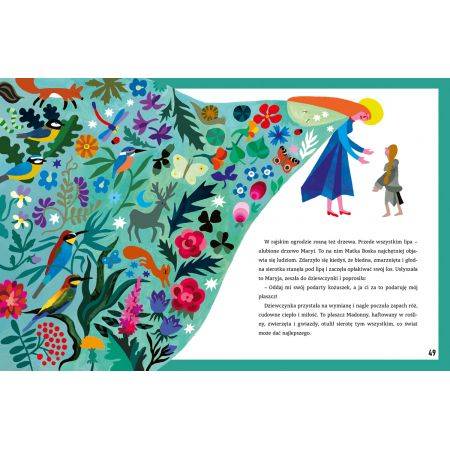 Informacje od Organizatora:
WRACAMY. W tradycyjnym, dla nas dniu i porze, ŚRODA 17.00.
Inne będą tylko zasady sanitarne panujące na zajęciach i ściśle ograniczona liczba uczestników. Decyduje kolejność zgłoszeń.
To spotkanie na DZIEŃ MATKI.
Zapraszam rodziców (CHĘTNIE MAMY) z dziećmi powyżej 5. roku życia na CZYTANIE I DZIAŁANIE, czyli poznawanie najlepiej napisanych i wyśmienicie zilustrowanych książek dla dzieci oraz łączenie ich z kreatywnymi aktywnościami.
Książka (lub książki) jest za każdym razem inna, zawsze bardzo dobra.
WSTĘP WOLNY, choć limitowany, ogranicza nas liczba miejsc.
Zapisujcie się drogą email, na adres: tuczytam@op.pl. w temacie wpiszcie "środa, 26" i czekajcie na potwierdzenie.
Zajęcia prowadzi Lucyna Brzezinska-Eluszkiewicz.
Wykorzystana ilustracja pochodzi z książki pt. "Maryjki. Opowieści o Matce Boskiej" z tekstem Justyny Bednarek i ilustracjami Marianny Oklejak, wydanej przez Wydawnictwo Nasza Księgarnia.
To nie jest książka religijna, a książka o opowieściach i wierzeniach, ale też o wyobrażeniu matki, mamy, mamusi. Autorka mówi: "Gdy byłam mała, opiekowała się mną niania mojej mamy, Cecylia Kot, wiejska kobieta z Podkarpacia. Uosobienie miłości. I to ona przekazała mi niektóre z tych legend. Śpiewała mi je, opowiadała wierszem. Te proste bajki z jednej strony tłumaczyły, skąd się wzięło to czy tamto, kolor piórek kanarka, drżenie liści osiki, a z drugiej – włączały przyrodę do sfery sacrum, czyniły z niej element historii zbawienia. Od razu jednak spieszę z wyjaśnieniem, że moja książka nie jest pracą etnograficzną. Nie byłam bardzo wierna pierwowzorom, nie podchodziłam nabożnie do fabuły. Czasem to czy owo "domyśliłam", nie naruszając jednak głównych wątków. Zależało mi na tym, żeby tchnąć w te stare historie ducha współczesności i wzbogacić je nowymi treściami."
Warsztat jest częścią projektu pn. "Bydgoszcz czyta, Bydgoszcz tworzy.
Z TuCzyTam książki znam. Cykl interdyscyplinarnych spotkań z najlepszymi książkami dla dzieci i młodzieży", realizowanego przez Fundację 12 Kamienica dzięki dofinansowaniu Urzędu Miasta Bydgoszczy.
______________________
Kalendarz wydarzeń odbywających się w Bydgoszczy miej zawsze pod ręką dzięki aplikacji mobilnej (Android i iOS).
______________________
Informacje o wydarzeniach przesyłajcie na adres wydarzenia@visitbydgoszcz.pl
______________________
Bydgoskie Centrum Informacji nie ponosi odpowiedzialności za jakiekolwiek zmiany miejsc, godzin i dat wydarzeń.