Monika Borzym w stylu retro
Gdzie?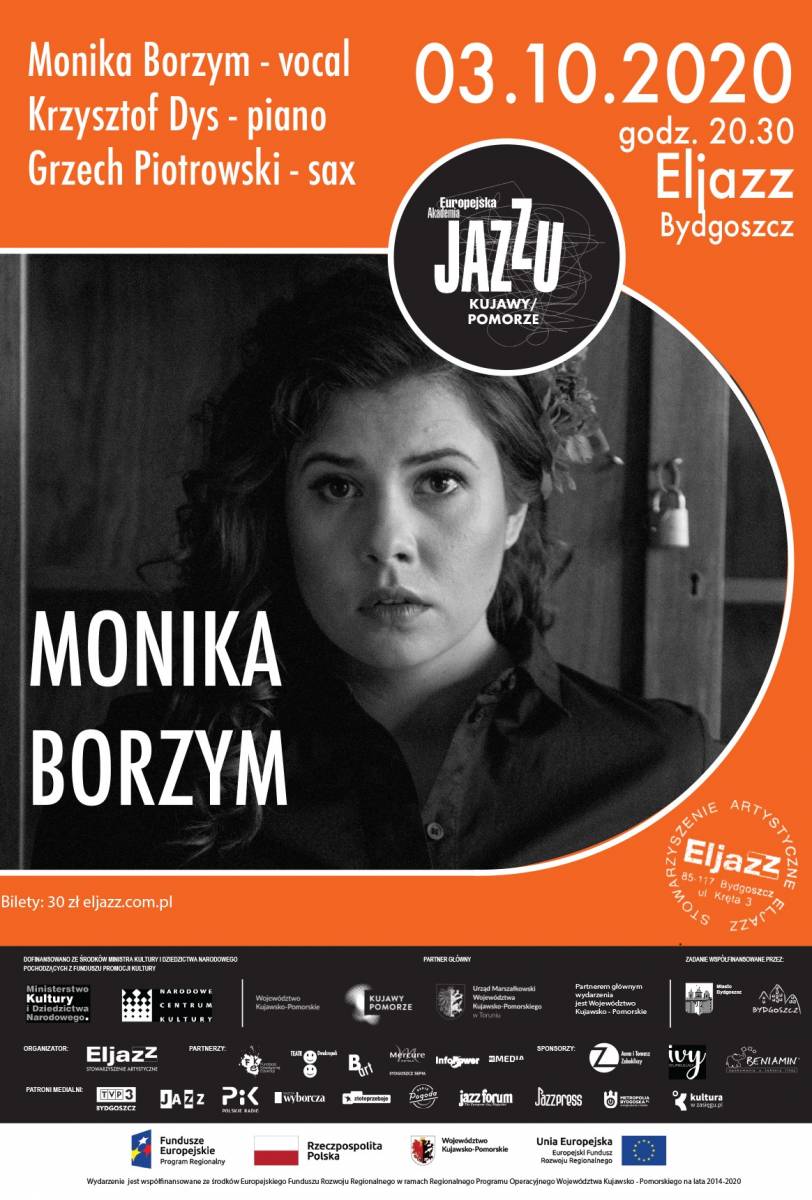 Monika Borzym - vocal
Krzysztof Dys - piano
Grzech Piotrowski - sax
Koncert Moniki Borzym to muzyczna podróż w czasie do znanych, wzruszających i często zabawnych piosenek lat pierwszych dekad ubiegłego wieku, wykonywanych przez wielkie gwiazdy polskiej sceny: Hankę Ordonównę, Mirę Zimińską, Tolę Mankiewiczównę, Zulę Pogorzelską, Aleksandra Żabczyńskiego, Adolfa Dymszę, czy Eugeniusza Bodo. Nastrojowe tanga miłosne, walce, slow-foxy we współczesnych aranżacjach na jazzowo. A wyjątkowo piękny głos Moniki Borzym, nasycony wieloma barwami i odcieniami oraz jej temperament zapewnią szczególnych doznań artystycznych.
Charyzmatyczna wokalistka urodzona w Warszawie w 1990r. Wydała pięć płyt.
Szkołę muzyczną w klasie fortepianu ukończyła z wyróżnieniem, następnie rozpoczęła naukę wokalistyki jazzowej w słynnej szkole przy ul. Bednarskiej w Warszawie. Podróż za ocean i nauka w John Hersey High School potwierdziła, że jej drogą jest śpiewanie jazzu. Za namową przyjaciół i nauczycieli brała udział w wielu festiwalach i konkursach, zdobywając nagrody i ważne doświadczenia zawodowe.
Przełomowym momentem w jej edukacji było otrzymanie stypendium w University of Miami Frost School of Music w 2008 roku. Dwa lata później otrzymała kolejne stypendium w LA Music Academy, gdzie studiowała pod okiem wybitnych artystów jak Tierney Sutton (8 nominacji do Grammy) i Dorian Holley (Michael Jackson, The Tonight Show).
Jej muzyczna kariera rozpoczęła się od występu w Sali Kongresowej na festiwalu Jazz Jamboree w 2009 roku, gdzie została zaproszona przez Michała Urbaniaka. Miała wtedy 19 lat. Jej brawurowy występ porwał publiczność, wtedy też zaproponowano jej pierwszy kontrakt płytowy (Sony Music).
Monika jest otwarta na różne gatunki muzyczne. Często występuje gościnnie z różnymi artystami. Śpiewała na kilku płytach Tego Typa Mesa, zaśpiewała na płycie "Wasowski odnaleziony" pod kierownictwem muzycznym K. Herdzina. Bierze udział w projekcie Albo Inaczej wytwórni Alkopoligamia. Pisze piosenki dla innych artystów.
Studiuje psychoseksuologię, co obok muzyki stało się jej ogromną pasją i życiowym wyzwaniem.
Bilety w cenie
30 zł do nabycia w klubie Eljazz po godz. 16.00 - płatne gotówką
Wydarzenie realizowane w ramach promocji projektu "Kujawsko - Pomorskie Rozwój poprzez kulturę 2020 " współfinansowanego ze środków Funduszu Rozwoju Regionalnego Województwa Kujawsko - Pomorskiego na lata 2014-2020.
______________________
Kalendarz wydarzeń odbywających się w Bydgoszczy miej zawsze pod ręką dzięki aplikacji mobilnej (Android i iOS).
______________________
Informacje o wydarzeniach przesyłajcie na adres wydarzenia@visitbydgoszcz.pl
______________________
Bydgoskie Centrum Informacji nie ponosi odpowiedzialności za jakiekolwiek zmiany miejsc, godzin i dat wydarzeń.