Przegląd Piosenki Turystycznej - Na Szlaku Lloyda
Gdzie?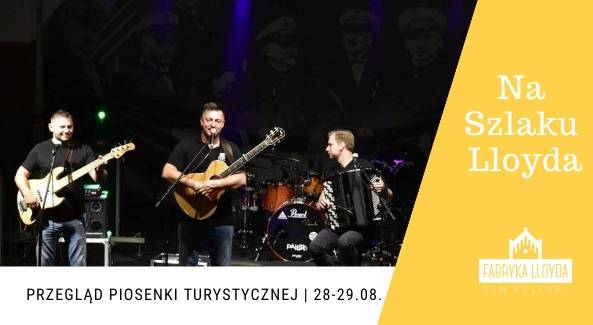 Informacja od Organizatora:
W ostatni weekend wakacji w Fabryce Lloyda odbędzie się Przegląd Piosenki Turystycznej "Na Szlaku Lloyda".
Program:
PIĄTEK 28.09.
17:00 Otwarcie Fabryki Lloyda
19:00-20:00 Szantomas
20:30- 21:30 Formacja
21:30- … Biesiada Szantowa
SOBOTA 29.08.
17:00 Otwarcie Fabryki Lloyda
19:00-20:00 Jacek Wizner
20:30-21:30 Własny Port
21:30- … Biesiada Szantowa
Zapraszamy na świetną biesiadę szantową wszystkich miłośników morskich i nie tylko! Każdy znajdzie coś dla siebie: od posłuchania najlepszych szlagierów po napicie się kraftowego piwa. Jedno jest
pewne – bardziej klimatycznego weekendu w Bydgoszczy nie znajdziecie! Wstęp wolny!
Szantomas
Szantomas, czyli Tomasz Kuręda, to stały bywalec biesiad szantowych. Tomasz zabierze nas swoimi utworami na pełne morze podczas sztormu. Bywalec sceny Gruba Ryba w Gdańsku, Festiwalu
Szantogranie, tawerny Wdzydze Stanica Wodna i wiele, wiele innych. W akompaniamencie gitary zapewni bezcenny klimat podczas pierwszego wieczoru Przeglądu Piosenki Turystycznej Na Szlaku
Lloyda.
Formacja
Kolejnym zespołem, który umili nam piątkowy wieczór, będzie Formacja, czyli piosenki z wybrzeża i morskie opowieści. Zespół FORMACJA powstał w 2008 roku, jako "supergrupa" złożona ze znanych na szantowej scenie wykonawców i popularnych muzyków folkowych. Przez lata skład ulegał zmianom, aż w końcu ustalił się w kształcie: Jacek Jakubowski, Krzysztof Jurkiewicz, Tomasz
Hałuszkiewicz, Cezary Rogalski i Paweł Grodzki. Repertuaru FORMACJI to głównie autorskie utwory Krzysztofa Jurkiewicza i Jacka Jakubowskiego oraz tradycyjne utwory folkowe i popularne w Polsce piosenki z kręgu "maritime folk". Sceniczna żywiołowość uzupełniona ciekawym instrumentarium i wysmakowanymi aranżacjami to niewątpliwie to, co sprawia, że FORMACJA koncertuje od jedenastu lat. Zespół ma na koncie trzy płyty: "Barowe opowieści" (jeszcze jako Gdańska Formacja Szantowa), "Renament" i "Formacja".
Własny Port oraz Jacek Wizner
Kolejny dzień Przeglądu w Lloydzie zaczniemy występem Jacka Wiznera, któremu będzie akompaniował członek grupy Własny Port – Piotr Gąsiewski. Po występie tego duetu, będziemy mogli posłuchać zespołu Własny Port, który pisze o sobie tak: "Własny Port" to magia, którą udało mam się ujarzmić dzięki wieloletniej przyjaźni. Założyliśmy nasz zespół we trzech. Piotr Gąsiewski – gitarzysta, kompozytor i dusza wszelkich spotkań międzyludzkich. Rafał Ordak – autor piosenek, wokalista i konferansjer amator. Marcin Kijak – basista i lekko zaspane, ale zawsze – "zwierze" sceniczne. Po latach dołączył do nas Maciej Drapiński – akordeonista, człowiek o wielkim poczuciu humoru, taki nasz "plasterek" na troski.
Zapraszamy serdecznie, na spotkanie z nami i naszą muzyka. Wypłyńcie z "Własnym Portem" i razem przeżyjmy przygodę.
____________________
Kalendarz wydarzeń odbywających się w Bydgoszczy miej zawsze pod ręką dzięki aplikacji mobilnej (Android i iOS).
______________________
Informacje o wydarzeniach przesyłajcie na adres wydarzenia@visitbydgoszcz.pl
______________________
Bydgoskie Centrum Informacji nie ponosi odpowiedzialności za jakiekolwiek zmiany miejsc, godzin i dat wydarzeń.