Śladem Bydgoskich Legend | Wirtualna Gra Miejska - III odsłona konkursowa
Gdzie?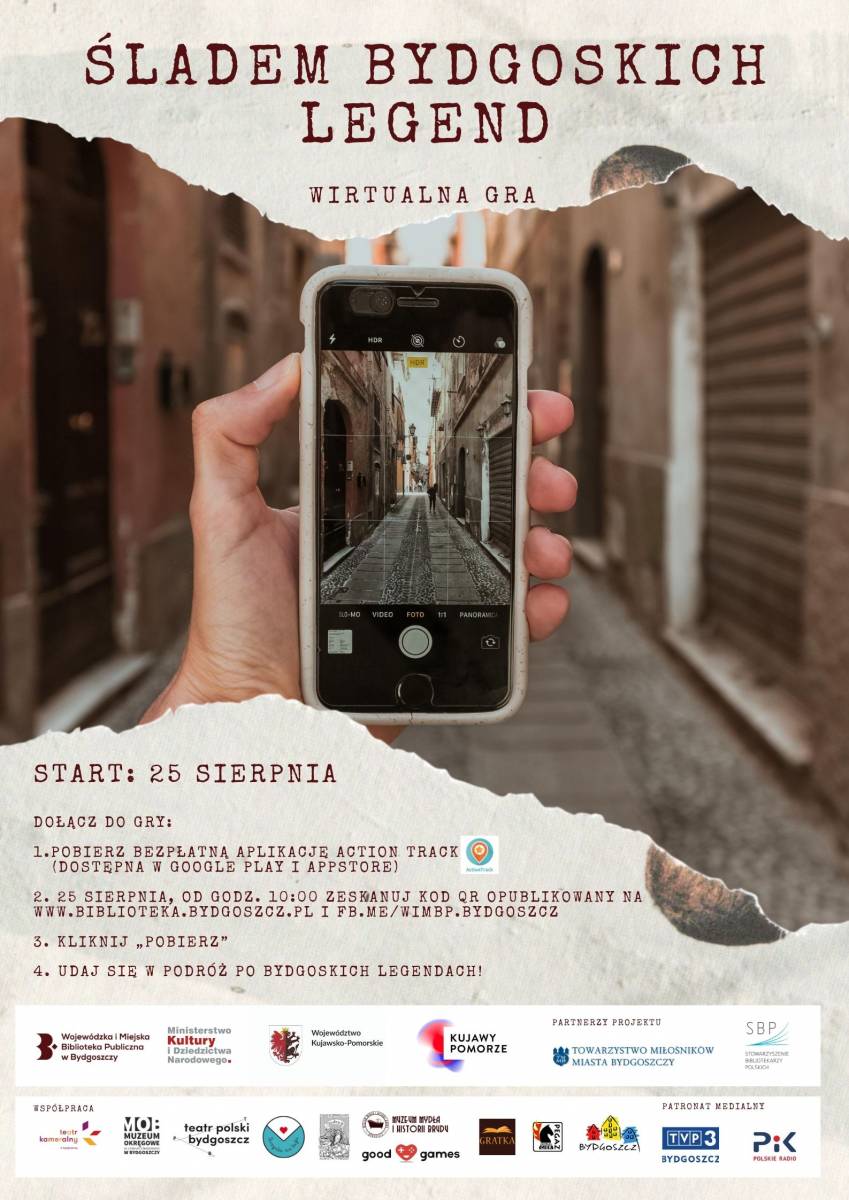 Szczegółowe informacje
Przenieś się do świata bydgoskich legend i wygraj atrakcyjne NAGRODY!
Zapraszamy do udziału w trzech odsłonach konkursowych wirtualnej gry miejskiej "Śladem bydgoskich legend".
Usiądź wygodnie w fotelu – sam lub zbierz rodzinną drużynę - przygotuj smartfon lub tablet - przyda się, bo to gra w wirtualnym świecie.
Na łowców przygód czekamy na naszej stronie Internetowej oraz na Facebooku .
Upoluj kod QR – i wejdź do gry.
O fabule gry:
Jak dobrze znasz bydgoskie legendy? Czy to tylko pożółkłe karty w starych księgach?
Bydgoszcz. Znajdujesz się w centrum miasta. Spacerując po Starym Rynku mijasz wielu ludzi. To mieszkańcy i turyści… ale czy tylko oni? Rozejrzyj się uważnie  Może spotkasz na swej drodze tajemniczą postać związaną z Bydgoszczą? Porozmawiaj z nią – będzie Twoim przewodnikiem po współczesnych dla niej czasach i historiach – tych owianych legendą i tych, które wydarzyły się naprawdę. Przewodnicy opowiedzą Ci o mieście, jego tajemnicach i symbolach. Zabiorą Cię w podróż po najciekawszych zakątkach miasta.
Dołączysz do naszej wędrówki?
Organizator: Wojewódzka i Miejska Biblioteka Publiczna im. dr. Witolda Bełzy w Bydgoszczy
Dla kogo: dla młodzieży i dorosłych
Miejsce startu: www.biblioteka.bydgoszcz.pl i www.facebook.com/wimbp.bydgoszcz
Kiedy:
I odsłona konkursowa: 25.08-01.09.2020 r.
II odsłona konkursowa: 22-29.09.2020 r.
III odsłona konkursowa: 20-27.10.2020 r.
Spacer edukacyjny: od 28.10.2020 r. (wersja bez nagród)
Orientacyjny czas trwania jednej odsłony gry: ok. 30 minut.
Jak zagrać:
1.Pobierz bezpłatną aplikację Action Track (dostępna w Google Play i AppStore)
2.Zeskanuj kod QR opublikowany na www.biblioteka.bydgoszcz.pl i www.facebook.com/wimbp.bydgoszcz/
3. Kliknij "POBIERZ"
4. Udaj się w podróż po bydgoskich legendach!
Partnerzy projektu:
Towarzystwo Miłośników Miasta Bydgoszczy
Stowarzyszenie Bibliotekarzy Polskich
Współpraca:
Teatr Kameralny
Muzeum Okręgowe im. Leona Wyczółkowskiego w Bydgoszczy
Teatr Polski
Księgarnia "Skrzynka na bajki"
Muzeum Mydła i Historii Brudu
Księgarnia "Gratka"
Bydgoski Antykwariat Naukowy
Centrum Gier "Pegaz"
Bydgoskie Centrum Informacji
GoodGames
Patronat medialny:
Polskie Radio PiK
TVP3 Bydgoszcz
Zadanie dofinansowano ze środków Ministra Kultury i Dziedzictwa Narodowego pochodzących z Funduszu Promocji Kultury, uzyskanych z dopłat ustanowionych w grach objętych monopolem państwa, zgodnie z art. 80.ust. 1 ustawy z dnia 19 listopada 2009 r. o grach hazardowych, z budżetu Województwa Kujawsko-Pomorskiego.
______________________
Kalendarz wydarzeń odbywających się w Bydgoszczy miej zawsze pod ręką dzięki aplikacji mobilnej (Android i iOS).
______________________
Informacje o wydarzeniach przesyłajcie na adres wydarzenia@visitbydgoszcz.pl
______________________
Bydgoskie Centrum Informacji nie ponosi odpowiedzialności za jakiekolwiek zmiany miejsc, godzin i dat wydarzeń.