Robert Mazurkiewicz & Przemysław Bielawa
Gdzie?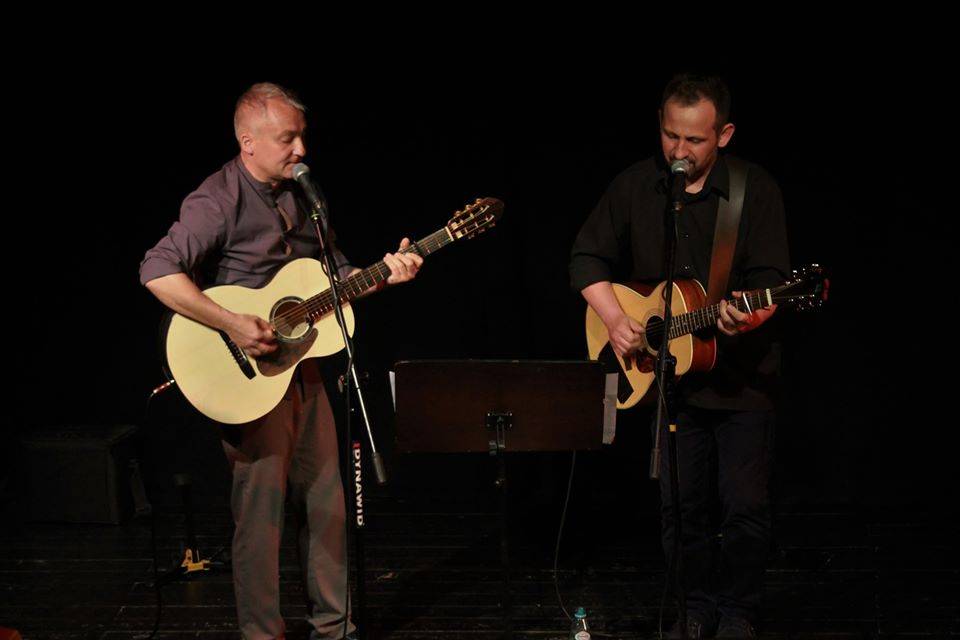 Robert Mazurkiewicz & Przemek Bielawa to według krytyków jeden z najciekawiej brzmiących duetów męskich poruszających się w klimatach "Krainy Łagodności".
Robert to muzyczna instytucja. Przede wszystkim gitarzysta (ale jak trzeba to zagra na wszystkim), kompozytor, tekściarz, realizator dźwięku, wspaniały aranżer. Na muzycznej scenie od 30 lat – solista i założyciel zespołów: Czekolada i Mazurkiewicz Party Quartet – laureata, m. in. legendarnej Giełdy Piosenki w Szklarskiej Porębie. Grał wszędzie i wygrał wszystko… Na koncie ma trzy płyty oraz kilkanaście utworów na różnych składankach wydanych m. in. przez Polskie Radio. Ostatnia płyta nosi tytuł PODRÓŻ i ukazała się w sierpniu 2017 roku.
Przemek - gitarzysta, harmonijkarz, kompozytor , założyciel i lider zespołu Nieobecni – z którym zawojował m. in. Yapę w Łodzi, Giełdę w Szklarskiej, Kropkę w Głuchołazach ,Przystań w Górznie. Wielokrotny laureat konkursów w różnych projektach muzycznych.Na koncie ma płytę nagraną z tym zespołem.
Połączyła ich przyjaźń i miłość do muzyki. Rozpoczynając wspólną muzyczną przygodę stworzyli klimatyczny duet sympatycznych panów w średnim wieku, grających mieszankę muzyki - od poezji śpiewanej, bluesa po bossanovę czy pop ballady. Ich autorskie kompozycje do tekstów m. in. Iwony Przygody, Katarzyny Swędrowskiej czy Marka Sochackiego od razu zyskały uznanie wśród publiczności i muzycznej braci. Podbili serca jurorów m. in. Giełdy Piosenki Studenckiej w Szklarskiej Porębie,Bazuny, Terepaczkowa , Poetyckiej Stajni czy Festiwalu im. Jacka Kaczmarskiego w Bydgoszczy. Są laureatami Międzynarodowego Festiwalu "PORTA" w Usti nad Łabą. Mają na koncie szereg wspaniałych koncertów w różnych miejscach w kraju i za granicą.
____________________
Kalendarz wydarzeń odbywających się w Bydgoszczy miej zawsze pod ręką dzięki aplikacji mobilnej (Android i iOS).
______________________
Informacje o wydarzeniach przesyłajcie na adres wydarzenia@visitbydgoszcz.pl
______________________
Bydgoskie Centrum Informacji nie ponosi odpowiedzialności za jakiekolwiek zmiany miejsc, godzin i dat wydarzeń.