Czy ten koncert to nie u Was?: Matylda Podfilipska - online
Gdzie?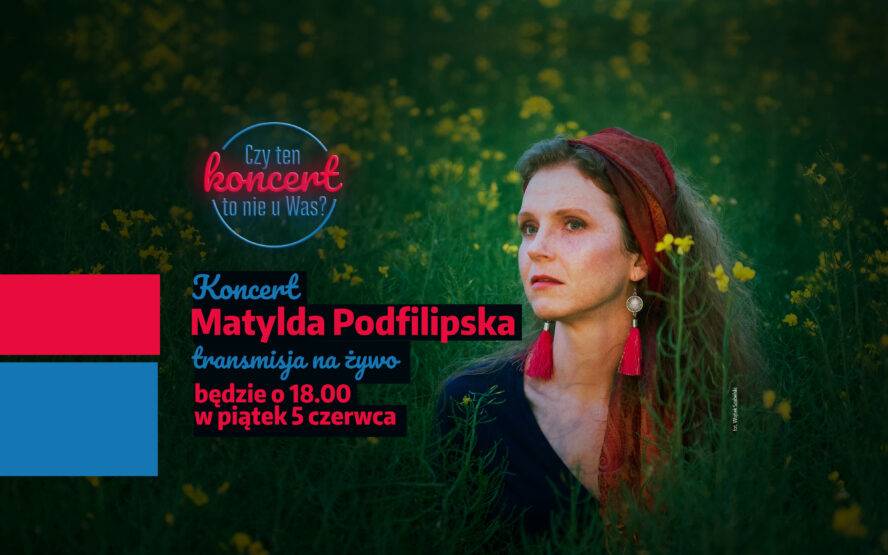 W piątek, 5 czerwca zapraszamy na kolejne wydarzenie z cyklu "Czy ten koncert to nie u Was?". Tym razem na scenie Salonu Hoffman Kujawsko-Pomorskiego Centrum Kultury w Bydgoszczy wystąpi Matylda Podfilipska. W wykonaniu aktorki usłyszymy przeboje m.in. Zbigniewa Wodeckiego, Grażyny Łobaszewskiej czy Ireny Jarockiej. Podczas koncertu artystce towarzyszyć będzie przy fortepianie Igor Nowicki.
– Repertuarem powrócę do tego, co pomaga mi w utrzymaniu dobrego nastroju i odnalezieniu równowagi. Przygotowałam składankę zaskakującą i mam nadzieję, że będzie zabawnie i wzruszająco, ale też momentami poważnie – zapowiada Matylda Podfilipska.
Matylda Podfilipska ukończyła wydział aktorski łódzkiej filmówki w 2003 roku. W tym samym roku rozpoczęła pracę w Teatrze im. Wilama Horzycy w Toruniu, gdzie jak do tej pory przygotowała kilkadziesiąt ról (aktualnie gra m.in. w spektaklach: "Wróg się rodzi", "Napis", "W co się bawić?", "Hamlet"). Ma na swoim koncie epizody w filmach "Julia wraca do domu" A. Holland i "Syberiada polska" J. Zaorskiego, a także rolę w teatrze tv "Na wsi" w reż. P. Mikuckiego i serialu " Diagnoza". Chętnie bierze udział w działaniach wokół teatru – czytaniach performatywnych, warsztatach z dziećmi (jest inicjatorką akcji Teatr i Rodzina w Teatrze Horzycy). Laureatka nagrody Sekcji Teatrów Dramatycznych ZASP za rolę Natalii Pietrowny w spektaklu "Miesiąc na wsi" w reż. A. Bubienia na XXI Festiwalu Szkół Teatralnych w Łodzi (2003 r.) W 2013 otrzymała Wilama dla najpopularniejszej aktorki. Parokrotnie nagradzana przez Marszałka Województwa Kujawsko-Pomorskiego. W 2014 roku wraz z mężem, fotografem Wojtkiem Szabelskim założyła WEJŚCIÓWKĘ – galerię fotograficzną połączoną z kawiarnią artystyczną w podziemiach Teatru Horzycy, w której promuje dobrą literaturę, poezję, kabaret literacki, wspólne muzykowanie i gorące dyskusje na poziomie.
Transmisję na żywo o 18.00 na profilu facebookowym KPCK, materiał opublikowany zostanie także na kanale YouTube.
______________________
Kalendarz wydarzeń odbywających się w Bydgoszczy miej zawsze pod ręką dzięki aplikacji mobilnej (Android i iOS).
______________________
Informacje o wydarzeniach przesyłajcie na adres wydarzenia@visitbydgoszcz.pl
______________________
Bydgoskie Centrum Informacji nie ponosi odpowiedzialności za jakiekolwiek zmiany miejsc, godzin i dat wydarzeń.