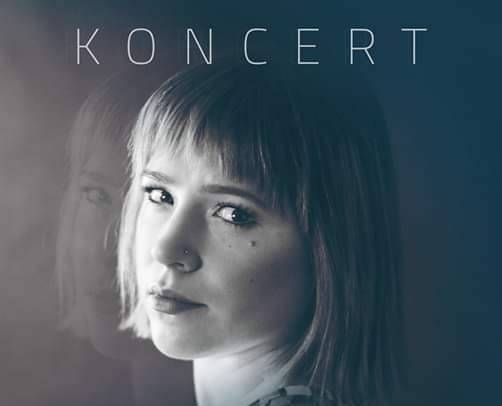 Koncert promujący minialbum pt. "Źródło"
"Z muzyką związana jestem od wczesnego dzieciństwa. Śpiewam odkąd pamiętam. Od 6 - 13 roku życia grałam na skrzypcach, jednak śpiewanie zawsze było mi bliższe. Już jako nastolatka wiedziałam, że chcę związać swoją przyszłość z muzyką rozrywkową. Brałam udział w warsztatach wokalnych prowadzonych przez Elżbietę Zapendowską, Magdalenę Ptaszyńską, czy Grażynę Łobaszewską - mój największy wokalny autorytet. Po drodze wystąpiłam w kilku konkursach, m.in. "Kryształowa Nuta" w Lidzbarku Warmińskim (Grand Prix), "Soundtrack" w Łomży (I m-ce), czy "Maratonie Piosenki Osobistej" w Świeciu (I m-ce jako zespół Adelibanda). Doświadczenie sceniczne zdobywałam również w telewizyjnych programach muzycznych takich jak "Szansa na Sukces", "Must Be The Music" (z zespołem Adelibanda) oraz "Mam Talent" (z zespołem Adelibanda). Od 2015 roku jestem absolwentką Akademii Muzycznej im. Feliksa Nowowiejskiego w Bydgoszczy. Ukończyłam wokalistykę jazzową w klasie dr Joanny Żółkoś - Zagdańskiej.Poszukując własnego stylu chętnie eksperymentuję z materią muzyczną. Uwielbiam szeroko pojęty jazz, soul, muzykę etniczną a także brzmienia alternatywne, przestrzenne z dużą ilością elektroniki. Nieustannie odkrywam w sobie nowe możliwości, lubię "bawić się" głosem. "Wyśpiewuję siebie" poprzez improwizację, co daje mi duże poczucie wolności. Śpiew poza tym, że jest moim sposobem na życie, jest przede wszystkim moją największą pasją i terapią na rzeczywistość. Poza wydobywaniem dźwięków, pasjonuję się komponowaniem piosenek, przelewaniem myśli na papier oraz uczeniem innych, jak posługiwać się głosem."
Adela Konop
______________________
Kalendarz wydarzeń odbywających się w Bydgoszczy miej zawsze pod ręką dzięki aplikacji mobilnej (Android i iOS).
______________________
Informacje o wydarzeniach przesyłajcie na adres wydarzenia@visitbydgoszcz.pl
______________________
Bydgoskie Centrum Informacji nie ponosi odpowiedzialności za jakiekolwiek zmiany miejsc, godzin i dat wydarzeń.