LinkedIn Local Bydgoszcz #6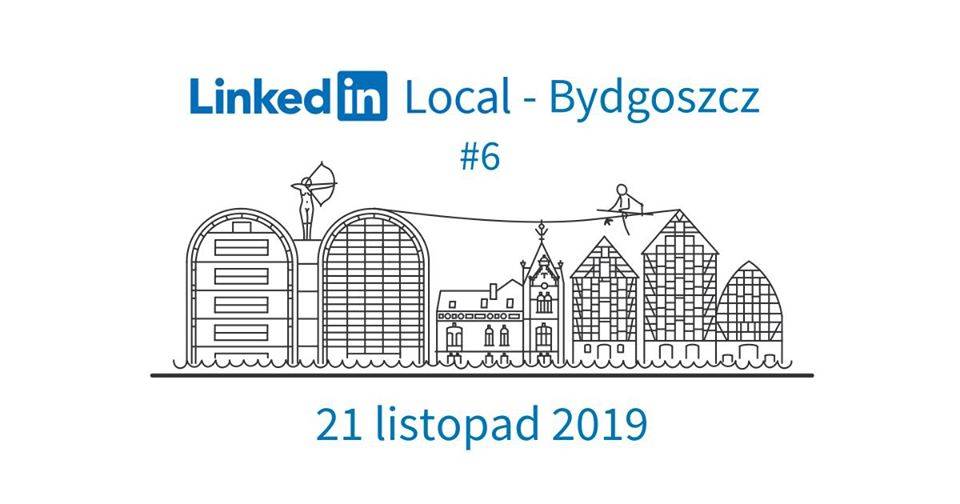 Informacje od Organizatora:
Klasycznie dotkniemy:
Tematyki LinkedIn i marki osobistej.
Innych kanałów marketingu i social mediów.
Tematów luźno z tym powiązanych.
Jakie prelekcje szykujemy więc tym razem?
- Zaczynamy krótką sesją networkingową - ok. 30 min.
- Powitanie i sprawy organizacyjne.
- Maciej Świerczyński - Zwiększ o 30% zyski firmy wykorzystując networking!
- Przerwa na kawę - ok 30 min
- Damian Rozmarynowski - Zarządzanie przez cele - jak pobijać rekordy w sprzedaży?
- Michał Barczak - Odnaleźć czas... zyskaj dodatkowe godziny!
- Networking.
UWAGA!
Jeśli będzie sporo chętnych - to planujemy organizację wydarzenia w takim miejscu, aby po części oficjalnej można było spędzić wspólnie czas nad lampką wina lub kuflem piwa! :)
Czym jest LinkedIn Local?
LinkedIn Local to światowa inicjatywa przenoszenia wirtualnych kontaktów z sieci zawodowej LinkedIn do świata rzeczywistego i budowania prawdziwych relacji międzyludzkich. Globalny ruch zainicjowany przez Annę McAfee.
Dziś lokalne spotkania społeczności odbywają się w kilkuset miastach na całym świecie, a wszystko zaczęło się od jednego postu. Ideą przyświecającą spotkaniom jest możliwość bezpośredniego kontaktu z osobami z Twojej sieci LinkedIn. Nie ma tu miejsca na sprzedaż czy promocję. Jest za to dużo przestrzeni na poznawanie innych i realne interakcje. ????????
Wydarzenie skierowane jest do:
- przedsiębiorców;
- osób, które chcą wykorzystywać potencjał LinkedIn w swojej pracy lub karierze;
- osób chcących nawiązać nowe autentyczne relacje
WAŻNE INFORMACJE!
Liczba miejsc jest ograniczona.
Udział w wydarzeniu ze względów organizacyjnych jest biletowany - wstęp imienny, możliwy tylko po dokonaniu zakupu biletu. W razie zmiany uczestnika prosimy o kontakt.
Wydarzenia Linkedin Local mają charakter non-profit. Symboliczna opłata ma charakter rezerwacyjny, a całość dochodu zostaje przeznaczona na koszty organizacyjne.
Na uczestników będzie czekać drobny poczęstunek, serwis kawowy, a także darmowy parking.
Biorąc udział w wydarzeniu, wyrażasz zgodę na publikację przez organizatorów Twojego wizerunku w formie zdjęć lub wideo w celach promocyjnych w social media.
______________________
Kalendarz wydarzeń odbywających się w Bydgoszczy miej zawsze pod ręką dzięki aplikacji mobilnej (Android i iOS).
______________________
Informacje o wydarzeniach przesyłajcie na adres wydarzenia@visitbydgoszcz.pl
______________________
Bydgoskie Centrum Informacji nie ponosi odpowiedzialności za jakiekolwiek zmiany miejsc, godzin i dat wydarzeń.