SOLD OUT! Jan-Rapowanie
Gdzie?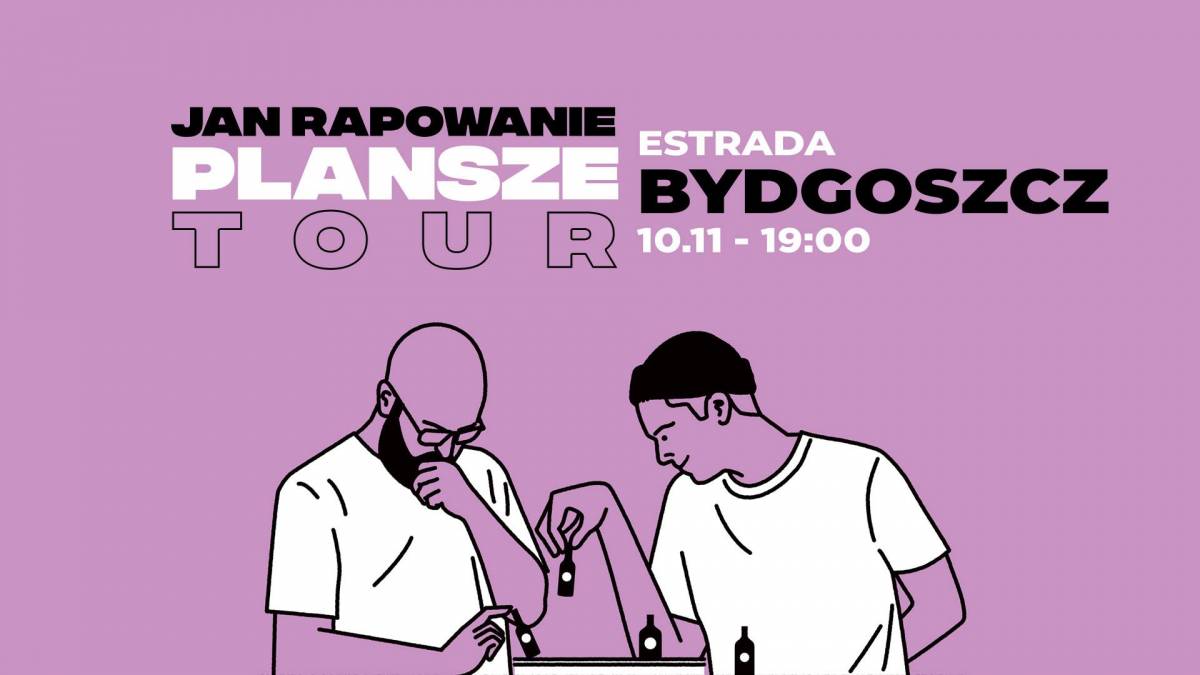 KONCERT WYPRZEDANY!
Już 10.11 Jan-Rapowanie zagra swój pierwszy, premierowy koncert w Bydgoszczy, promujący najnowszą płytę "Plansze"
"Plansze" to "opowieść dwudziestolatka, który widzi, czuje i stara się przeżyć swoją młodość najbardziej, jak to tylko możliwe". To spójny, ale różnorodny materiał, który przeciągnie Was po wielkomiejskich klubach, zostawiając po sobie coś więcej niż kaca. Nie jest to relacja z imprezy, a raczej wyniesiona z niej refleksja - Kogo można tam spotkać? Czego tam szukamy? Co nie jest widoczne na pierwszy rzut oka, a kryje się głębiej?
"Plansze" pozwalają nam spojrzeć na świat oczami wychowanków wielkich miast, żyjących w ich tempie, korzystających z ich możliwości i uroków. Muzycznie NOCNY prowadzi nas w rejony dotąd nieodkryte dla polskiego rapu, destylując własny styl z muzyki, która ukształtowała jego gust wiele lat temu. Dwa światy obu autorów zderzają się tutaj tworząc coś nowego i własnego.
UWAGA!
Osoby poniżej 16 roku życia mogą wziąć udział w koncercie tylko pod opieką osoby dorosłej i na wyłączną odpowiedzialność osoby dorosłej, pod której pieczą pozostaje, po nabyciu biletów wstępu zarówno dla osoby małoletniej jak i dorosłej.
Osoby niepełnoletnie, które ukończyły 16 lat, mogą uczestniczyć w koncercie pod warunkiem posiadania ważnego biletu oraz podpisanej zgody opiekunów prawnych na uczestnictwo w imprezie.
______________________
Kalendarz wydarzeń odbywających się w Bydgoszczy miej zawsze pod ręką dzięki aplikacji mobilnej (Android i iOS).
______________________
Informacje o wydarzeniach przesyłajcie na adres wydarzenia@visitbydgoszcz.pl
______________________
Bydgoskie Centrum Informacji nie ponosi odpowiedzialności za jakiekolwiek zmiany miejsc, godzin i dat wydarzeń.