Środowe Czytanie i Działanie
Gdzie?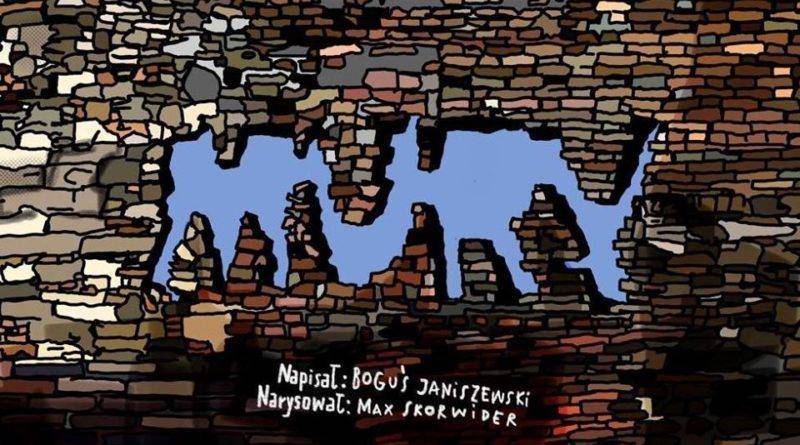 Informacje od Organizatora:
Zapraszamy rodziców (może dziadków) z dziećmi powyżej 3. roku życia na CZYTANIE I DZIAŁANIE, czyli poznawanie najlepiej napisanych i wyśmienicie zilustrowanych książek dla dzieci oraz łączenie ich z kreatywnymi aktywnościami.
Książka jest za każdym razem inna, zawsze bardzo dobra.
WSTĘP WOLNY, choć limitowany, ogranicza nas liczba miejsc.
Zapisujcie się drogą email, na adres: tuczytam@op.pl. w temacie wpiszcie "środa, 20" i czekajcie na potwierdzenie. Decyduje kolejność zgłoszeń.
Zajęcia prowadzi Lucyna Brzezinska-Eluszkiewicz.
Wykorzystana ilustracja pochodzi z książki (bohaterki spotkania) pt. Mury" wydanej właśnie przez Wydawnictwo Albus.
Tak Wydawca pisze o książce: "Pamiętajmy, że wszędzie tam, gdzie jest jakiś mur, ludzie próbują go zdobyć albo zza niego uciec. I to nie zmienia się od tysięcy lat. (Boguś Janiszewski "Mury")
Autorzy: Janiszewski i Skorwider specjalizujący się w popularyzowaniu ciekawych i złożonych zagadnień, znani z książek " Ekonomia", "Polityka" , "Mózg", tym razem swój czas i energię poświęcili –murom. Zarówno tym fizycznym jak i metaforycznym.
Książka o murach? Trzeba wielkiego talentu, żeby napisać i zilustrować ciekawą książkę dla dzieci, na temat, który wydaje się mało zajmujący dla młodego czytelnika. Boguś i Max prowadzą z czytelnikiem dialog i nieźle się przy tym bawią. Prosty tekst składający się z krótkich zdań, powtórzeń, tautologii sprawia wrażenie, że jego autor jest nieporadny językowo podobnie jak dziecko, które próbuje opowiedzieć coś bardzo ważnego za pomocą niedoskonałego, ubogiego w słowa języka. Ten zabieg zbliża autora i czytelnika i sprawia, że skomplikowane pojęcia i zdarzenia stają się zrozumiałe. Ta prosta, świadomie wykreowana przez autora forma, odzwierciedla dziecięcy świat i sposób myślenia. Autor nie poucza, nie staje ponad czytelnikiem, nie sprawdza, nie zadaje pytań ale razem z nim poszukuje odpowiedzi. Spośród wielu znanych i mniej znanych murów, które wybudował człowiek, autorzy wybrali kilkanaście. Każdy został opatrzony metryczką zawierająca informacje: kiedy powstał, jakie ma wymiary, z jakiego materiału i w jakim celu został zbudowany.
Mamy nadzieję, że każdy czytelnik doceni również niebanalne opracowanie graficzne książki i jej edytorską staranność. Książka jest prawdziwym dziełem sztuki rysunkowej. Max Skorwider to jeden z najciekawszych grafików ilustrujących książki dla dzieci. Za pomocą charakterystycznej kreski, drapieżnej i nieco kanciastej, w sposób bezkompromisowy opowiada o ludzkiej cywilizacji tworząc spójną z tekstem , a jednak odrębną opowieść graficzną.
Na każdej stronie pomijając ciekawe informacje wynikające z treści książki znajdziemy zilustrowany mur, który jednocześnie jest swoistą łamigłówką dla dociekliwych. Postaci z pierwszych stron gazet, politycy, pisarze, muzycy, współistnieją z bohaterami znanymi z literatury pięknej, kultowych filmów i komiksów. Czytelnika bez względu na wiek ucieszy każdy dobrze odczytany szczegół. Dziecko zobaczy potwora z Loch Ness, Batmana lub innego super bohatera z komiksów Marvela, dorosły fragmenty murali Banksyego lub w najmniej oczekiwanym miejscu postać z powieści Orwella."
______________________
Kalendarz wydarzeń odbywających się w Bydgoszczy miej zawsze pod ręką dzięki aplikacji mobilnej (Android i iOS).
______________________
Informacje o wydarzeniach przesyłajcie na adres wydarzenia@visitbydgoszcz.pl
______________________
Bydgoskie Centrum Informacji nie ponosi odpowiedzialności za jakiekolwiek zmiany miejsc, godzin i dat wydarzeń.