DiscoPogo / Tam i Tour 2019
Gdzie?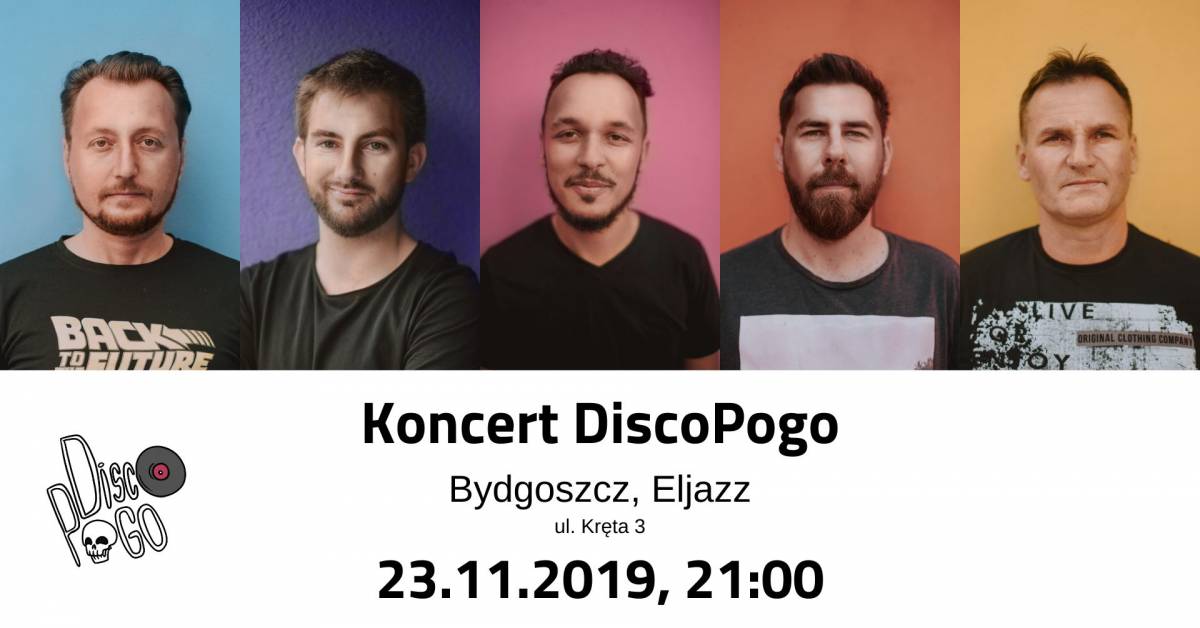 Poznańska kapela DiscoPogo rusza w świeżutką, pierwszą i od razu konkretną jesienną trasę koncertową promującą najnowszy album EP "All Inclusive" - ,,Tam i Tour 2019".
Funk/rock prosto z serca Wielkopolski dotrze także do Bydgoszczy. Jest to szansa na świetną zabawę przy kawałkach z jeszcze ciepłego mini-albumu EP ,,All Inclusive" a także utworach, które krążą już po YouTubach od wielu lat i takich, przy których tworzy się nowy, muzyczny rozdział w karierze DiscoPogo.
DiscoPogo
DiscoPogo! Energiczni jak disco i nieokiełznani jak pogo, z nutką włoskiego temperamentu. Jesteśmy zespołem z Poznania, który funkcjonuje od czerwca 2015 roku. W grudniu 2016 nagraliśmy i wydaliśmy album EP ,,DiscoPogo" z 4 autorskimi utworami a 13.09.2019 swoją premierę święcił drugi mini-album EP ,,All Inclusive".
Nasze motto brzmi: Bawimy się na poważnie!. Z pozoru paradoksalne, jednak najlepiej oddaje naszą postawę. Bawimy się tworząc muzykę. Daje nam to wiele radości, satysfakcji i – co przy zabawie najważniejsze – nigdy się nie nudzi! Bawiąc się wieloma popularnymi stylami muzycznymi i garściami czerpiąc inspiracje również z innych dziedzin sztuki i życia, DiscoPogo tworzy pozytywną, pełną energii mieszankę rocka, funku i ska, okraszoną często zabawnymi, ale posiadającymi swoją głębię, tekstami. W związku z tym, nie zamykamy się w kręgu tylko jednego gatunku muzycznego. Jak widać, utwory DiscoPogo stanowią połączenie różnych stylów, co oznacza, że każdy znajdzie w nich coś dla siebie!
Po ponad dwuletniej przerwie wydawniczej DiscoPogo powracamy z nowym mini-albumem pt. "All Inclusive". Podczas koncertów promujących EP "All Inclusive" zaprezentujemy również nowe kawałki, które zostaną zawarte w następnym wydawnictwie i pokażą dokąd może sięgać ta różnorodność.
Członkowie zespołu:
Vincenzo Corsini - wokal
Michał Błaszak - gitara basowa
Marcin Bazanowski - perkusja
Mariusz Henschke - gitara elektryczna
Marcin Wyrwiński - instrumenty klawiszowe
______________________
Kalendarz wydarzeń odbywających się w Bydgoszczy miej zawsze pod ręką dzięki aplikacji mobilnej (Android i iOS).
______________________
Informacje o wydarzeniach przesyłajcie na adres wydarzenia@visitbydgoszcz.pl
______________________
Bydgoskie Centrum Informacji nie ponosi odpowiedzialności za jakiekolwiek zmiany miejsc, godzin i dat wydarzeń.