Zaduszki jazzowe: Nadolny - Lemańczyk - Biskupski
Gdzie?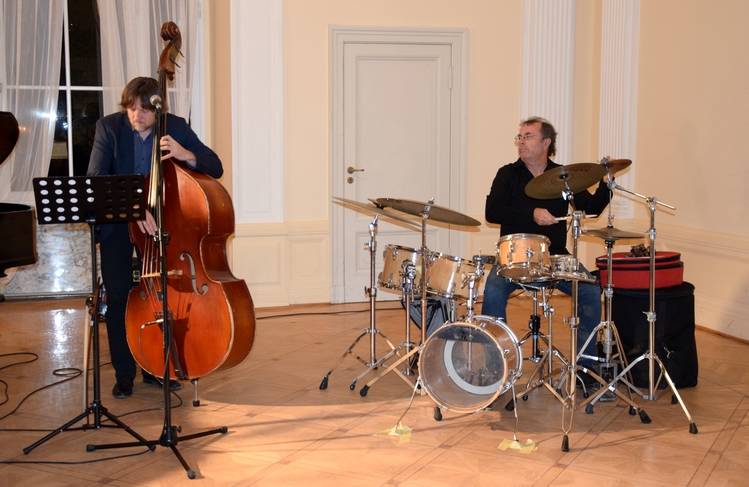 Muzyka zespołu to jazzowy mainstream poparty kompetencją i wirtuozerią wykonawców. To kompilacja praktyki i energii doświadczonych muzyków z wigorem i witalnością młodości. Większość repertuaru stanowić będą kompozycje artystów, którzy odeszli w tym roku do wiecznej orkiestry.
Grzegorz Nadolny – kontrabas
Znakomity muzyk, kompozytor, wszechstronny basista z jednakowym powodzeniem grający na gitarze basowej, jak i kontrabasie. Bydgoski artysta od wielu lat jest podporą licznych formacji pochodzących z tego miasta. Oprócz muzykowania zajmuje się pracą pedagogiczną. Prowadzi klasę kontrabasu jazzowego w rodzimej Akademii Muzycznej oraz jest autorem cyklu edukacyjnych koncertów pt: "Bydgoska Akademia Jazzu". Zajmuje się także publicystyką kulturalną na łamach bydgoskich gazet i czasopism.
Adam Lemańczyk - Pianista, klawiszowiec, akompaniator oraz student IV roku Akademii Muzycznej im. F. Nowowiejskiego w Bydgoszczy w klasie Krzysztofa Herdzina. Założyciel jazz-rockowej grupy Omnivore, współpracował m. in. z zespołem SOFA, PiGMa, Mocha, LONT, Wojtkiem Pilichowskim, Dorifi, Tomaszem Steńczykiem, Grzegorzem Daroniem, Grzegorzem Hyży, Justyną Steczkowską, teatrem Syrena, Filharmonią Pomorską, Telewizją Polską. Laureat nagrody Grand Prix na Tczewskim Konkursie Twórczości, Zdobywca I nagrody w kategorii Jazz z zespołem Omnivore na festiwalu FAMA 2011, zdobywca wyróżnienia w kat. instrumentalista oraz specjalnego wyróżnienia w kat. zespół (Omnivore) na VII Europejskich Integracjach Muzycznych, zdobywca wielu wyróżnień z zakresu akompaniamentu podczas festiwali czy konkursów.
Piotr Biskupski – perkusja
Absolwent Akademii Muzycznej w Poznaniu w renomowanej klasie prof. J. Zgodzińskiego. Wykładowca Akademii Muzycznych w Bydgoszczy i Łodzi. W grze na perkusji ponad wszystko ceni melodykę i wrażliwość na barwę instrumentu. Perkusja w jego rękach jest instrumentem nie tylko rytmicznym. Znakomity technik i doświadczony muzyk studyjny. Jest bardzo wysoko cenionym pedagogiem gdzie jako kierownik zakładu Jazzu i muzyki estradowej w Akademii Muzycznej w Bydgoszczy z tytułem doktora habilitowanego prowadzi klasę perkusji. Odznaczony medalem za szczególne osiągnięcia dla kultury narodowej Gloria Artis.
______________________
Kalendarz wydarzeń odbywających się w Bydgoszczy miej zawsze pod ręką dzięki aplikacji mobilnej (Android i iOS).
______________________
Informacje o wydarzeniach przesyłajcie na adres wydarzenia@visitbydgoszcz.pl
______________________
Bydgoskie Centrum Informacji nie ponosi odpowiedzialności za jakiekolwiek zmiany miejsc, godzin i dat wydarzeń.