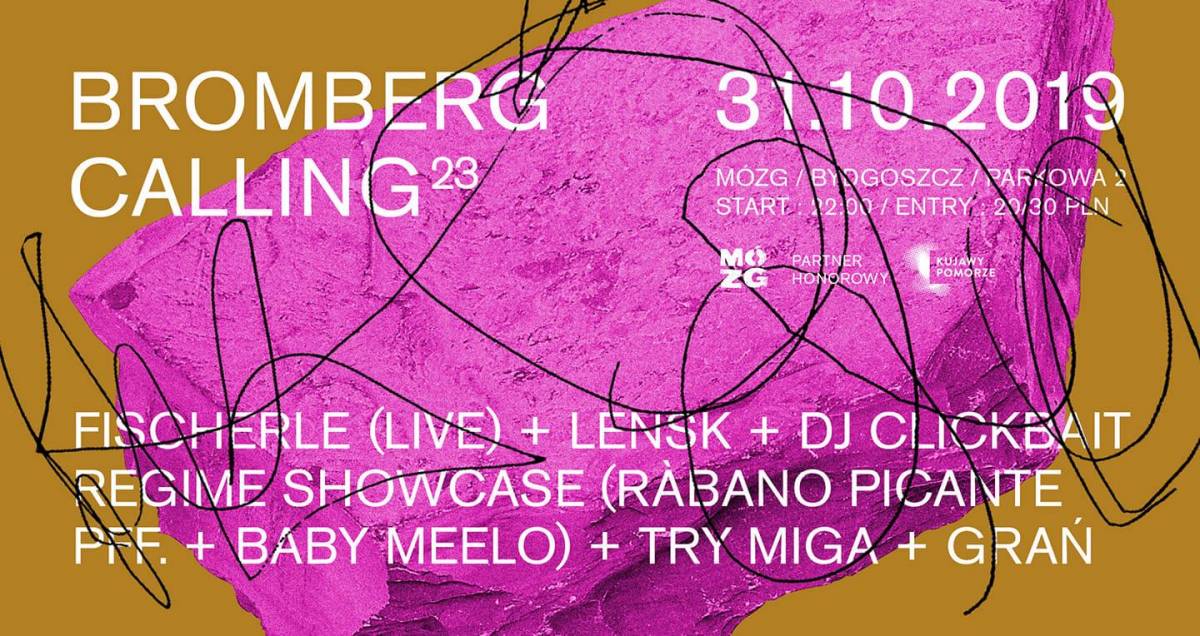 Sztandarowy bydgoski cykl powraca w święto duchów! 23. edycja będzie wyjątkowa, ponieważ zdecydowaliśmy się na bardziej innowacyjne podejście do tematu imprezy (jaką niewątpliwie Bromberg Calling pozostanie). W związku z tym w Mózgu tej nocy wystąpią najciekawsi Polscy producenci i DJe z niszy eksperymentalnego klubowego grania, którzy swoją twórczość wydają na labelach takich jak Angoisse, JEROME, Pointless Geometry, Intruder Alert czy Pawlacz Perski.
CZARNA SALA:
Fischerle live (Pawlacz Perski / Czaszka Records / Pointless Geometry / Outlines)
Od wielu lat przełamuje gatunkowe ramy i układa z nich własną wielowarstwową dźwiękową masę. Jego muzyka wydawana była przez niezliczoną ilość wytwórni polskich i zagranicznych takich jak: U-Cover, Qunabu, Wounded Knife, Where To Now?, Monotype Records, Czaszka Records, Pointless Geometry czy Outlines. Produkcje Fischerle to opływające w detalach plastyczne konstrukty, mieniące się szczegółami zatopionymi w masywnych, przestrzennych basach.
Lensk (MESTIÇO)
Producent, DJ, współzałożyciel Mestiço. Związany z wytwórniami takimi jak Hypermedium, Jerome, Angoisse czy Infinite Machine, W setach ledwo kontrolowany chaos, od jungle przez schranz do Gucci Mane'a w przeciągu minut. Soft heart hard drums. 1312 for life.
GRAŃ (Intruder Alert)
Członek warszawskiego kolektywu Intruder Alert. Współautor stworzonej z frankfurckim producentem Avbvrn EPki Candles, która została wyróżniona przez portal Mixmag jako essential listening, a pochodzący z niej utwór Personal Joy trafił na łama FACT Magazine. Jego produkcje i remiksy zostały wydane przez nowojorskie SHXME, Broken Call Records, szanghajskie Genome 6.66 Mbp, barcelońskie angoisse, warszawskie Pointless Geometry i internetowe JEROME. Twórca gościnnych audycji, które można było usłyszeć na angielskim NTS, Noods Radio, meksykańskim Internet Public Radio, Berlin Community Radio oraz znajdującym się w Hong Kongu HKCR. Współpracował między innymi z artystami takimi jak DJ Morgiana / Karolina Karnacewicz, Mang, Joragon, Lensk, KXLT i ASTMA.
DJ Clickbait (Artefakty)
Bardzo wszechstronny i utalentowany DJ rezydujący w Poznaniu, współtworca kolektywu Artefakty. Jego najświeższe mixy zostały w ostatnim czasie opublikowane i promowane przez tak cenione kanały jak PROGREFONIK czy JEROME.
BIAŁA SALA:
regime showcase
w składzie:
Pff. - pod tym pseudonimem kryje się Sylwia Słowik, didżejka i artystka dźwiękowa związana z kolektywem regime i cyklem Canti Spazializzati. Pod pseudonimem Pff. prezentuje najświeższe odmiany muzyki klubowej, stawiając na mocny groove i duży ładunek energetyczny. Sięgając m.in. po bass, kuduro i cyfrowy reggaeton potrafi rozruszać każdy parkiet.
Baby Meelo - czyli Kamil Matyja - znany też jako DJ Crackpipe, 61st Draft Pick - to DJ, producent i radiowiec powiązany z wrocławskim kolektywem regime brigade, Radio LUZ i ekipą Polish Juke. Jako Baby Meelo najlepiej czuje się szerokopojętej stylistyce muzyki basowej, ujmując ją również pod szyldem Future Beats - czyli autorskiej audycji, którą prowadzi w każdy poniedziałek na antenie Radia Luz.
Rábano Picante - aka pikantny aka jan ka-zan aka chrzan to DJ związany z kolektywem regime i Radio LUZ. Nałatwiej spotkać go można we wrocławskim Uczuleniu przy Kolejowej. tracki puszczał też na Szpitalnej, Spring Break'u i w Gdańskiej Ziemi.
______________________
Kalendarz wydarzeń odbywających się w Bydgoszczy miej zawsze pod ręką dzięki aplikacji mobilnej (Android i iOS).
______________________
Informacje o wydarzeniach przesyłajcie na adres wydarzenia@visitbydgoszcz.pl
______________________
Bydgoskie Centrum Informacji nie ponosi odpowiedzialności za jakiekolwiek zmiany miejsc, godzin i dat wydarzeń.