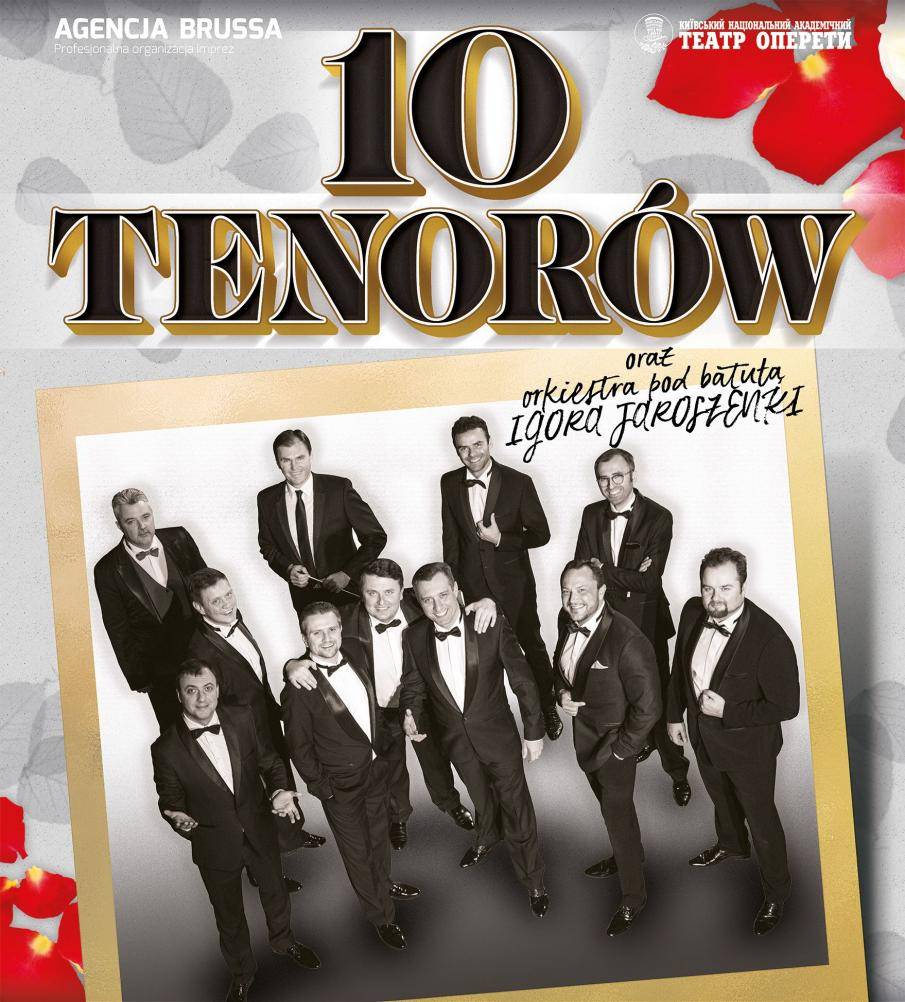 10 TENORÓW przynoszą miłość do Polski w 2019r. Trasa koncertowa 10 utalentowanych wokalistów gwarantuje pasję i uśmiech na twarzy. Najbardziej ekscytująca grupa wokalna 10 TENORÓW zaśpiewa dosłownie wszystko - od najlepszych piosenek romantyczny pop, ballad rockowych po utwory ludowe aż do arii operowej. Nic dziwnego - jest ich aż DZIESIĘCIU, więc i repertuar szeroki i możliwości znaczące. Ale to przecież nie jest cała prawda o 10 Tenorach z Polski i Ukrainy - ważnym elementem jest perfekcja z jaką wykonują muzykę, oraz skala talentu, który pozwala na sięganie równocześnie do twórczości Johanna Straussa i Leonarda Cohena. Jakie są rezultaty tego spotkania? Oceńcie Państwo sami... CZĘŚĆ I: 1. C. Porter "C'est magnifique" z musicalu "Can-Can" 2. Il Divo "La vida sin amor" 3. A. Lara "Granada" 4. N. Rota "Parla piu piano" z muzyki do filmu "Ojciec chrzestny" 5. F. Lehár Septet z operetki "Wesoła Wdówka" 6. P. Majboroda "Moja rodzona matko" 7. J. Strauss-syn Aria Barinkaya "Wielka sława to żart" z operetki "Baron cygański" 8. E. De Curtis "Wróć do Sorrento" 9. G. Verdi "La donna è mobile" z opery "Rigoletto" 10. E. Cannio "O surdato" nnammurato 11. C. Velázquez "Besame mucho" 12. L. Danza "Funiculì, funiculà" 13. Q. Mendoza y Cortés "Cielito Lindo" CZĘŚĆ II: 1. C. Pesa, L. Greco, G. Meccia, J. Fontana "Il mondo" 2. R.Valens Ludowa piosenka meksykańska "La Bamba" 3. Secret Garden "You raise me up" 4. C. D. Labati "Help yourself" 5. "Typewriter" orkiestra 6. L. Reed "Delilah" 7. J. Groban "Per te" 8. W. Iwasiuk "Czerwona Ruta" 9. L. Cohen "Hallelujah" 10. D. Modugno "Volare 11. F. Sartori "Con te partirò" 12. H. Carpendale Liberta 13. B. Joel "Uptown Girl" 14. F. Mercury "We are the champions"
______________________
Kalendarz wydarzeń odbywających się w Bydgoszczy miej zawsze pod ręką dzięki aplikacji mobilnej (Android i iOS).
______________________
Informacje o wydarzeniach przesyłajcie na adres wydarzenia@visitbydgoszcz.pl
______________________
Bydgoskie Centrum Informacji nie ponosi odpowiedzialności za jakiekolwiek zmiany miejsc, godzin i dat wydarzeń.