Moniuszkowe Zaduszki - na skrzydłach pieśni
Gdzie?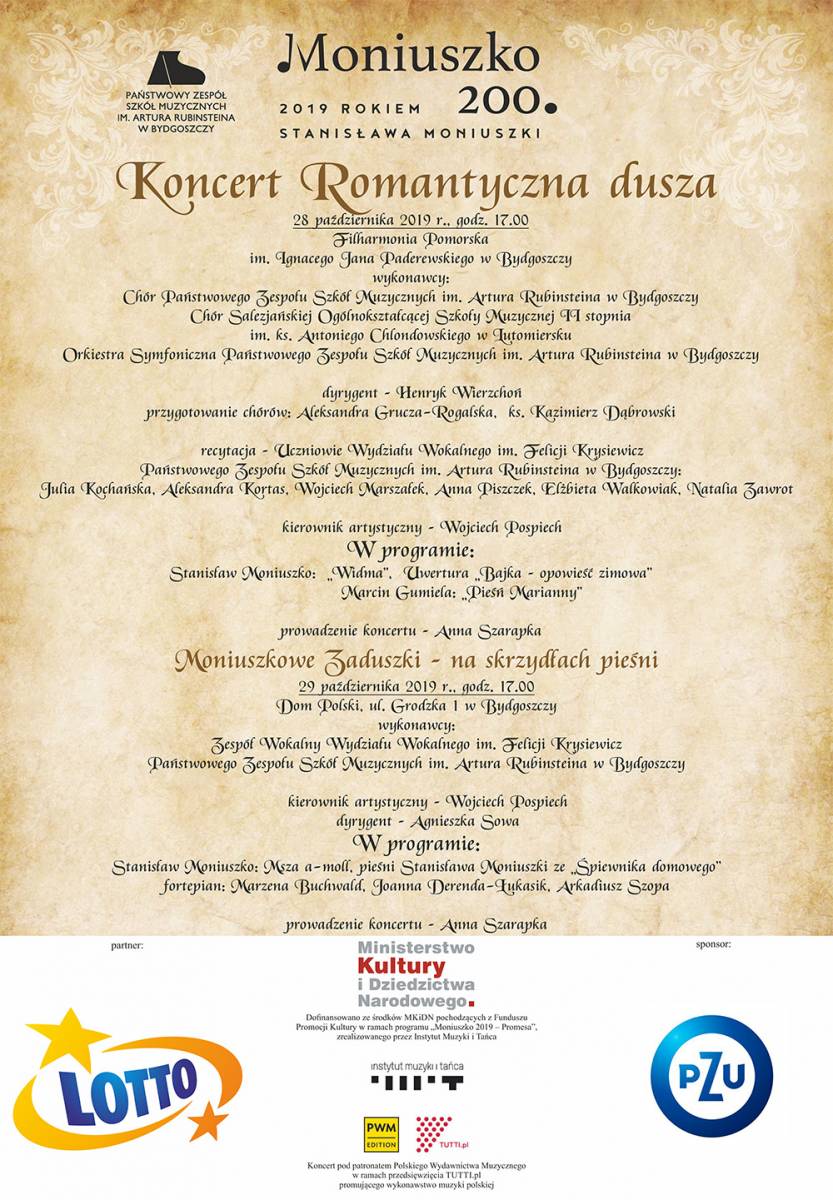 Z okazji Roku Stanisława Moniuszki zapraszamy na wydarzenia zorganizowane przez Państwowy Zespół Szkół Muzycznych im. Artura Rubinsteina. Z pewnością będzie to prawdziwa uczta dla melomanów, nie tylko bydgoskich. Przez dwa dni w Bydgoszczy, młodzi muzycy świętować będą Rok Stanisława Moniuszki śpiewając, grając i recytując najpiękniejsze i najbardziej znane dzieła tego Kompozytora. Celem zadania jest popularyzacja twórczości Stanisława Moniuszki w połączeniu z integracją pokoleń i uczczeniem 200. rocznicy urodzin wielkiego kompozytora "znanego-nieznanego" w kontekście historycznym XIX wieku.
"Moniuszkowe Zaduszki - na skrzydłach pieśni" – wieczór, wypełniony muzyką Stanisława Moniuszki – zawierający "Śpiewniki domowe" wykonywane na żywo przez młodych artystów i zebranych gości.
Wieczór "Moniuszkowe Zaduszki" to wielopokoleniowe spotkanie: spotkanie młodych artystów z ich mistrzami, spotkanie z muzyką Stanisława Moniuszki, w szczególności z twórczością "Domowych Śpiewników". Przy tworzeniu pieśni, a pisał je Moniuszko zarówno w wieku młodzieńczym, jak i ku końcowi życia, przyświecała mu określona idea. Pragnął dać społeczeństwu polskiemu pieśni narodowe, polskie, które mogłyby zająć ważne miejsce w życiu codziennym Polaków, usuwając na bok importowaną tandetę. Kiedy zebrała się już spora garść pieśni, umyślił Moniuszko wydawać je w zeszytach pod ogólnym tytułem: "Śpiewnik domowy". Nazwa tego zbioru wymownie świadczy o powziętym zamiarze: mają to być pieśni do użytku domowego, przeznaczone dla każdego, na różne okoliczności codziennego życia. Mają też odpowiadać różnorakim nastrojom i potrzebom serca, dlatego uderza tak bogata ich różnorodność. Zebrani wysłuchają wybranych pieśni z zeszytów domowych a także sami włączą się na żywo wykonując razem utwory. Podczas wieczoru wykonana zostanie także Msza a-moll Stanisława Moniuszki.
Wykonawcami będą uczniowie oraz pedagodzy wydziału wokalnego im. Felicji Krysiewicz Państwowego Zespołu Szkół Muzycznych w Bydgoszczy.
______________________
Kalendarz wydarzeń odbywających się w Bydgoszczy miej zawsze pod ręką dzięki aplikacji mobilnej (Android i iOS).
______________________
Informacje o wydarzeniach przesyłajcie na adres wydarzenia@visitbydgoszcz.pl
______________________
Bydgoskie Centrum Informacji nie ponosi odpowiedzialności za jakiekolwiek zmiany miejsc, godzin i dat wydarzeń.