Artyści w Bohemie: Robert Więckiewicz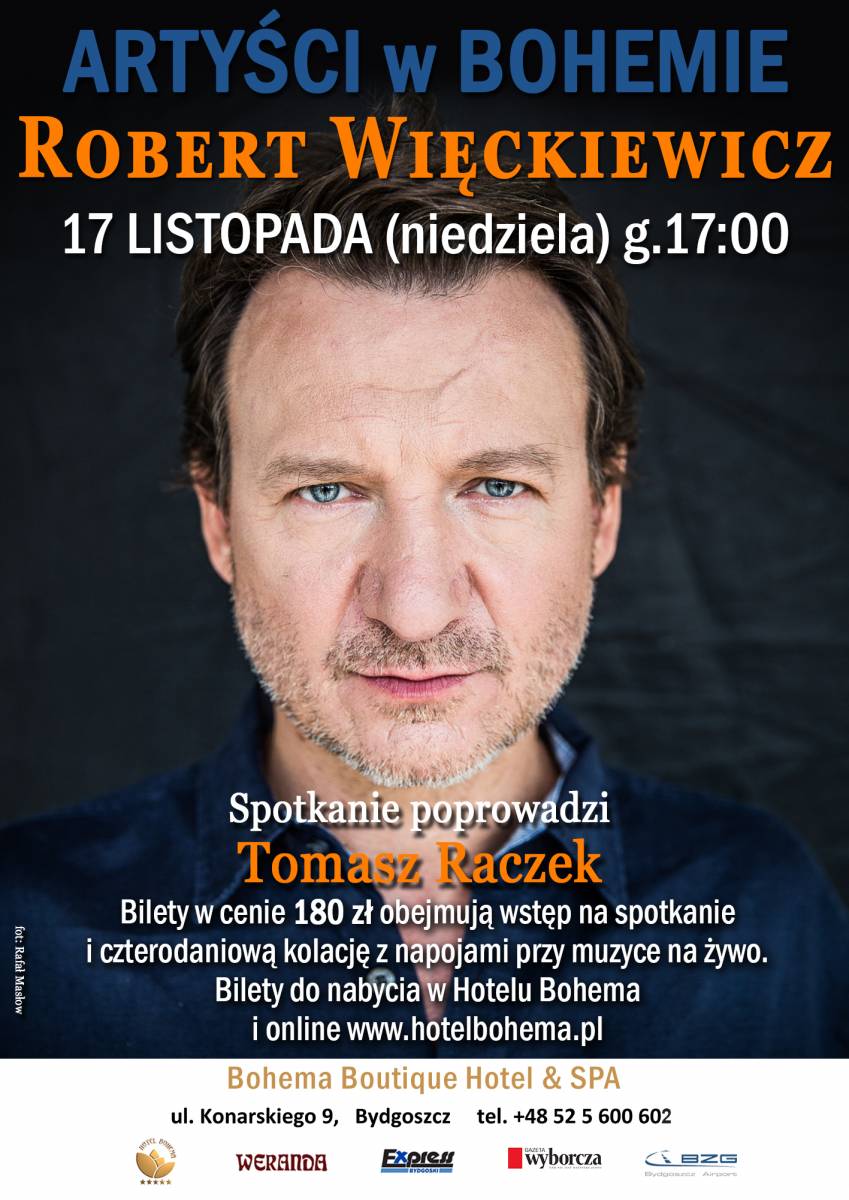 Robert Więckiewicz – jeden z najbardziej wszechstronnych aktorów polskiego kina – będzie gościem listopadowego spotkania " Artyści w Bohemie". Spotkanie poprowadzi Tomasz Raczek.
Lech Wałęsa, pan Twardowski, skruszony gangster, którego zeznania mają obciążyć liderów pruszkowskiej mafii, pisarz-alkoholik walczący z nałogiem, drobny złodziejaszek, który w czasie II wojny światowej ukrywał przed okupantem Żydów w lwowskich kanałach czy wiejski proboszcz zmagający się z ludzkimi słabościami – to tylko niektóre z kreacji Roberta Więckiewicza.
Jego nazwisko można zobaczyć na afiszach najważniejszych rodzimych produkcji ostatnich lat jak m.in. "W Ciemności, "Kler" czy "Pod Mocnym Aniołem" i "Wałęsa. Człowiek z nadziei". Oglądać go można też w głośnych produkcjach serialowych "Ślepnąc od świateł", "Odwróceni" czy "1983". Pojawił się też na ekranie u boku samego Jima Carreya w "True Crimes" i Billa Pulmana w "Ukrytej grze" (na ekranach od listopada).
Jego grę docenili najważniejsi reżyserzy filmowi i teatralni jak Andrzej Wajda, Agnieszka Holland, Juliusz Machulski czy Wojtek Smarzowski.
Sam Robert Więckiewicz mówi, że chciałby zestarzeć się z zawodem aktora. – Nie interesuje mnie tylko odtwarzanie jakiejś postaci. Interesuje mnie moment kreacji, kiedy mam poczucie, że coś stwarzam. To nie filmy pozostają w głowie, tylko emocje, które zostały uruchomione podczas pracy nad rolą. Kiedy chcę się skonfrontować z postacią, często muszę dokopać się do emocji, których na co dzień nie używam – mówił w jednym z wywiadów o pracy nad kolejnymi rolami.
Warto posłuchać jak opowiada o przygotowaniach do filmu "Wałęsa. Człowiek z nadziei", kiedy to tygodniami przyglądał się wystąpieniom byłego prezydenta, słuchał jak mówi, gestykuluje, jak stawia akcenty. I choć sam film Andrzeja Wajdy podzielił publiczność, widzowie i krytycy zgodnie przyznają, że rola Więckiewicza należy do wybitnych.
Aktor bierze też udział w nowej produkcji uznanego bydgoskiego twórcy Marcina Sautera. Pierwszy klaps na planie filmu fabularnego "Miasto" padł 19 września. To film, w którym Bydgoszcz zagra pierwsze skrzypce – nie dość, że film w całości kręcony jest w naszym mieście i jego okolicach, to dodatkowo Bydgoszcz jest wręcz "drugoplanowym" bohaterem opowieści, która łączy w sobie wątki obyczajowe z kryminałem w stylu noir.
Z Robertem Więckiewiczem będzie można spotkać się w niedzielę 17 listopada w restauracji Weranda hotelu Bohema o godz. 17. Spotkanie z cyklu Artyści w Bohemie poprowadzi uznany krytyk filmowy Tomasz Raczek.
Bilety w cenie 180 zł/os. obejmują wstęp na spotkanie i czterodaniową kolację z napojami przy muzyce na żywo.
______________________
Kalendarz wydarzeń odbywających się w Bydgoszczy miej zawsze pod ręką dzięki aplikacji mobilnej (Android i iOS).
______________________
Informacje o wydarzeniach przesyłajcie na adres wydarzenia@visitbydgoszcz.pl
______________________
Bydgoskie Centrum Informacji nie ponosi odpowiedzialności za jakiekolwiek zmiany miejsc, godzin i dat wydarzeń.