Kłamstwo - komedia małżeńska
Gdzie?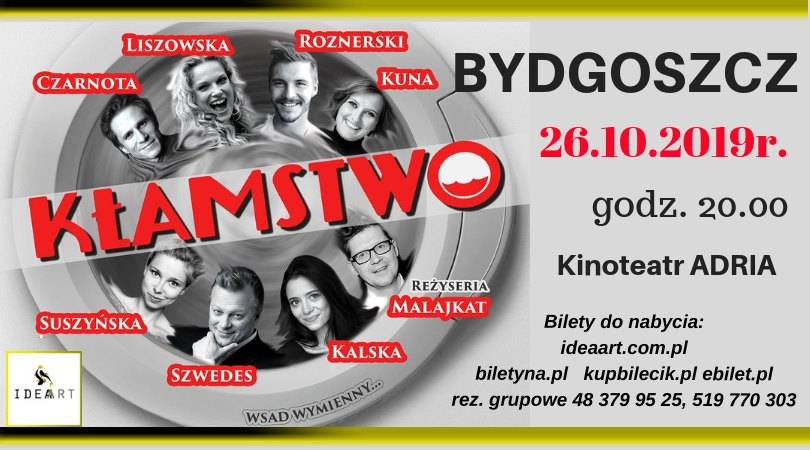 Niesamowite i przenikliwe, a przy tym, o zgrozo, zabawne studium, właśnie... Kłamstwa. Florian Zeller, francuski dramaturg zdążył już przyzwyczaić swoich widzów do ostrej jazdy i bolesnego telemarku, porusza się z gracją baletnicy i precyzją chirurga w meandrach i zakamarkach ludzkich umysłów. Dwie pary małżeńskie, dwie pary przyjaciół, dwie pary kochanków, a ich nadal tylko czworo, jak to jest możliwe? Wszystkiego dowiecie się Państwo podczas spektaklu "Kłamstwo"!
Metaforycznie udało się w spektaklu połączyć Bergmanowskie "Sceny z życia małżeńskiego" z kilkoma komediami Woody'ego Allena. Oczywiście sztuka nie jest jedynie słowną ekwilibrystyką, zawiera również racjonalny, ale i filozoficzny podtekst. Reżyser spektaklu, Wojciech Malajkat, niedawno powiedział : "Długo pracowaliśmy nad obsadą, ta sztuka wymaga nieprzypadkowych i wyśmienitych aktorów, którzy potrafią wydobyć niuanse zawarte w tekście, z wdziękiem rozbawić publiczność i sprawić, że, paradoksalnie, kłamstwo ich czegoś nauczy".
Francuski dramaturg Florian Zeller spróbował kłamstwo zweryfikować w warunkach scenicznych. Udało mu się to na tyle, że w całej Europie widzowie podczas przedstawień spadają z krzeseł z rozbawienia, za chwilę wracają na miejsca dyskretnie zerkając wokół i szukając wsparcia i zrozumienia u innych kobiet i mężczyzn. Niech to uświadomi siłę rażenia tego tekstu. Reżyser przedstawienia, Wojciech Malajkat, zdradza: "Przeraża nas to, jak można wygodnie żyć w związku, jednocześnie nie wiedząc nic o sobie nawzajem".
Producent spektaklu, Piotr Szwedes, zastrzega jednak: "Warto to zobaczyć, oczywiście, nie po to, aby dowiedzieć się, jak skutecznie oszukać partnera lub partnerkę. Nie traktujcie tego, jako spektaklu instruktażowego. O nie! Warto, ponieważ, jak w soczewce skupimy dwa dni Waszego życia w dwóch godzinnych aktach. Rozbierzemy was na części pierwsze, a czy dacie się złożyć? To już zostawiamy Wam. To nie tylko komedia, ale i bardzo cenny przekaz".
Reżyseria:
Wojciech Malajkat
Obsada wymienna:
Joanna Liszowska, Izabela Kuna, Milena Suszyńska, Mikołaj Roznerski, Sambor Czarnota, Piotr Szwedes, Adriana KalskaBilety do nabycia:
KUPBILECIK
https://www.kupbilecik.pl/imprezy/32690/Bydgoszcz/K%C5%82amstwo/
BILETYNA
https://biletyna.pl/event/view/id/93238
EBILET
https://sklep.ebilet.pl/141300438308749347
Rezerwacje grupowe tel. 48 379 95 25 lub 519 770 303
______________________
Kalendarz wydarzeń odbywających się w Bydgoszczy miej zawsze pod ręką dzięki aplikacji mobilnej (Android i iOS).
______________________
Informacje o wydarzeniach przesyłajcie na adres wydarzenia@visitbydgoszcz.pl
______________________
Bydgoskie Centrum Informacji nie ponosi odpowiedzialności za jakiekolwiek zmiany miejsc, godzin i dat wydarzeń.