Tupot Poetycki #37 | SLAM + Szegetz
Gdzie?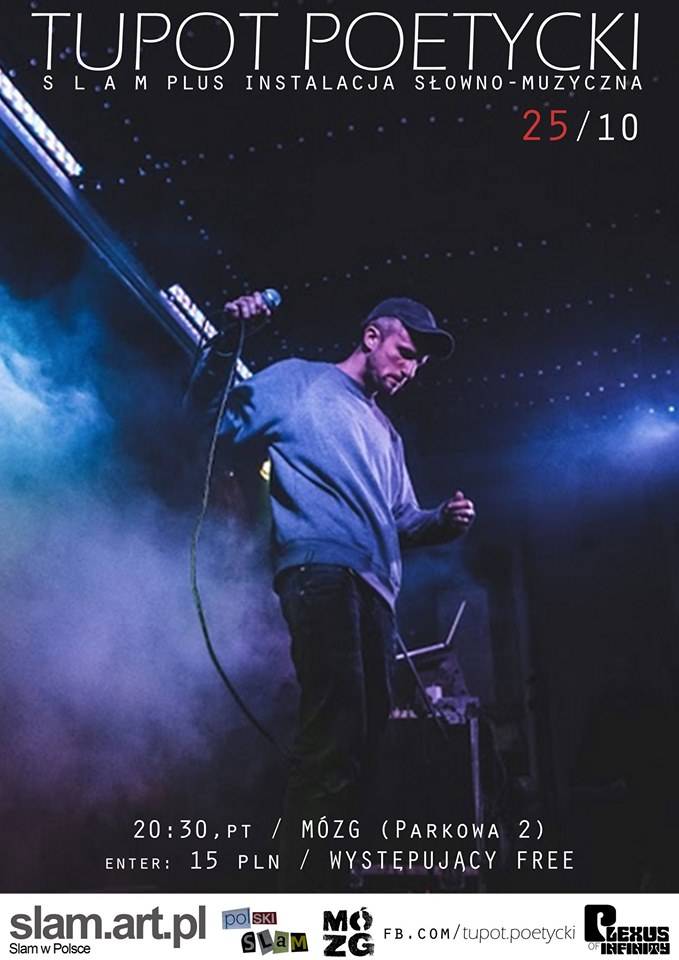 | SLAM
gdzie (dzisiaj) jest miejsce dla rzemieślników słowa, dla amatorów, dla standuperów, dla zwykłych i niezwykłych poetów jednocześnie? właśnie tu. SLAM jest społecznym zwycięzcą w sprawach szeroko rozumianej poezji. od pierwszego SLAMu w Polsce minęło już 16 lat. SLAM w PL ma się dosyć dobrze.
otwarta scena - każdy może wystąpić - forma jest dowolna - można czytać z kartki - zasady: poeta nie używa rekwizytów, ani muzyki • poeta prezentuje swój własny tekst • poeta ma 3 minuty
Dla czwórki półfinalistów sprawy od Plexus Of Infinity w postaci płyt/książek. Dla zwycięzcy nagroda w wysokości 100 PLN.
aby zgłosić swój udział wystarczy wysłać maila (vive_memor@vp.pl) lub zgłosić się osobiście w dniu wydarzenia.
| INSTALACJA SŁOWNO - MUZYCZNA
(recytacje przedświtu: rap | ambient | księżyc | noise | trap | spoken word | krew)
Szegetz to raper, który zaczynał słowa na polskich slamach poetyckich. Członek duetu Destruenci, który łączył teksty z elektroniką i trąbką.
Dotychczas występował w rodzinnym Gnieznie min Latarnia na Wenei; warszawskim Pogłos))), łodzkiej Protestacji, bydgoskim MÓZGU, poznańskim Dragonie na Rozbracie czy w kaliskim Teatrze.
Na żywo towarzyszy mu KR, który od trzynastego roku życia gra na trąbce na pogrzebach, a od miesięcy wokalnie i instrumentalnie wspiera przedświtową chutzpę na żywo.
"Przedświt" to epka o porażkach, gapieniu się nocą w gwiazdy; o sarnach, miłości, chodzeniu po ulicy, oddechu i krwi. Komentuje siłę i brak sił, plany na życie i współczesne społeczeństwo.
Stylistycznie nawiązuje od eksperymentalnego hip-hopu po atmosferyczne odmiany trapu. Całość materiału charakteryzuje przestrzenne brzmienie oraz głębokie i przesterowane dźwięki.
Na żywo "Przedświtowi" towarzyszą utwory spoken word z akompaniamentem syntezatora analogowego, fletu lub trąbki.
Przedświt to moment w mroku, w oczekiwaniu na światło.
---
wstęp: 15 pln | występujący free
______________________
Kalendarz wydarzeń odbywających się w Bydgoszczy miej zawsze pod ręką dzięki aplikacji mobilnej (Android i iOS).
______________________
Informacje o wydarzeniach przesyłajcie na adres wydarzenia@visitbydgoszcz.pl
______________________
Bydgoskie Centrum Informacji nie ponosi odpowiedzialności za jakiekolwiek zmiany miejsc, godzin i dat wydarzeń.