Recital fortepianowy: PianoHooligan | [sound]Spectrum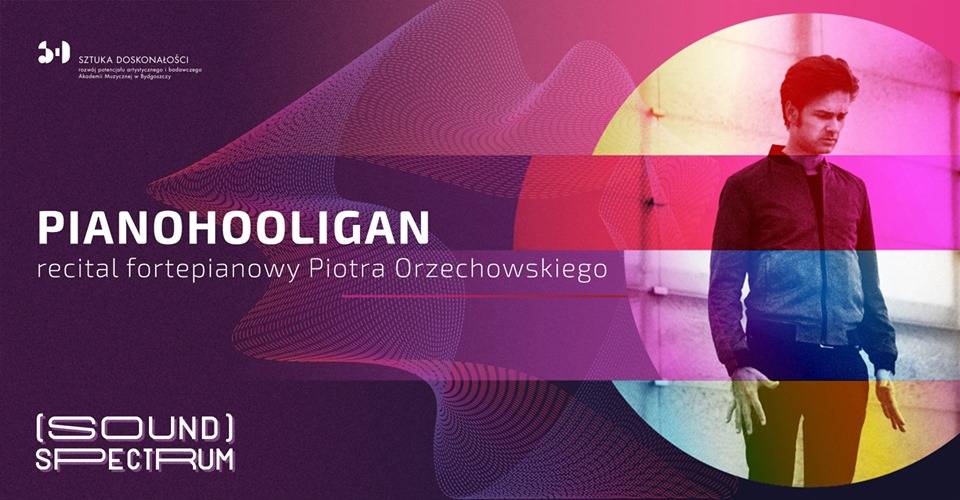 Recital fortepianowy Piotra Orzechowskiego - Pianohooligan, który już 16 października wykona utwory ze swojej najnowszej płyty "24 Preludes & Improvisations". Koncert odbywa sie w ramach projektu [sound]Spectrum International New Music Symposium.
Preludes & Improvisations to trzeci projekt solowy pianisty i kompozytora Piotra Orzechowskiego, który po rewolucyjnym krążku pt. Experiment: Penderecki (2012), będącym próbą znalezienia rdzenia stylu tego wybitnego polskiego kompozytora, a także drugim, ponadgatunkowym, eksplorującym muzykę ludową albumie pt. 15 Studies for the Oberek (2014), powraca z nową propozycją wielowymiarowego dzieła, na które składa się cykl 24 preludiów i odpowiadających im improwizacji. Swoją formą nawiązując do 24 preludiów i fug Jana Sebastiana Bacha, Orzechowski omawia najważniejsze dla muzyki pojęcia jak konstrukcja, reguła czy kreacja, definiując je na nowo poprzez własną koncepcję improwizacji. Proces ten objawia się w kontrastowym zestawieniu dźwiękowych brył i wolnych improwizacji – utworów skomponowanych i tych stworzonych spontanicznie.
WSTĘP WOLNY
Darmowe wejściówki za pośrednictwem formularza: http://bit.ly/soundorzechowski
...............................................
Piotr Orzechowski znany jest także jako "Pianohooligan" – takim właśnie przydomkiem określa się ten niezwykle utalentowany i bezkompromisowy jazzman. Mimo młodego wieku jest już laureatem wielu prestiżowych konkursów (m.in. Montreux Jazz Piano Competition 2011, Jazz Hoeilaart, Jazz Nad Odrą, Krokus Jazz). Współpracował także z takimi gwiazdami, jak Phillip Glass, Carlos Zingaro, Randy Brecker czy Władysław "Adzik" Sendecki. Artysta studiował w Akademii Muzycznej w Krakowie, jest absolwentem Berklee College of Music w Walencji. Wielokrotnie był stypendystą Ministra Kultury i Dziedzictwa Narodowego, zdobył także Stypendium Twórcze Miasta Krakowa.
............................................
[sound]Spectrum to sympozjum poświęcone szeroko pojętej muzyce współczesnej, na którym wybitni artyści zaprezentują swoją twórczość w formie koncertów, wykładów, recitali, instalacji oraz spotkań z publicznością. Impreza ma na celu ukazanie szerokiego spektrum muzyki nowej, dlatego każdy dzień prezentować będzie inny wymiar muzyczny i estetykę.
Wydarzenie jest realizowane w ramach projektu RID Regionalna Inicjatywa Doskonałości, prowadzonego przez Akademię Muzyczną w Bydgoszczy.
______________________
Kalendarz wydarzeń odbywających się w Bydgoszczy miej zawsze pod ręką dzięki aplikacji mobilnej (Android i iOS).
______________________
Informacje o wydarzeniach przesyłajcie na adres wydarzenia@visitbydgoszcz.pl
______________________
Bydgoskie Centrum Informacji nie ponosi odpowiedzialności za jakiekolwiek zmiany miejsc, godzin i dat wydarzeń.