II Mistrzostwa Województwa Kujawsko-Pomorskiego Przedszkolaków w Piłce Nożnej Bergovia Cup 2019
Gdzie?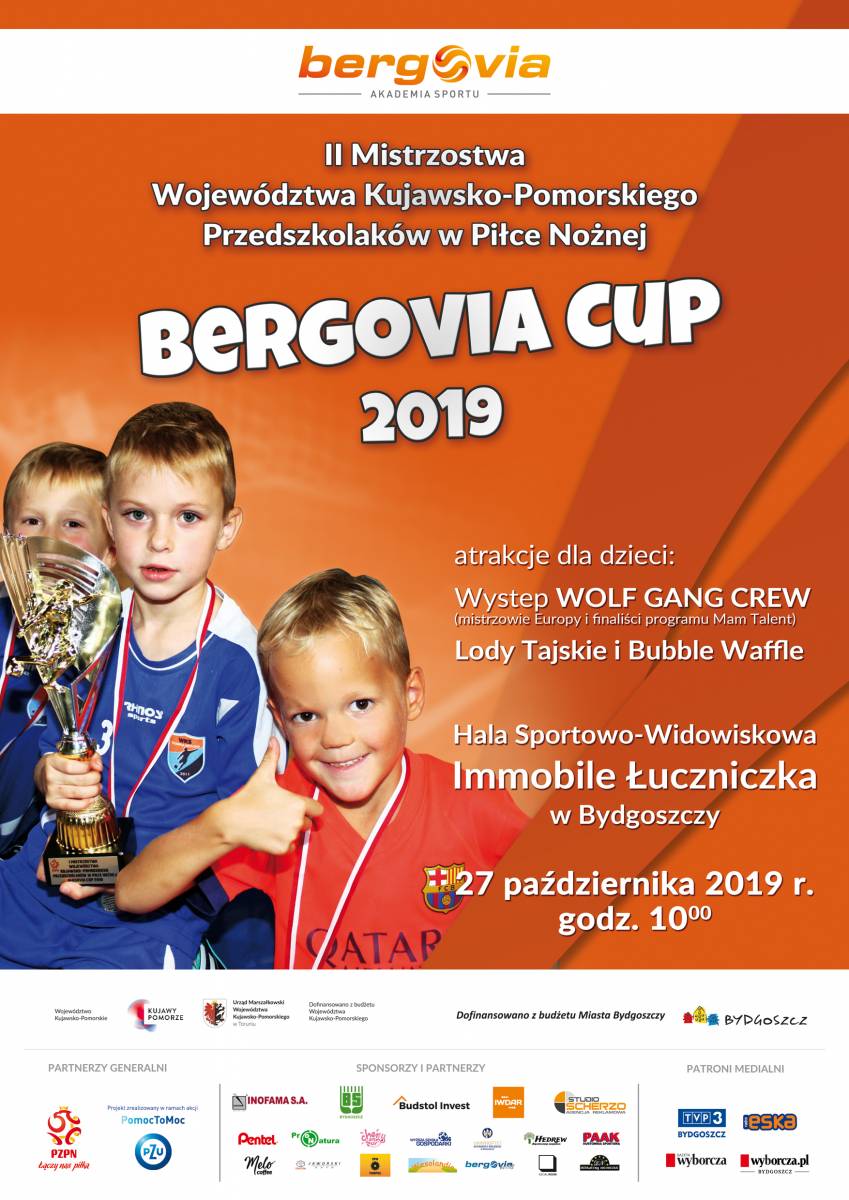 Fundacja Aktywności i Rozwoju Sportowego "Bergovia" oraz Akademia Sportu "Bergovia" serdecznie zapraszają na II Mistrzostwa Województwa Kujawsko-Pomorskiego Przedszkolaków w Piłce Nożnej "Bergovia Cup 2019", które odbędą się w Hali Sportowo-Widowiskowej "Immobile Łuczniczka" w Bydgoszczy w godz. 10.00-14.00.
Projekt jest realizowany w ramach akcji "PZU Pomoc To Moc: Zdrowa i bezpieczna rodzina", a głównym jego celem jest upowszechnianie aktywnego wypoczynku i zdrowego trybu życia wśród dzieci i młodzieży naszego
miasta i regionu. Będzie to już druga edycja turnieju cieszącego się coraz większą popularnością. W akcji zobaczymy blisko 200 najmłodszych uczestników z 16 przedszkoli, dla których udział w tym turnieju będzie wielkim, sportowym przeżyciem, a także okazją do uśmiechu i niesamowitej zabawy.
Głównym przesłaniem mistrzostw jest wpajanie najmłodszym sportowcom pozytywnych wartości oraz postawy, iż zwycięstwo nie jest celem, który należy osiągnąć za wszelką cenę.
Na zakończenie turnieju wszystkie drużyny i zawodnicy otrzymają jednakowe nagrody i puchary. Jednakowe - żeby nie było zwycięzców i pokonanych, aby udział w tym turnieju był niezapomnianym wydarzeniem, w którym wszyscy wygrywają. Podczas imprezy przewidziane są dodatkowe atrakcje m.in. pokaz ratownictwa medycznego, występ Mistrzów Europy i finalistów programu "Mam talent" - formacji tanecznej Wolf Gang Crew, a także lody tajskie i bubble waffle.
Mistrzostwa przedszkolaków odbędą się pod patronatem PZU Pomoc To Moc i Polskiego Związku Piłki Nożnej. Patronat medialny nad mistrzostwami objęły: TVP3 Bydgoszcz, Radio Eska i Gazeta Wyborcza.
Głównymi partnerami turnieju są: PZU S.A. i PZU Życie S.A., PZPN, Województwo Kujawsko-Pomorskie, Urząd Miasta w Bydgoszczy, Bank Spółdzielczy w Bydgoszczy, Inofama S.A., Iwdar, Budstol Invest, Pentel, Studio Scherzo, Hurtownia PAAK, ProNatura, Toyota Jaworski Auto, Wyższa Szkoła Gospodarki w Bydgoszczy, Uniwersytet Kazimierza Wielkiego w Bydgoszczy, Cherry On Tour, Hedrew Architektura Ogrodowa, Melo Coffee, Tarpol, Wesolandia, Social Room.
Wstęp bezpłatny
______________________
Kalendarz wydarzeń odbywających się w Bydgoszczy miej zawsze pod ręką dzięki aplikacji mobilnej (Android i iOS).
______________________
Informacje o wydarzeniach przesyłajcie na adres wydarzenia@visitbydgoszcz.pl
______________________
Bydgoskie Centrum Informacji nie ponosi odpowiedzialności za jakiekolwiek zmiany miejsc, godzin i dat wydarzeń.