Bydgoszcz THE WALL Show. Droga do wolności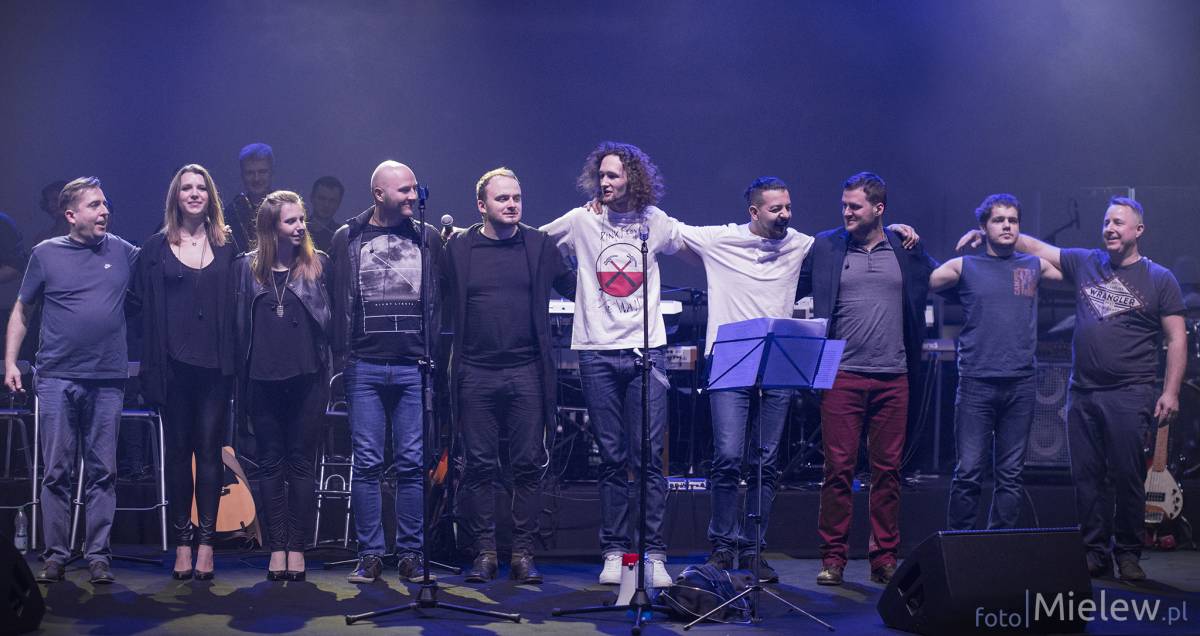 Już niedługo, bo 4-go i 5-go października będziecie mieli okazję ponownie zobaczyć The Echoes Project w akcji. Zagra The Wall z towarzyszeniem chóru dziecięcego "Mezza Voce" (z Pałacu Młodzieży), a w tle widowiska po raz pierwszy w Bydgoszczy zaprezentowany zostanie film Jarka Kuropatwińskiego.
Wydarzenie to wpisuje się w obchody 30 rocznicy zburzenia Muru Berlińskiego i 29 rocznicy zjednoczenia Niemiec. Wszystko zaczęło się jednak w Polsce. Wspólne były też losy społeczeństw bloku wschodniego, co w poważny, ale czasami także zabawny sposób, staramy się pokazać w prezentowanym w tle widowiska filmie. Bydgoszcz The Wall Show miało swoją premierę w Bydgoszczy w 2014 r. i od tego czasu prezentowane było w wielu miastach w Polsce. W 2017 r. po raz pierwszy w tle widowiska prezentowana jest nowa wersja filmu, ukazująca losy Polishpinka. Współorganizatorami wydarzenia są Konsul Generalna Niemiec w Gdańsku Cornelia Pieper, Towarzystwo Polsko-Niemieckie w Bydgoszczy, Stowarzyszenie Ars boni et aequi. Sponsorami są m.in. Miasto Bydgoszcz, Samorząd Województwa Kujawsko-Pomorskiego, Bierbaum Polska, PPE Construction i Pol-Elektra.
Zespół THE ECHOES PROJECT wykonuje THE WALL z dbałością o każdy szczegół. Dotyczy to zarówno warstwy dźwiękowej jak i brzmieniowej. Gitarzyści zespołu grają na Fenderach, których specyfikacja jest maksymalnie zbliżona do Fenderów używanych przez Davida Gilmoura w okresie THE WALL. Korzystają oni także z charakterystycznych dla gilmourowego brzmienia analogowych efektów (jak np. big muff czy electric mistress). To wszystko w połączeniu z bezbłędnym hammondowym brzmieniem klawiszy powoduje, że każdy fan zespołu Pink Floyd rozpozna w tej muzyce dźwięki i brzmienie tej legendarnej płyty.
Uwaga! Bilety na Bydgoszcz The Wall Show Droga do wolności na 5.10.2019 są już dostępne.
______________________
Kalendarz wydarzeń odbywających się w Bydgoszczy miej zawsze pod ręką dzięki aplikacji mobilnej (Android i iOS).
______________________
Informacje o wydarzeniach przesyłajcie na adres wydarzenia@visitbydgoszcz.pl
______________________
Bydgoskie Centrum Informacji nie ponosi odpowiedzialności za jakiekolwiek zmiany miejsc, godzin i dat wydarzeń.