Improdrom: spektakle impro wybrane spośród aplikacji
Gdzie?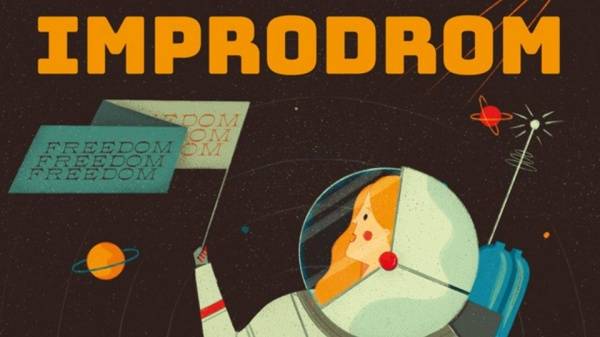 BCA Flash - Żółty jesienny liść
Liść to życie, liść to prawda. To z liścia rośnie drzewo. Liść jest niczym widoczny korzeń. Tak samo my. Spektakl jak liść, ma różne barwy, bywa czerwony, zielony oraz oczywiście – żółty. Żółty bo słońce, zielony bo natura, czerwony bo skóra po liściu. Pokażemy wszystkie kolory jesieni, całą paletę ludzi, przeżyć i roślin. Wejdziemy głęboko w ziemię albo wiatr swoim podmuchem poniesie nas w abstrakcyjne wyżyny. Zapraszamy na 1800 sekund natury i komediowej fermentacji.
My, BCA Flash…
… Jesteśmy teatralną grupą improwizacyjną, prężnie działającą od 2011 roku. Kolebką naszego LEGENDARNEGO zespołu jest Konstańciński Dom Kultury, w którym w którym regularnie zgłębiamy tajniki tajemniczej sztuki zwanej "Improv".
My, BCA Flash…
… Na pierwszym miejscu jesteśmy improwizatorami, na drugim lekarzami, prawnikami, politykami, muzykami, aktorami i lotnikami. Pierwsze szlify zdobyliśmy prowadzeni doświadczeniem i mądrościami Katarzyny Michalskiej. Dziś trenujemy sami, wspierając się nabytą na warsztatach wiedzą najlepszych improwizatorów z Polski i świata. Graliśmy w wielu miastach, krzycząc, rozmawiając, skacząc i grając na wielu niszowych i nieniszowych scenach. Improwizujemy, przyjaźnimy się i bawimy bardzo dobrze, również na scenie.
---
ARTiŠOK - As you please
We know it's impossible to be liked by everyone. Therefore we've decided to try and please at least one person. Witness a competition between short scenes carved out to win the heart of a single person and then indulge in an ensuing long story that is sure to be rich, emotive and refined.
ARTiŠOK's story dates back to 2011 when we started to perform once a week in a teeny tiny bar in Riga. Once we got the taste of the game, we never looked back and have been performing ever since. We have undoubtebtly grown a lot and so has our audience (and also the size of the venue). We have performed in improv festivals in Copenhagen and Saint-Petersburg and eagerly look forward to every chance to learn from savants from distant lands. Artišok is a group of best friends united by a passionate love for improv. These three handsome men, two charming ladies and one mediocre boy never cease to surprise the audience and one another. Where there's art and shock, there's Artišok.
---
Impy - Teraz to będzie dziwne
Długa forma bez podparcia w konkretnym formacie. Czasami słyszymy po występach: "to było dziwne". Chcieliśmy więc zobaczyć, co mogłoby się stać na scenie, gdybyśmy naprawdę byli dziwni.
Cel, który przyświeca nam, gdy gramy Teraz to będzie dziwne, to jak najbardziej zaskakiwać siebie nawzajem, szukać dziwnych zdarzeń, postaci i miejsc jednocześnie starając się utkać z tego kalejdoskopu spójną historię.
Impy powstały w 2011 roku i od tamtego czasu grają w Warszawie i na festiwalowych scenach. Znakiem rozpoznawczym Impów jest dziwność. Być może dlatego, że najbardziej ukochane motywy Impów to filozofia, sci-fi, rpg i wszystko co jest związane z szeroko pojętym nerdyzmem. Tej miłości dają upust tworząc na scenie komediodramaty i tragikomedie pełne smutnych przegrywów z wielkimi sercami.
---
Grupa Ludzi – Harold
Jedna z najsłynniejszych improwizowanych form scenicznych. Jej autorem jest chicagowski reżyser teatralny – Del Close. Harold to kolaż improwizowanych scen, które mogą się ze sobą łączyć, wyjaśniać i wzajemnie komentować. Całość przeplatana jest organicznymi scenami grupowymi i dużą ilością śmiechu.
Grupa Ludzi to krakowski kolektyw improwizatorów-komików, którym zamarzyły się eksperymenty z formatami scenicznymi. Grają dla ludzi i o ludziach! Ich spektakle wypełnione są emocjami, namiętnościami i marzeniami, które czasami mogą się ziścić, a czasami muszą prysnąć jak mydlana bańka.
BILETY:
Bilet na 1 dzień:
25 zł (do końca września) i 35 zł od 1.10.
Karnet (3 dni spektakli)
65 zł (do końca września) i 85 zł od 1.10.
dostępne w kasie MCK i w internecie na stronie bilety24.
kontakt: improdrom@mck-bydgoszcz.pl
Alicja Dobrowolna, tel. 519346586
______________________
Kalendarz wydarzeń odbywających się w Bydgoszczy miej zawsze pod ręką dzięki aplikacji mobilnej (Android i iOS).
______________________
Informacje o wydarzeniach przesyłajcie na adres wydarzenia@visitbydgoszcz.pl
______________________
Bydgoskie Centrum Informacji nie ponosi odpowiedzialności za jakiekolwiek zmiany miejsc, godzin i dat wydarzeń.