Improdrom: spektakle impro
Gdzie?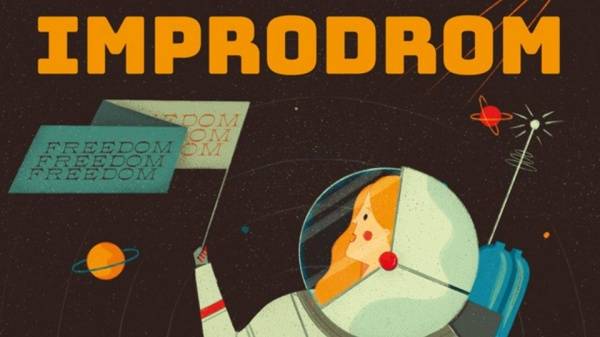 "7 Kobiet w Różnym Wieku" to również tytuł filmu dokumentalnego Krzysztofa Kieślowskiego i jest to bezpośrednia inspiracja dla naszego spektaklu, w którym dzielimy się momentami z naszego życia i na ich podstawie zabieramy Was w improwizowaną przygodę opowiedzianą w kilku historiach pełnych radości, energii i emocji.
"Energia, inteligencja, serce i gra tych kobiet jest niesamowita." / Joe Bill (po występie w Australii).
"Humor, siła, emocje i prawda. Potężna kombinacja pokazująca wagę profesjonalizmu i świadomej pracy." / "Status", jedyny światowy miesięcznik o impro (po występie w Atenach).
Project Eve - It´s all about apples...
It all started with one apple...
One bite resulted in the expulsion from paradise, the end of utopia, and the beginning of our hard life as human beings. Whose fault was it? Eve. Formed from Adam's rib she was seduced by the serpent, and from that moment forth women were known to many as 'the weaker sex'.
But who is Eve? Are there many versions of Eve? Are we all Eve?
In 2019, nearly one hundred years after securing the right to vote in many of the European countries, 'Eves' are still fighting for equality in economy, politics and in arts. Change is happening, but is this enough for Eve?
'Project Eve' is an international collective of women artists working in improvisational theatre. The collective aims to promote visibility of women in improv and explore topics and challenges through workshops, discussion and international performances. If we are all indeed Eve, what are the expectations society has of us? How do these expectations vary in all the different European countries.
Project Eve is a platform for women in improv to explore, engage, and empower each other, and the greater community, through connection, discussion and performance.
'Project Eve' strives to present innovative performances and workshops around Europe, as well as host ongoing panels and discussions for theatre artists and beyond. We seek to promote and support women in improvisational theatre through visibility and community. Just like in life we seek fair recognition as women on stage, in festivals and in our international communities. We no longer need to be ashamed of taking a bite. There are enough apples for all of us!
Mix Impro with Feña Ortalli - Freedom
"Freedom means to question everything, including the notion of freedom itself"
Slavoj Žižek
LIBERTAS
What is freedom? Are we really free? Free from what? Free from whom?
We are going to work on the different notions of freedom: personal, social, cultural, economic, historical and political. Our goal is not to find the correct definition but to experience and understand each other. Through personal experiences and beliefs, we are going to question ourselves and push our boundaries.
We are going to question even our own technique. How free are we when we improvise? How much freedom or structure do we need? Are we ready to break every improv rule?
Lee White - Your 15 Minutes of Fame
An improv night with you as the star! Lee White invites audience members who have no stage experience to join him on stage. This show is an inspiration for the spectators to try something new and be rewarded for taking risks. The result is always moving and surprising, for both the observers and those who dare to get up there. Its just magical to watch people who think they can't do something try and succeed. Lee guides them through improvised scenes on stage, proving his special gift for letting his partners shine in a funny, touching and alway unique show.
Muzyczne Chwile
Przybywajcie ogrzać serca przy niewygasającym piecu lirycznej huty, gdzie stalowe pręty rymu fantazyjnie wykuwane przez kowala melodii ustanawiają emocjonalną bramę strzegącą Wersalu Waszej wrażliwości przed szturmem pospolitej rutyny. Kilka słów o grupie: Maciek i Krzysiek pochodzą z Buska- Zdrój. W przedszkolnej interpretacji utworu "Tańcowała ryba z rakiem" jako ryba i rak podbili serca publiczności. Pełni zapału i wiary w swój talent opuścili szkolne mury już w 4 klasie podstawówki. Życie miało być odtąd ich nauczycielem. I to się udało. Wydali płyty, koncertowali po całym świecie. Poznali sławnych, sławni poznali ich.
BILETY:
Bilet na 1 dzień:
25 zł (do końca września) i 35 zł od 1.10.
Karnet (3 dni spektakli)
65 zł (do końca września) i 85 zł od 1.10.
dostępne w kasie MCK i w internecie na stronie bilety24 (link poniżej).
kontakt: improdrom@mck-bydgoszcz.pl
Alicja Dobrowolna, tel. 519346586
______________________
Kalendarz wydarzeń odbywających się w Bydgoszczy miej zawsze pod ręką dzięki aplikacji mobilnej (Android i iOS).
______________________
Informacje o wydarzeniach przesyłajcie na adres wydarzenia@visitbydgoszcz.pl
______________________
Bydgoskie Centrum Informacji nie ponosi odpowiedzialności za jakiekolwiek zmiany miejsc, godzin i dat wydarzeń.