Siatkarskie emocje w Zielonych Arkadach
Gdzie?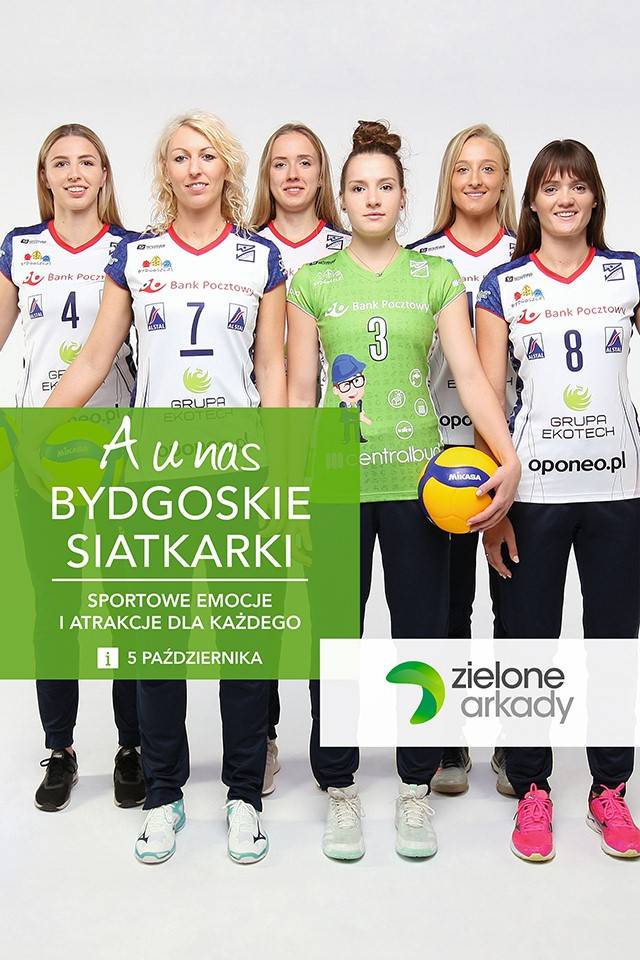 Informacje od Organizatora:
To będzie gorąca inauguracja nowego sezonu Ligi Siatkówki Kobiet.
5 października w Zielonych Arkadach zawodniczki drużyny Bank Pocztowy Pałac Bydgoszcz spotkają się z fanami, porozmawiają z nimi, zrobią zdjęcia, a co najważniejsze – otrzymają doping przed meczami w nowym sezonie.
Marta Ziółkowska, Izabella Rapacz, Ewelina Żurowska, Monika Jagła, Magdalena Mazurek i Kinga Różyńska to zawodniczki, reprezentujące Bank Pocztowy Pałac Bydgoszcz. Już 12 października odbędzie się pierwszy mecz sezonu z Grot Budowlani Łódź, atmosfera jest więc naprawdę gorąca, a wsparcie kibiców szczególnie ważne. Wszyscy, którzy 5 października odwiedzą Zielone Arkady, będą mieli szansę nie tylko poznać siatkarki i porozmawiać z nimi, ale także zrobić sobie pamiątkowe zdjęcie i zdobyć autograf. To jednak nie koniec atrakcji, jakie czekają tego dnia w bydgoskim Centrum – specjalną uwagą zostaną otoczeni zwłaszcza najmłodsi. Przygotowane dla nich będą zarówno sportowe, jak i kreatywne kąciki zabaw oraz specjalny quiz z ciekawostkami na temat drużyny. Siatkarki zaproszą dzieci do wspólnej rozgrzewki i zaprezentują, jak najszybciej pokonać różne tory przeszkód. Staramy się, aby nasze Centrum było zaangażowane lokalnie i propagowało różne inicjatywy. Szczególnie zależy nam na najmłodszych, aby obudzić w nich ducha kibicowania i pokazać, że wspieranie lokalnych drużyn to także świetna zabawa – mówi Ewa Krassowska, dyrektor Zielonych Arkad.
Podczas całej imprezy nie zabraknie także Maskotek Klubowych: "Bydgosi" i "Pandy", a wydarzenie uświetnią pokazy taneczne grup ze studia tańca UNIQUE STUDIO i ECHO art.
Spotkanie z reprezentantkami drużyny Bank Pocztowy Pałac Bydgoszcz odbędzie się 5 października na Placu Eventowym w Zielonych Arkadach w godzinach 12:30-16:00. Wstęp na wydarzenie jest bezpłatny.
______________________
Kalendarz wydarzeń odbywających się w Bydgoszczy miej zawsze pod ręką dzięki aplikacji mobilnej (Android i iOS).
______________________
Informacje o wydarzeniach przesyłajcie na adres wydarzenia@visitbydgoszcz.pl
______________________
Bydgoskie Centrum Informacji nie ponosi odpowiedzialności za jakiekolwiek zmiany miejsc, godzin i dat wydarzeń.