Karol Kopiec "Szklanka do połowy"
Gdzie?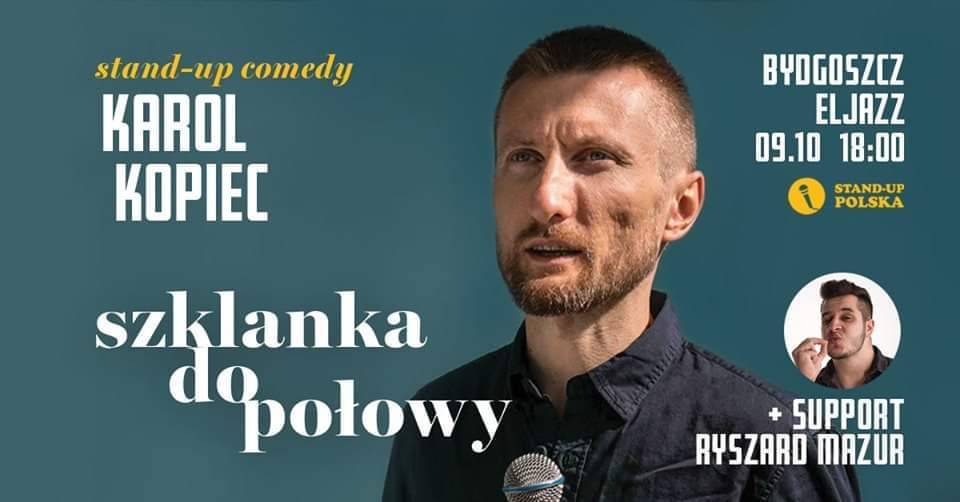 "Szklanka do połowy"
Będzie to co najlepsze, czyli fauna i flora w abstrakcyjnym zwierciadle, ale również dużo historii wziętych prosto z życia… Karol zaprasza nas do niezwykłego świata - niby dobrze znanej nam codzienności, jednak widzianej jego oczami. Takiego Karola jeszcze nie znacie!
Karol Kopiec
Na scenie od 2008 roku. Wystąpił m.in. w trzech sezonach Comedy Central prezentuje, u Kuby Wojewódzkiego oraz na Roaście Michała Szpaka, który transmitowany był na antenie TVN'u. Kilkukrotnie mogliśmy go oglądać również na antenie TVP2 w takich programach jak: "Dzięki Bogu już weekend" oraz "Tylko dla dorosłych". Występy Karola są pełne absurdu i optymizmu.
SUPPORT:
Ryszard Mazur
Chan Wałbrzycha, z zamiłowania przerzuca ludzi i tematy z nieodmiennie pozytywnym nastawieniem. Miał okazję występować w Comedy Central oraz na niezliczonych polskich scenach.
Lider, założyciel i jedynym członek Wałbrzyskiego Stand-Upu. Tak, Wałbrzych oprócz zamkniętych kopalni, smogu na przeciętnym poziomie i górzystych widoków, funduje nam rozrywkę na możliwie zadowalającym poziomie w postaci Ryszarda. Ryszard Mazur z Wałbrzycha brzmi jak wszystko co przychodzi Ci do głowy i musi być śmieszne. Będziesz się śmiać z nim albo z niego, najważniejsze, że przyjdziesz, bo on już się cieszy, że może wyjechać z Mordoru Dolnego Śląska. Pamiętaj, wszystkie Ryśki to porządne chłopy, a jak coś jest porządne, to jest dobre, np. buty. Jednak buty tylko bywają porządne, a Ryszard jest gwarancją porządności.
Bilety: 25/35 zł
Wydarzenie dla osób dorosłych!
* Brak zgody na nagrywanie audio/video.
* Osoby, które będą przeszkadzać podczas wydarzenia zostaną wyproszone. Bez zwrotu pieniędzy za bilet.
______________________
Kalendarz wydarzeń odbywających się w Bydgoszczy miej zawsze pod ręką dzięki aplikacji mobilnej (Android i iOS).
______________________
Informacje o wydarzeniach przesyłajcie na adres wydarzenia@visitbydgoszcz.pl
______________________
Bydgoskie Centrum Informacji nie ponosi odpowiedzialności za jakiekolwiek zmiany miejsc, godzin i dat wydarzeń.