Dzieci wolności. Café Fabu
Gdzie?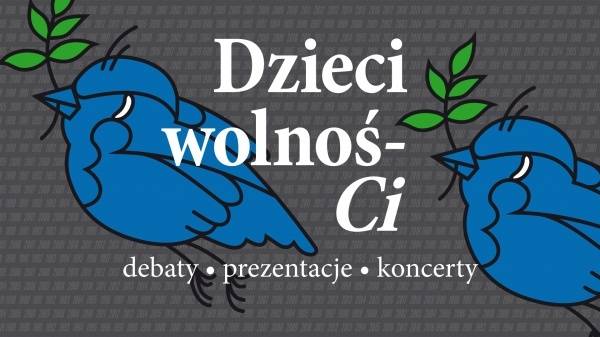 "Dzieci wolności" – impreza edukacyjno-kulturalna w ramach Bydgoskiego Roku Wolności.
"Café Fabu" – pierwsza odsłona cyklu spotkań i debat w duchu nowego dialogu, w oparciu o aktualne tematy kulturalno-społeczne, w kontekście dynamicznie zmieniającego się świata. Tematem pierwszej rozmowy będzie: "Wolność w sztuce". Udział wezmą m.in. Jacek Kleyff i Julia Talarczyk (Spichlerz Polskiego Rocka).
Czasy Solidarności to może ostatni (na razie?) moment w historii Polski, kiedy wydawało się, że sztuka może zmienić rzeczywistość – Maria Janion oceniała, że czasy solidarnościowego zrywu to kolejne odrodzenie romantycznego paradygmatu polskiej kultury. W nim mieści się idea sztuki jako narzędzia oporu wobec politycznej opresji. Podziemne czasopisma i książki, koncerty i wydawnictwa muzyczne, sztuki teatralne – cały drugi, alternatywny obieg kultury. O tym, czym był dla życia społecznego, porozmawiamy ze specjalistami i uczestnikami tamtego ruchu w kulturze.
Jacek Kleyff – wolny twórca piosenek i obrazów. W latach 1971–1976 współtworzył z Januszem Weissem i Michałem Tarkowskim teatrzyk Salon Niezależnych. Współzałożyciel Orkiestry Na Zdrowie (ONZ), która wygrała pierwszy Przystanek Woodstock Jerzego Owsiaka w 1995 roku. W 2012 roku, nakładem wydawnictwa Czarne, ukazała się książka będąca zapisem wywiadu rzeki z autorem pt. "Rozmowa". W grudniu 1975 roku Kleyff był sygnatariuszem protestu przeciwko zmianom w Konstytucji Polskiej Rzeczypospolitej Ludowej (List 59). Jego nazwisko znalazło się na specjalnej liście, na której umieszczono autorów pod szczególnym nadzorem peerelowskiej cenzury. W jego życiorysie znalazło się też m.in. miejsce na współpracę z Komitetem Obrony Robotników (1976–1980).
Julia Talarczyk – animatorka kultury, promotorka zespołów rockowych, pracownica Spichlerza Polskiego Rocka, odpowiedzialna za koordynację projektu unijnego "Spichlerz Polskiego Rocka w Jarocinie". Koordynatorka cyklu filmów dokumentujących historię jarocińskiego festiwalu. Współpracuje z różnymi instytucjami i stowarzyszeniami na terenie powiatu jarocińskiego i średzkiego. Jest absolwentką Wydziału Humanistycznego na Uniwersytecie Zielonogórskim.
______________________
Kalendarz wydarzeń odbywających się w Bydgoszczy miej zawsze pod ręką dzięki aplikacji mobilnej (Android i iOS).
______________________
Informacje o wydarzeniach przesyłajcie na adres wydarzenia@visitbydgoszcz.pl
______________________
Bydgoskie Centrum Informacji nie ponosi odpowiedzialności za jakiekolwiek zmiany miejsc, godzin i dat wydarzeń.