8. Fonomo Music & Film Festival - Którędy do dźwięku - warsztaty tworzenia muzyki ruchem i gestem
Gdzie?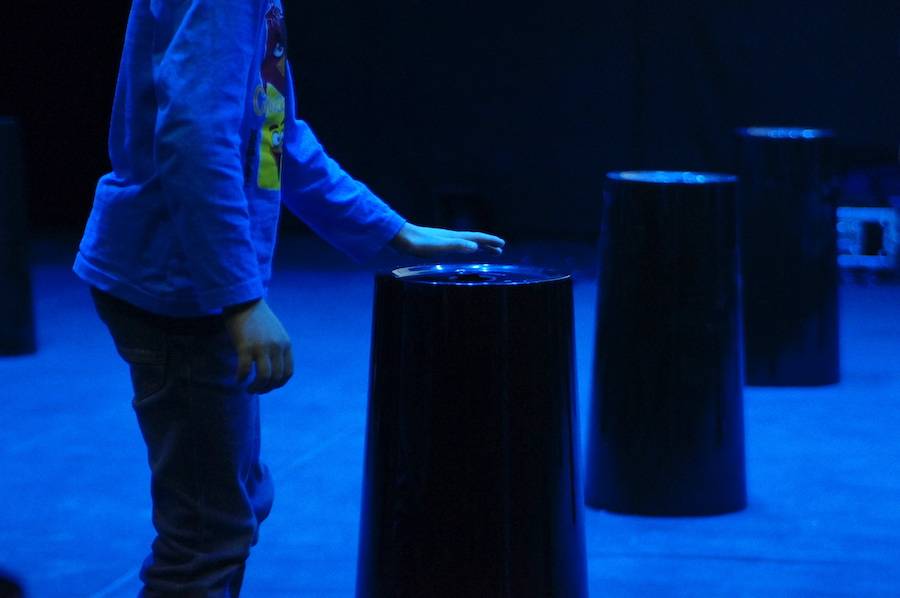 Izabela Kościesza – choreograf, tancerka, animatorka
Jarek Kordaczuk – kompozytor, dyrygent
Uczymy się tworzyć muzykę poprzez ruch i gest. W zasadzie robią to wszyscy muzycy. My jednak nie będziemy ani śpiewać, ani grać na instrumentach. Poszukamy dźwięków w inny sposób. Poszukamy ich poruszając się pomiędzy obiektami rozstawionymi na podłodze. W każdym z tych obiektów ukryte są dźwięki. Znajdziemy sposób by je uwolnić. Będziemy mogli wówczas spacerować pomiędzy nimi, wyzwalając coraz to nowe zdarzenia dźwiękowe. Stąd już niedaleko do stworzenia utworu muzycznego. Wiemy jak pobudzać dźwięki, potrzebna nam zatem partytura. Tradycyjna partytura to książka z nutami na każdej stronie. Stronami naszej partytury będą mapy. Jakie mapy? Takie, które wyznaczają trasy pomiędzy obiektami na podłodze, mówiące nam którędy i w jaki sposób mamy dotrzeć do właściwego dźwięku. Czasem mapy każą poruszać się ostrożnie, powoli. Innym razem nakazują przyspieszyć, a nawet biec ile sił w nogach. Tak, tak, w muzyce czas nie czeka! Gdy już nauczymy się odczytywać muzyczne mapy, będziemy mogli tworzyć nowe, własne. Będziemy gotowi na pierwszy gest dyrygenta. A kiedy ten się pojawi, wykonamy najprawdziwszy, zakodowany w naszych nutach-mapach utwór muzyczny. I choć nie mamy instrumentów, staniemy się najprawdziwszą orkiestrą. Taką trochę rozbieganą.
Izabela Kościesza (choreograf, tancerka) i Jarek Kordaczuk (kompozytor) to para artystów, którzy przez lata współpracy wypracowali własny, unikatowy język. W centrum ich uwagi znajdują się działania sonokinetyczne (jak sami je nazywają), czyli takie, w których nie tylko ruch (choreografia) jest wypadkową muzyki, ale również ją współtworzy. Tancerka, wchodząc w interakcję z rozmaitymi czujnikami oraz animując elektroniczne lub akustyczne obiekty, wpływa na postać brzmieniową utworu. Generuje lub przetwarza dźwięki, buduje formę wynikowego dzieła. Ich projekty sonokinetyczne bardzo często bazują na technologii: elektronice, mechanice, pneumatyce, etc. W projekcie "Harmidorium" artyści ożywiają dźwiękowo dwumetrowe betonowe bloki. Projekt "Oczekiwanie" zbudowany jest z dźwięków wytwarzanych z przypadkowych, silnie amplifikowanych przedmiotów oraz "hałaśliwej" spódnicy tancerki. Z kolei projekt "Lesza" to utwór audiosceniczny, rodzaj monodramu, w którym tancerka sama buduje leśną opowieść, wykorzystując otaczające ją sensory ruchu i przyklejone do ciała elektrody biomedyczne. Jarek Kordaczuk jest też konstruktorem instrumentu o hiperekspresyjnych właściwościach, który nazwał Monoctonem. Stąd też instrument obecny jest w wielu sonokinetycznych kompozycjach wykonywanych live. Duet Kościesza/Kordaczuk swoje działania adresuje nierzadko do najmłodszych. Jednym z najpopularniejszych tego typu projektów są warsztaty i instalacja "Którędy do dźwięku".
Wstęp wolny. Warsztaty dla dzieci w wieku 7-15 lat. Ilość miejsc ograniczona.
Obowiązują zapisy. Zgłoszenia na adres: info@wetmusic.pl
______________________
Kalendarz wydarzeń odbywających się w Bydgoszczy miej zawsze pod ręką dzięki aplikacji mobilnej (Android i iOS).
______________________
Informacje o wydarzeniach przesyłajcie na adres wydarzenia@visitbydgoszcz.pl
______________________
Bydgoskie Centrum Informacji nie ponosi odpowiedzialności za jakiekolwiek zmiany miejsc, godzin i dat wydarzeń.