Florian Arbenz/ Vistel Brothers: Convergence
Gdzie?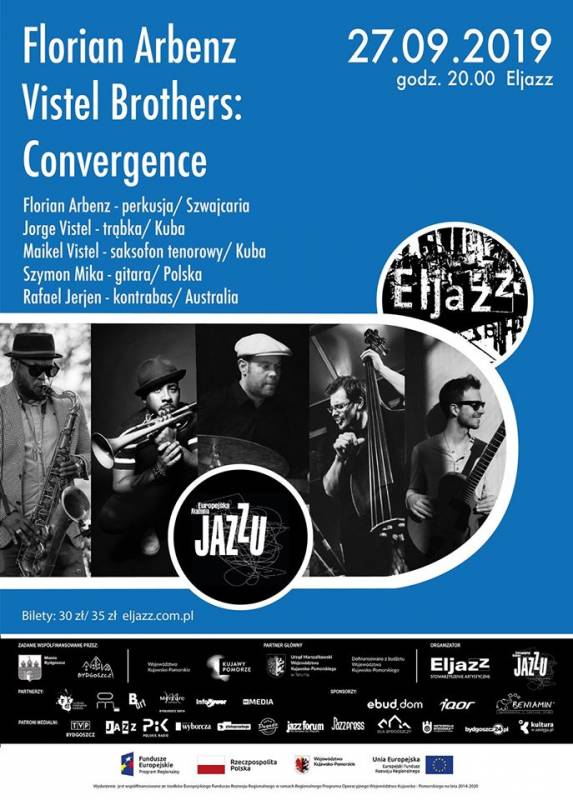 Florian Arbenz - perkusja/ Szwajcaria
Jorge Vistel - trąbka/ Kuba
Maikel Vistel - saksofon tenorowy/ Kuba
Szymon Mika - gitara/ PL
Rafael Jerjen - kontrabas/ Australia
"Jazz to zapewne najbardziej bezinteresowna forma sztuki. W jazzie dajesz z siebie wszystko, aby ktoś inny zagrał jak najlepiej. Robisz, co możesz, aby to jemu się udało, aby go do tego zainspirować. A więc to jest akt poświęcenia." Dizzy Gillespie
Wayne Shorter uczył się od Miles'a Davisa, który uczył się od Clark'a Terry i Charlie' Parkera, którzy uczyli się od Lester'a Younga i Tommy Douglasa. Ta kaskada inspiracji przekazywanej z pokolenia na pokolenie jest jedną z najbardziej niezwykłych cech tradycji jazzu, a jej podstawą jest wspaniałomyślność i zaangażowanie społeczności muzycznej. Przekazywanie sobie idei pomiędzy pokoleniami muzyków jest w jazzie tak samo ważne, jak współpraca w trakcie improwizacji. Aby kontynuować ten istotny proces, uznany szwajcarski perkusista Florian Arbenz (z trio VEIN) oraz rewelacyjni kubańscy bracia Vistel (trębacz Jorge i saksofonista Maikel) rozpoczęli współpracę przy nowym cyklu Convergence, zbliżając gwiazdy u szczytu kariery z pretendentami młodszego pokolenia. "Wymieniamy się pomysłami, odkrywamy kompozycje z tego repertuaru i gramy nową, oryginalną muzykę." - mówi Arbenz
Florian Arbenz po raz pierwszy spotkał się z Vistel Brothers podczas studiów w Hawanie prawie 20 lat temu, a kolejny raz gdy grali z legendarnym Gregiem Osby. "Ponieważ gram tak dużo z trio fortepianowym VEIN, w nowym projekcie nie chciałem pianina, a gitarę, w Bydgoszczy zagra utalentowany polski gitarzysta Szymon Mika, który przyłączył się do tej przygody." Do projektu dołączył kontrabasista z Australii Rafael Jerjen.
Florian Arbenz jest jednym z najbardziej wszechstronnych i utalentowanych perkusistów w Europie, z niezrównanym jazzowym dorobkiem w uznanym szwajcarskim trio VEIN. Poznawał jazz poprzez znajomość z artystami takimi jak Kirk Lightsey i Famadou Don Moye, a także studiował u Eda Thigpena i Steve'a Smitha. Ma także klasyczne wykształcenie perkusyjne i rozległe międzynarodowe doświadczenie orkiestrowe z występów m.in. z Peterem Eötvösem, Györgym Kurtagem i Christophem von Dohnanyiem. Jako student spędził sześć miesięcy na Kubańskim Uniwersytecie Artystycznym i odtąd aktywnie interesuje się sceną międzynarodową, w swą grę włączając elementy techniki azjatyckiej, a także afro-kubańskiej. Florian postępuje śladem najbardziej zaawansowanych praktyków perkusji, takich jak Chris Dave i Eric Harland, i doskonali własną technikę z równie nowatorską intencją.
Urodzony w Santiago de Cuba w rodzinie o wielopokoleniowej muzycznej tradycji, Maikel Vistel, sięga korzeni kultury swej ojczyzny kształtując współczesne, ciepłe i osobiste brzmienie. Maikel uczył się u wielkich mistrzów jazzu, takich jak Mark Turner, George Garzone, Joe Lovano, Greg Osby, Roman Filiú, David Virelles, Gary Thomas i Steve Coleman. W 2005 roku wraz z bratem i muzycznym partnerem, trębaczem Jorgem Vistelem, zamieszkał w Madrycie. To w Europie bracia stworzyli swój pierwszy projekt pod nazwą Vistel Brothers. Grupa występowała z wielkim powodzeniem na scenach najważniejszych jazzowych klubów i festiwali w Hiszpanii.W 2015 roku wydał album STEPS w nowojorskiej wytwórni Inner Circle Music legendarnego saksofonisty Grega Osby.
Jorge Vistel urodził się w Santiago de Cuba i jako spadkobierca muzycznej dynastii, zna sekrety swojej ojczyzny i znakomicie łączy je z jazzową awangardą. Rezultatem jest jego współczesny, osobisty i autentyczny styl.Vistel rozpoczął naukę muzyki w dzieciństwie, a potem kontynuował ją w Narodowej Szkole Artystycznej na Kubie. Równocześnie brał lekcje m.in. u Steve'a Colemana, Wyntona Marsalisa, Nicholasa Paytona, Steve'a Turre'a i Barry'ego Harrisa. W 2005 roku zamieszkał w Europie, gdzie grywa z takimi artystami jak Benny Golson, Roy Hargrove, Doug Hammond, David Murray, Henry Cole, Lewis Nash, Dado Moroni, Benny Green, Marcus Printup, Stefano Bedetti, Gary Thomas, David Virelles i Roman Filiu. W 2014 roku koncertował ze sponsorowanymi przez Quincy'ego Jonesa Alfredo Rodriguezem & The Invasion Parade.
Szymon Mika – jeden z najbardziej utalentowanych gitarzystów jazzowych młodego pokolenia, zdobywca Pierwszej Nagrody na Międzynarodowym Jazzowym Konkursie Gitarowym im. Jarka Śmietany (2015), Grand Prix Indywidualność Jazzowa na festiwalu Jazz nad Odrą (2012) oraz wielu innych nagród i wyróżnień. Zachwyca dojrzałą grą, dopracowanym brzmieniem i profesjonalnym warsztatem.
W 2016 roku ukończył Akademię Muzyczną im. Karola Szymanowskiego w Katowicach z wyróżnieniem. Naukę kontynuował w Bazylei na Jazz Campus. W latach 2017-2018 brał udział w projekcie Focusyear, przy okazji którego występował u boku takich artystów jak: Dave Holland, Kurt Rosenwinkel, Mark Turner, Joshua Redman, Avishai Cohen i wielu innych. Na co dzień koncertuje z czołówką polskich muzyków, współtworząc nietuzinkowe projekty.
"Na gitarze prawdziwa sensacja i odkrycie festiwalu – Szymon Mika (…) Perfekcja w dopracowaniu szczegółów, bezbłędnie prowadzona improwizacja, silny background bluesowy, swoboda we wszystkich rejestrach z kapitalnymi dopowiedzeniami w wybrzmieniu frazy. (…) Przyznam, że takiej gitary jazzowej to ja dawno w Polsce (gdy chodzi o naszych muzyków) nie słyszałem!" - Jazz Forum
"Zachwycający gitarzysta" - Mike Stern
______________________
Kalendarz wydarzeń odbywających się w Bydgoszczy miej zawsze pod ręką dzięki aplikacji mobilnej (Android i iOS).
______________________
Informacje o wydarzeniach przesyłajcie na adres wydarzenia@visitbydgoszcz.pl
______________________
Bydgoskie Centrum Informacji nie ponosi odpowiedzialności za jakiekolwiek zmiany miejsc, godzin i dat wydarzeń.