Tupot Poetycki #36 | SLAM + instalacja Szmidt/Buńkowski
Gdzie?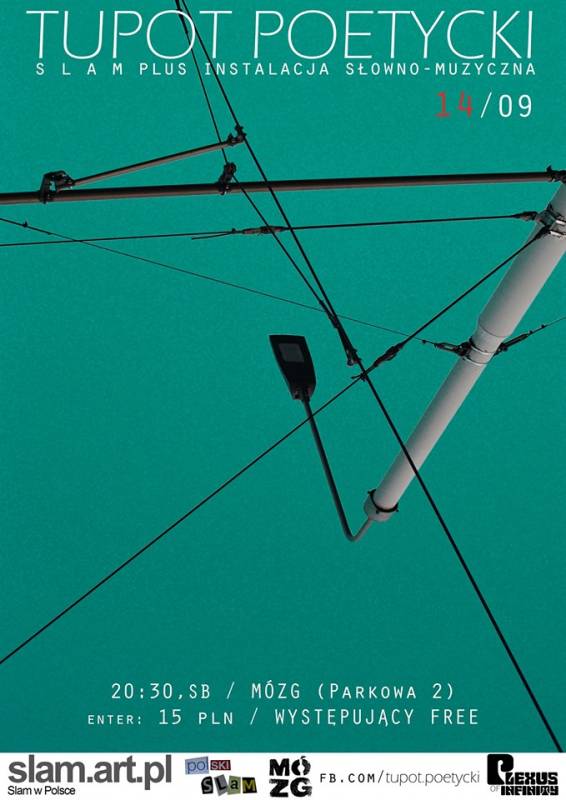 | SLAM
gdzie (dzisiaj) jest miejsce dla rzemieślników słowa, dla amatorów, dla standuperów, dla zwykłych i niezwykłych poetów jednocześnie? właśnie tu. SLAM jest społecznym zwycięzcą w sprawach szeroko rozumianej poezji. od pierwszego SLAMu w Polsce minęło już 16 lat. SLAM w PL ma się dosyć dobrze.
otwarta scena - każdy może wystąpić - forma jest dowolna - można czytać z kartki - zasady: poeta nie używa rekwizytów, ani muzyki • poeta prezentuje swój własny tekst • poeta ma 3 minuty
To Wy droga Publiczności jesteście jury od samego początku do końca!
Dla czwórki półfinalistów sprawy od Plexus Of Infinity w postaci płyt/książek. Dla zwycięzcy nagroda w wysokości 100 PLN.
aby zgłosić swój udział wystarczy wysłać maila (vive_memor@vp.pl) lub zgłosić się osobiście w dniu wydarzenia - może nie być miejsca, zapraszam do kontaktu przez messanger TP
| INSTALACJA
Duet. Zuzanna Szmidt oraz Kacper Buńkowski.
Osiem krótkich utworów, zwanych piosenkami, których tekst to fragmenty ośmiu opowiadań Julio Cortazara z książki pt.: Ośmiościan. Tytuły opowiadań i zarazem tytuły naszych aranżacji:
1. Liliana płacze
2. Kroki po śladach
3. Rękopis znaleziony w kieszeni
4. Lato
5. Tu, ale gdzie, jak
6. Miejscowość zwana Kindberg
7. Fazy Severa
8. Szyja czarnego kociaka
K BUŃKOWSKI
początkujący twórca. Próbuje być filmowcem, fotografem, muzykiem. Jego najważniejsze doświadczenia w tym zakresie to odkrycie szuflady z kasetami rodziców i oglądanie filmów z komentarzami taty-kinomana. Od tego czasu czuje co chce robić i działa w kierunku swojej wizji.
Wielokrotnie pracował muzycznie i filmowo z Grzegorzem Pleszyńskim, któremu wiele zawdzięcza (dziękuję, Grzesiu).
Często realizuje filmy dokumentujące różne sytuacje muzyczne związane z bydgoską sceną artystyczną i nie tylko. Aktualnie realizuje relację z Circular Breathing Festival, którego dyrektorami artystycznymi są Robert Knuth i Piotr Mełech.
Z SZMIDT
urodzona w Warszawie, zamieszkała w Bydgoszczy; poetka, performerka, promotorka SLAMów Poetyckich w Polsce; organizatorka imprezy Tupot Poetycki, współorganizatorka NURT MOVIE i Kwatery. Wzięła udział w Pierwszych Ogólnopolskich Mistrzostwach Slamu Poetyckiego (Poznań, 2016) i w Drugich Ogólnopolskich Mistrzostwach Slamu Poetyckiego (2017). Współpracuje z klubem MÓZG.
______________________
Kalendarz wydarzeń odbywających się w Bydgoszczy miej zawsze pod ręką dzięki aplikacji mobilnej (Android i iOS).
______________________
Informacje o wydarzeniach przesyłajcie na adres wydarzenia@visitbydgoszcz.pl
______________________
Bydgoskie Centrum Informacji nie ponosi odpowiedzialności za jakiekolwiek zmiany miejsc, godzin i dat wydarzeń.