Powróćmy jak za dawnych lat - recital Julity Kożuszek-Borsuk
Gdzie?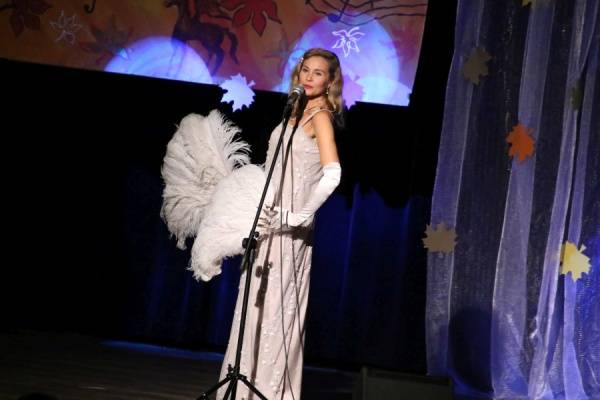 Przy fortepianie Dawid Ludkiewicz
Recital POWRÓĆMY JAK ZA DAWNYCH LAT - to najpiękniejsze piosenki z lat 20. oraz monologi pisane dla Hanki Ordonówny wykonywane przeze mnie w kostiumach z epoki. Jest to świetna propozycja nie tylko dla seniorów i gwarancja dobrej zabawy.
* Wstęp 15 zł, ulgowy 10 zł (dzieci i młodzież do 15 r.ż. i os. z Bydgoską Kartą Seniora 60+)
Recital będzie pięknym wspomnieniem dwudziestolecia międzywojennego w muzyce i słowie.
Julita Kożuszek-Borsuk
(ur. 1971 r., w Szczecinie) – aktorka teatralna, filmowa, telewizyjna i dubbingowa, także tancerka, choreograf, wokalistka. Wykształcenie: Szkoła Muzyczna II st. im. M. Karłowicza w Poznaniu w 1989 r., Studium Wokalno Aktorskie im. Baduszkowej w Gdyni w 1993 r., Uniwersytet Muzyczny im F. Chopina w Warszawie wydział tańca 2008 r., udział w kilkunastu warsztatach tańca i choreografii. Przez wiele lat występowała w cyklicznym programie Dziennik Telewizyjny Jacka Fedorowicza. W teatrze zadebiutowała jako adeptka w spektaklu Żołnierz królowej Madagaskaru w reżyserii Jerzego Gruzy, 7.04.1991 w Teatrze Muzycznym w Gdyni. W latach 1994-2002 była aktorką warszawskiego Teatru Rampa na Targówku. Współpracuje jednak z różnymi teatrami – muzycznymi (Operetka Warszawska, Teatr Muzyczny "Roma", Komedia w Warszawie, Opera i Operetka w Szczecinie) i innymi (Teatr na Woli, Teatr Staromiejski, Teatr Kamienica w Warszawie, Teatr Dramatyczny im. Aleksandra Węgierki w Białymstoku), w tym nadal z Teatrem Rampa. Pojawia się także w serialach (m.in. Na dobre i na złe, Ojciec Mateusz, Barwy szczęścia) i w programach telewizyjnych. Wystąpiła w filmie Pan Tadeusz. Reżyserka: "Z tęsknoty za..." 2000 r., "Bo słowacki wielkim poetą był" 2014.
Dawid Ludkiewicz
ur. 5 X 1986 w Lidzbarku Warmińskim, pianista, klawiszowiec, kompozytor i improwizator. Absolwent Uniwersytetu Muzycznego Fryderyka Chopina (kierunek: kompozycja i teoria muzyki, 2011). Laureat Złotego Liścia Retro (2012). Zdobywca II nagrody na konkursie kompozytorskim w Monterey (California, USA). Jest autorem muzyki do filmów oraz spektakli teatralnych. W ostatnich latach Koncertował w Australii (2016, 2018/2019) i Stanach Zjednoczonych (2015) oraz w Anglii, Czechach i Szwajcarii. Występował także na terenie całej Polski wykonując utwory Kabaretu Starszych Panów. Jest artystą bardzo aktywnie działającym na terenie Warszawy prowadząc działalność pedagogiczną, jako nauczyciel gry i improwizacji na fortepianie oraz grając audycje muzyczne dla przedszkoli.
______________________
Kalendarz wydarzeń odbywających się w Bydgoszczy miej zawsze pod ręką dzięki aplikacji mobilnej (Android i iOS).
______________________
Informacje o wydarzeniach przesyłajcie na adres wydarzenia@visitbydgoszcz.pl
______________________
Bydgoskie Centrum Informacji nie ponosi odpowiedzialności za jakiekolwiek zmiany miejsc, godzin i dat wydarzeń.