Imponderabilia | Ala Majewska - wernisaż wystawy
Gdzie?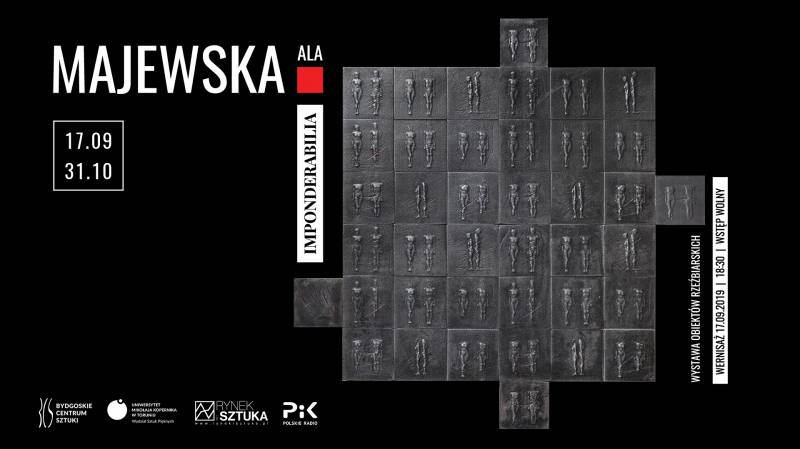 Wystawa toruńskiej rzeźbiarki to prezentacja prowokująca do pytań o współczesne rozumienie pojęcia "wartości" doświadczanego zarówno w obszarze osobistym, jak i w relacjach międzyludzkich opartych na zasadach uniwersalnych. Ala Majewska przedstawi trzy zestawy prac: Artefakty, Tablice i Betony.
Jak pisze artystka: Swoje historie zawieszam w tym, co znamy, w kodach naszej kultury i historii, tej indywidualnej i grupowej, gdzie rozpoznawalne znaki, pojęcia, obrazy powodują, że czujemy się bezpieczni. [...] Chodzi mi o stworzenie takiej sytuacji, by powstała konstrukcja ukrytych znaczeniowych powiązań nie runęła jak domek z kart w kontakcie z widzem.
Ala Majewska / Studia i kariera zawodowa związana z Uniwersytetem Mikołaja Kopernika w Toruniu, dyplom artystyczny z rzeźby w pracowni prof. Adolfa Ryszki uzyskała w 1986 roku. Obecnie jest profesorem na Wydziale Sztuk Pięknych macierzystej uczelni. Zainteresowania twórcze artystki to głównie medal oraz obiekt rzeźbiarski.
Autorka jedenastu wystaw indywidualnych i około stu wystaw zbiorowych w kraju i za granicą. Dwukrotna stypendystka w kategorii sztuka województwa kujawsko-pomorskiego (2004 i 2015). Członkini Międzynarodowej Organizacji Medalierstwa FIDEM, Polskiego Stowarzyszenia Sztuki Medalierskiej oraz Stowarzyszenia Artystycznego "Otwarte". Projektantka prestiżowych wyróżnień dla instytucji państwowych i uczelni, między innymi medali Thorunium, Hereditas Saeculorum, statuetki Convallaria Copernicana.
Jej prace znajdują się w kolekcjach prywatnych i muzealnych w kraju i za granicą (Muzeum Okręgowe w Toruniu, Muzeum Okręgowe w Bydgoszczy, Muzeum Wrocławia, Medialia Gallery w Nowym Jorku).
Mieszka i pracuje w Toruniu.
______________________
Kalendarz wydarzeń odbywających się w Bydgoszczy miej zawsze pod ręką dzięki aplikacji mobilnej (Android i iOS).
______________________
Informacje o wydarzeniach przesyłajcie na adres wydarzenia@visitbydgoszcz.pl
______________________
Bydgoskie Centrum Informacji nie ponosi odpowiedzialności za jakiekolwiek zmiany miejsc, godzin i dat wydarzeń.