WSO: Obywatel w biedzie.Jak ubóstwo ogranicza prawa obywatelskie
Gdzie?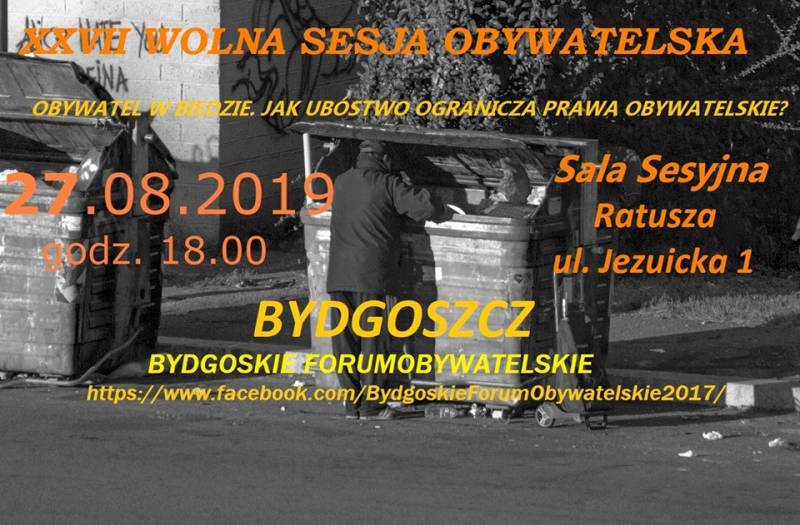 Bydgoskie Forum Obywatelskie serdecznie zaprasza WSZYSTKICH na kolejną, XXVII Wolną Sesję Obywatelską.
Tym razem – porozmawiamy o ubóstwie i wykluczeniu z życia obywatelskiego i społecznego ze względu na biedę.
OBYWATEL W BIEDZIE. JAK UBÓSTWO OGRANICZA PRAWA OBYWATELSKIE?
Naszych Gości zapytamy jak to właściwie jest z tą biedą w Polsce – czy poziom ubóstwa realnie wzrasta czy maleje? Słyszymy codziennie z ust przedstawicieli partii rządzącej zapewnienia, że Polacy obecnie bogacą się na niespotykana nigdy wcześniej skalę, a jednocześnie Główny Urząd Statystyczny prezentuje raport o poważnym wzroście skrajnego ubóstwa w Polsce. Skąd te rozbieżności, czy mamy do czynienia z fałszowaniem rzeczywistości, czy raczej z nieobiektywnymi badaniami?
Czy istnienie w społeczeństwie osób nie mogących zaspokoić podstawowych potrzeb ma jakieś istotne znaczenie dla sprawnego funkcjonowania demokracji? Co tak naprawdę znaczy być wykluczonym z życia obywatelskiego z powodu posiadania dochodów niewystarczających na przeżycie do następnej wypłaty pensji albo skromnego świadczenia? Jak społeczeństwo odnosi się do tych, którym brakuje środków do życia?
Ubóstwa nie stwarzają ludzie ubodzy. Stwarza je zbudowany przez nas system, zorganizowane przez nas instytucje i formułowane przez nas pojęcia. Nie wystarczy dać ubogim datek, jałmużnę, zasiłek, 500+ – niezależnie od tego, jak nazwiemy takie świadczenie. Jak zatem państwo, samorządy, organizacje pozarządowe powinny mierzyć się ze zjawiskiem powiększającej się w ostatnich latach – wg ostatniego raportu GUS - sfery ubóstwa?
Zapraszamy do dyskusji!
Będą z nami, Wiceprezydent Miasta Bydgoszczy, pani Iwona Waszkiewicz i pan Dominik Owczarek, Kierownik Programu Polityki Społecznej w Instytucie Spraw Publicznych, polski korespondent European Foundation for the Improvement of Living and Working Conditions (EUROFOUND). Absolwent filozofii i psychologii, a także socjologicznych studiów doktoranckich na Uniwersytecie Warszawskim, stypendysta Freie Universität w Berlinie i Uniwersytetu Jagiellońskiego. Członek Trade Union related Research Institutes (TURI) network przy brukselskim ETUI. Realizował projekty badawcze dla Komisji Europejskiej, Banku Światowego, UN-HABITAT, Europe-Asia Foundation, Deloitte. Współpracuje z uniwersytetami i think tankami z Polski, Europy i nie tylko.
______________________
Kalendarz wydarzeń odbywających się w Bydgoszczy miej zawsze pod ręką dzięki aplikacji mobilnej (Android i iOS).
______________________
Informacje o wydarzeniach przesyłajcie na adres wydarzenia@visitbydgoszcz.pl
______________________
Bydgoskie Centrum Informacji nie ponosi odpowiedzialności za jakiekolwiek zmiany miejsc, godzin i dat wydarzeń.