BOTM vol.13 - Battle Of The Machines
Gdzie?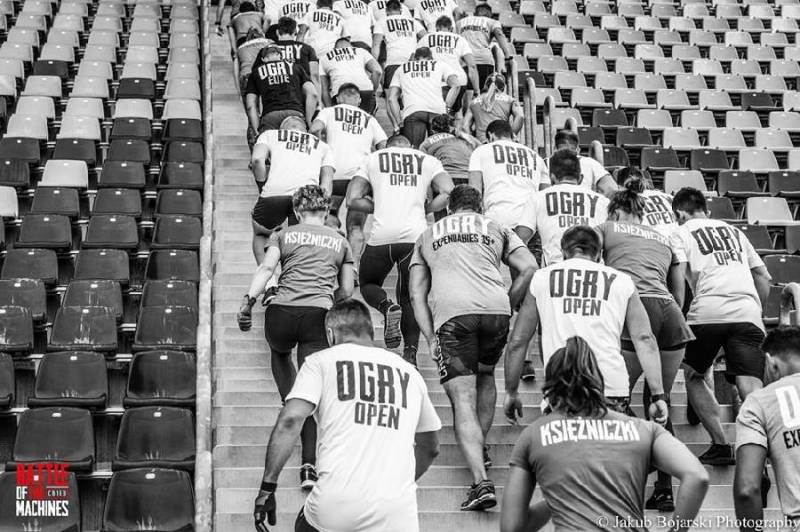 Informacje od Organizatora:
Trzynasta edycja zawodów BOTM, podczas których Księżniczki i Ogry będą walczyć w kategoriach OPEN, ELITE i EXPENDABLES.
Ilość miejsc: 100
KSIĘŻNICZKI: OPEN i ELITE
EXPENDABLES: 35+ I 45+
OGRY: OPEN i ELITE
WAZNA INFORMACJA:
NIE PRZYJMUJEMY ZGŁOSZEŃ GRUPOWYCH, KAŻDY MUSI SIĘ ZGŁOSIĆ INDYWIDUALNIE!
Zgłoszenia przesyłacie na: zawodybotm@gmail.com
UWAGA !
Bierzemy pod uwagę zgłoszenia nadesłane od 06.04.2019, od godziny 14:00.
W zgłoszeniu podajcie:
- imię i nazwisko
- kategorię
- rozmiar koszulki
- klub który reprezentujecie lub miasto
- ile razy startowaliście w BOTM i w których edycjach
W odpowiedzi na maila otrzymacie potwierdzenie zgłoszenia i numer konta, na który należy dokonać wpłaty.
Czas odpowiedzi: do 12.04.2019.
Koszt:
100 zł do 22.04.2019
150 zł od 23.04.2019
50 zł Aktywni Członkowie CB163
Decyduje kolejność zgłoszeń* i wpłaty.
*W PRZYPADKU DUŻEGO ZAINTERESOWANIA WPROWADZIMY LOSOWANIE!
Wpłata jest potwierdzeniem przybycia.
W przypadku niemożliwości przyjazdu nie zwracamy opłaty.
Zawodnik może poszukać na swoje miejsce innej osoby.
Koszulkę uczestnictwa zawodnik otrzyma jedynie po UKOŃCZENIU WOD 0.
ps: Nocleg w CB163 jest możliwy, ale liczba miejsc jest ograniczona - chętne osoby prosimy o informację w mailu.
Nie chcemy zmieniać formuły tych zawodów. Chcemy utrzymać miłą, rodzinną atmosferę. Wszystkich, którzy nie dostali się na zawody zapraszamy AFTER PARTY, które odbędzie się z czwartku na piątek.... z WODem BENDER o godzinie 00:00.
____________________
Kalendarz wydarzeń odbywających się w Bydgoszczy miej zawsze pod ręką dzięki aplikacji mobilnej (Android i iOS).
______________________
Informacje o wydarzeniach przesyłajcie na adres wydarzenia@visitbydgoszcz.pl
______________________
Bydgoskie Centrum Informacji nie ponosi odpowiedzialności za jakiekolwiek zmiany miejsc, godzin i dat wydarzeń.