Piosenki znane i lubiane - koncert nad Balatonem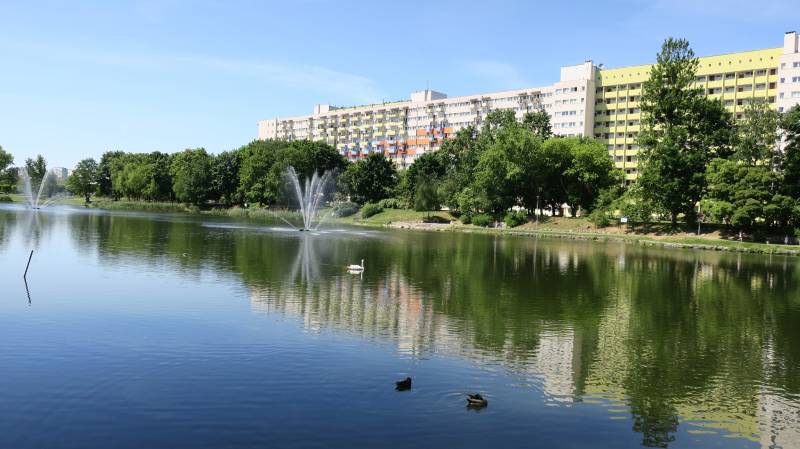 W sobotę, 10 sierpnia nad Balatonem wysłuchamy popularnych utworów. Wystąpią Anna Hnatowicz wraz z zespołem oraz rockowy BANAU. Początek koncertu o godzinie 17.
W zeszłym roku mieszkańcy osiedla Bartodzieje wybrali w głosowaniu organizację plenerowych koncertów nad Balatonem. Wydarzenie organizacji plenerowych koncertów zostało wprowadzone do budżetu Miasta po dodatkowej analizie kosztów. Na Bartodziejach dodatkowa kwota ponad 125 tysięcy złotych pozwoli zorganizować pierwsze plenerowe koncerty nad Balatonem. Ta forma spędzania wolnego czasu w Bydgoszczy staje się coraz popularniejsza co pokazuje m.in. duża frekwencja na koncertach "Rzeka muzyki" organizowanych w centrum miasta. Scena znajdować się będzie nad samym Balatonem.
Usłyszymy przeboje takie jak: "Skyfall" Adele, "Vallery" Amy Winehouse, "Nazywam się niebo" Natalii Przybysz, "Summertime sadness" Lany Del Rey, "Happy" Pharella Williamsa, "Missisipi w ogniu" Organka czy "Tego chciałam" Ani Dąbrowskiej.
Pierwszy z cyklu czterech koncertów zgromadził nad Balatonem około 600 bydgoszczan. Dziękujemy wszystkim mieszkańcom – szczególnie tym najmłodszym, którzy pojawili się w minioną sobotę na koncercie "Ahoj przygodo - szantowe przygody nad wodą".
Kolejne koncerty plenerowe nad Balatonem odbędą się w następujących terminach:
24 sierpnia Bisz & B.O.K. i WMW
7 września: Queens of violins i Trzej tenorzy.
Anna Hnatowicz wraz z zespołem:
Od klasycznego jazzu i nieśmiertelnego rocka, przez akustyczne pełne emocji ballady, które umiłowała sobie szczególnie. Na co dzień pisze oraz śpiewa z Marcinem Cholewą, gitarzystą. Uczestniczka programów "Mam talent" czy "X-Factor" oraz laureatka wielu prestiżowych konkursów. Koncertowała z Polską Orkiestrą Muzyki Filmowej, śpiewała w zespole rockowym Arytmia oraz współpracuję z toruńską formacją Brajton. Podczas koncertu Anna Hnatowicz wraz z zespołem wykonywać będzie znane rovery radiowe, jak i własne kompozycje.
BANAU
To 3-osobowy zespół z Bydgoszczy, grający energetycznego rocka połączonego z rockowymi balladami. Mają na swoim koncie płyty: "ADHDEMO", "Perpetuum Mobilne", "To co ważne". BANAU jest także rekordzistą w skali kraju pod względem ilości zagranych koncertów podczas jednego finału WOŚP, zagrał ich aż dziesięć, o czym wielokrotnie wspominał w mediach Jurek Owsiak.
Wystąpili także w programie "Must be the music. Tylko muzyka", koncertowali w studiu Polskiego Radia oraz reprezentowali województwo na ogólnopolskim festiwalu Polskiego Radia. Obecny skład zespołu tworzą: Jakub Szczerbiński, Szymon Niewiemski, Piotr Ślaski.
Zagrają autorskie kawałki takie jak: "ADHD", "Jedno słowo", "Moje serce", "Na zimę", "Przygoda", "Wojna", "Zagubiona" czy "Zatrzymaj czas".
______________________
Kalendarz wydarzeń odbywających się w Bydgoszczy miej zawsze pod ręką dzięki aplikacji mobilnej (Android i iOS).
______________________
Informacje o wydarzeniach przesyłajcie na adres wydarzenia@visitbydgoszcz.pl
______________________
Bydgoskie Centrum Informacji nie ponosi odpowiedzialności za jakiekolwiek zmiany miejsc, godzin i dat wydarzeń.