Otwarcie wystawy: Paweł Błęcki. Tymczasowe zagęszczenie materii
Gdzie?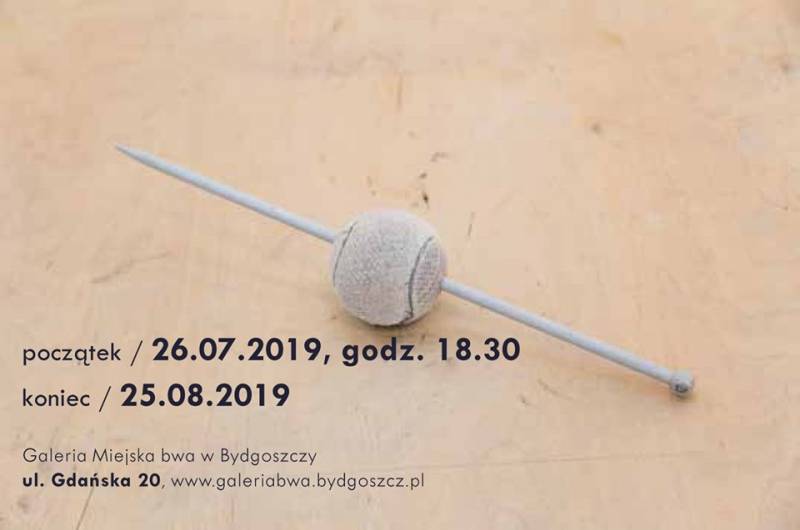 Otwarcie wystawy, będącej finałem rezydencji artystycznej Pawła Błęckiego na ulicę Gdańską 20 o godzinie 18.30.
(…) W Tymczasowym zagęszczeniu materii można znaleźć nienormatywną perspektywę, która pozwala spojrzeć na mocno osadzone kategorie kulturowe jak na materiał badawczy. To daje szansę wyemancypowania nas samych z bezradności, niewiedzy, obojętności wobec sygnałów o ekologicznej porażce. "Queerowe archiwum rzeczy podniesionych" to zbiór otwarty przedmiotów -rzucanych przez morze i ludzi, które będąc w nieustannym ruchu - podniesione z ziemi - znajdują swoje miejsce w procesie twórczym artysty. Rytuał przyjęcia i zrobienia miejsca dla tego, co odrzucone, wyparte, uznane za niepotrzebne, czy inne to wyjście z impasu recyklingu, z porządków codzienności. W ten sposób queerowane skrypty ekologiczne otwierają współczesną ludzką logikę na możliwość oddania się (raz jeszcze, a może po raz pierwszy) przedmiotom, tak bardzo organicznym.
Taki demontaż myślenia prowokuje do składania paradoksalnych wniosków: być może, wyrównujemy nasz dług wobec natury, jeśli uruchamiamy w sobie umiejętność queerowania relacji, działań, przestrzeni, czy przedmiotów i praktyk z nimi związanych. Być może, wyrównujemy nasz dług, jeśli czujemy, że kategoria odpadu może powołać do życia kategorię odzysku, zwłaszcza że nasze relacje z przedmiotami są właściwie tak ścisłe, intymne i wzajemne, że pozwalają nam być ludźmi. Być może, bo jest przecież i tak, że to rzeczy wikłają ludzi w przemocowe relacje wobec natury i innych ludzi. Przemoc konsumpcyjna jest w zasadzie niewidoczna.
Osobista narracja artysty o przedmiotach jest nieskończona i nie kończąca się, tak jak nieskończona jest ich produkcja. Cykl biografii przedmiotów powstaje z przekonania, jak i z doświadczenia wzajemności przedmiotów i ludzi oraz potencjału przedmiotów do bycia żywymi poprzez wchodzenie w relacje z człowiekiem.
(…)
Danka Milewska
______________________
Kalendarz wydarzeń odbywających się w Bydgoszczy miej zawsze pod ręką dzięki aplikacji mobilnej (Android i iOS).
______________________
Informacje o wydarzeniach przesyłajcie na adres wydarzenia@visitbydgoszcz.pl
______________________
Bydgoskie Centrum Informacji nie ponosi odpowiedzialności za jakiekolwiek zmiany miejsc, godzin i dat wydarzeń.