Czytamy Tutaj - Warsztaty z robienia zakładek do książek
Gdzie?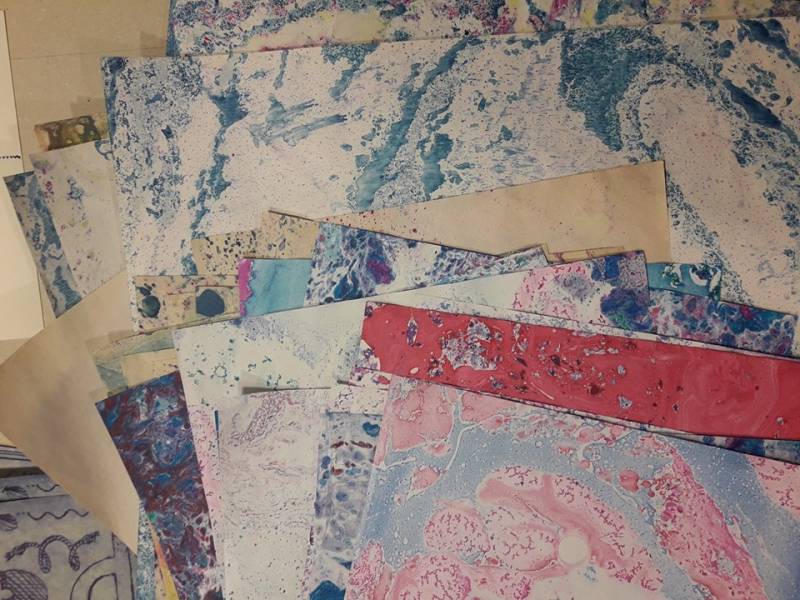 Warsztaty z robienia zakładek do książek
Wakacje to moment gdy częściej niż zwykle mamy czas chwycić za książkę. Dlatego idąc tym tropem odrywamy Was od telefonów, laptopów i zachęcamy do wzięcia udziału ze swoimi dziećmi w warsztatach z robienia zakładek do książek.
Warsztaty poprowadzi Ania Falenczyk - ukończyła z tytułem magistra, ASP w Gdańsku, specjalizuje się w takich technikach jak linoryt i litografia. Na Warsztatach pomoże stworzyć kolorowe i przepiękne grafiki (tzw. papier marmurkowy), które później mogą posłużyć jako niepowtarzalne zakładki do książek.
Więcej o samej technice: papier marmurkowy jest to papier ozdobny zwany również papierem tureckim, papierem Ebru. Znany głownie z opraw książek, jako okładka, a także jako środek czyli wyklejka. Tworzymy taki papier poprzez "wpuszczenie" na taflę wody specjalnego roztworu farby pędzelkami lub innymi narzędziami. Każdy wzór jest jedyny i niepowtarzalny, jest unikatem. Odbijamy przykładając kartkę papieru.
Dodatkowo będziemy mogli się cieszyć wsparciem Skrzynka na bajki - pracownia i księgarnia dla dzieci. Od dnia warsztatów przez tydzień będzie można u nas kupić wybrane przez nich specjalnie na te okazje książki!
Szczegóły niżej:
Warsztaty dzielimy na DWIE GRUPY
PIERWSZA GRUPA:
Dzieci 5- 8 lat i ich rodzice
Miejsc: 5
Godzina: 12:00
Czas 30 - 45 minut
Cena: 10 zł
DRUGA GRUPA:
Dzieci 8-12 lat i ich rodzice
Miejsc: 5
Godzina: 13:00
czas 45 - 60 minut
Cena: 10 zł
zapisy pod numerem telefonu: 600135050 lub na e-mail: kontakt@parzymy.pl lub w wiadomości na facebooku
______________________
Kalendarz wydarzeń odbywających się w Bydgoszczy miej zawsze pod ręką dzięki aplikacji mobilnej (Android i iOS).
______________________
Informacje o wydarzeniach przesyłajcie na adres wydarzenia@visitbydgoszcz.pl
______________________
Bydgoskie Centrum Informacji nie ponosi odpowiedzialności za jakiekolwiek zmiany miejsc, godzin i dat wydarzeń.