Whitney Houston symfonicznie
Gdzie?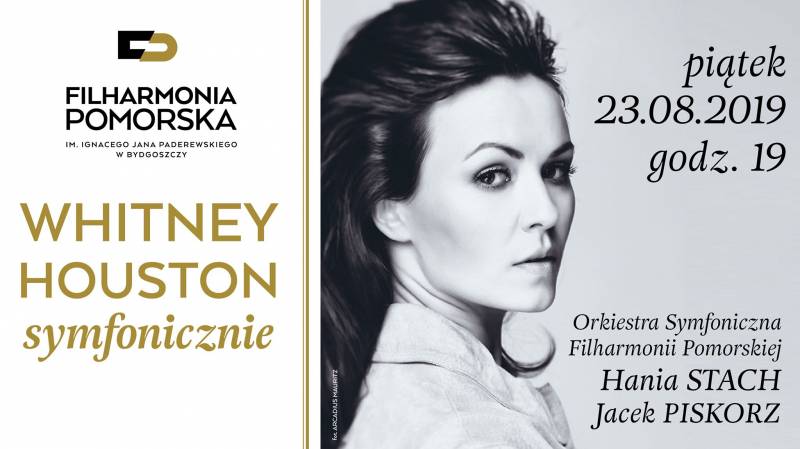 Orkiestra Symfoniczna Filharmonii Pomorskiej

Adam Banaszak, dyrygent
Hania Stach wokal
Jacek Piskorz, pianista, aranżer
słynne piosenki z repertuaru W. Houston, m.in.:
DIDN'T WE ALMOST HAVE IT ALL, SAVING ALL MY LOVE FOR YOU, SO EMOTIONAL, RUN TO YOU, I WILL ALWAYS LOVE YO


11 lutego 2012 świat obiegła tragiczna wiadomość – jedna z największych gwiazd muzyki pop, aktorka, producentka Whitney Houston zmarła w wieku zaledwie 48 lat. Podczas ponad 25-letniej kariery jej albumy i single rozeszły się w nakładzie przekraczającym 170 milionów egzemplarzy. Za swoją twórczość zdobyła ok. 400 nagród, m.in. sześć statuetek Grammy oraz dwie Emmy.

W 2013 Hania Stach wraz z Jackiem Piskorzem – pianistą i aranżerem, znanym z programów telewizyjnych, na co dzień współpracującym z orkiestrami i artystami w kraju i za granicą – stworzyła projekt "Whitney Houston symfonicznie"/ "W hołdzie Whitney Houston", w którym z powodzeniem wykonuje największe przeboje piosenkarki, w tym ponadczasowe hity z filmu "Bodyguard" nominowanie do Oscara 1993. Artystce na scenie towarzyszy prócz orkiestry symfonicznej skład cenionych instrumentalistów.
______________________
Kalendarz wydarzeń odbywających się w Bydgoszczy miej zawsze pod ręką dzięki aplikacji mobilnej (Android i iOS).
______________________
Informacje o wydarzeniach przesyłajcie na adres wydarzenia@visitbydgoszcz.pl
______________________
Bydgoskie Centrum Informacji nie ponosi odpowiedzialności za jakiekolwiek zmiany miejsc, godzin i dat wydarzeń.