17 Bydgoszcz Jazz Festival - KONCERTY GWIAZD: Greg Ozby- USA, Tal Cohen - Izrael
Gdzie?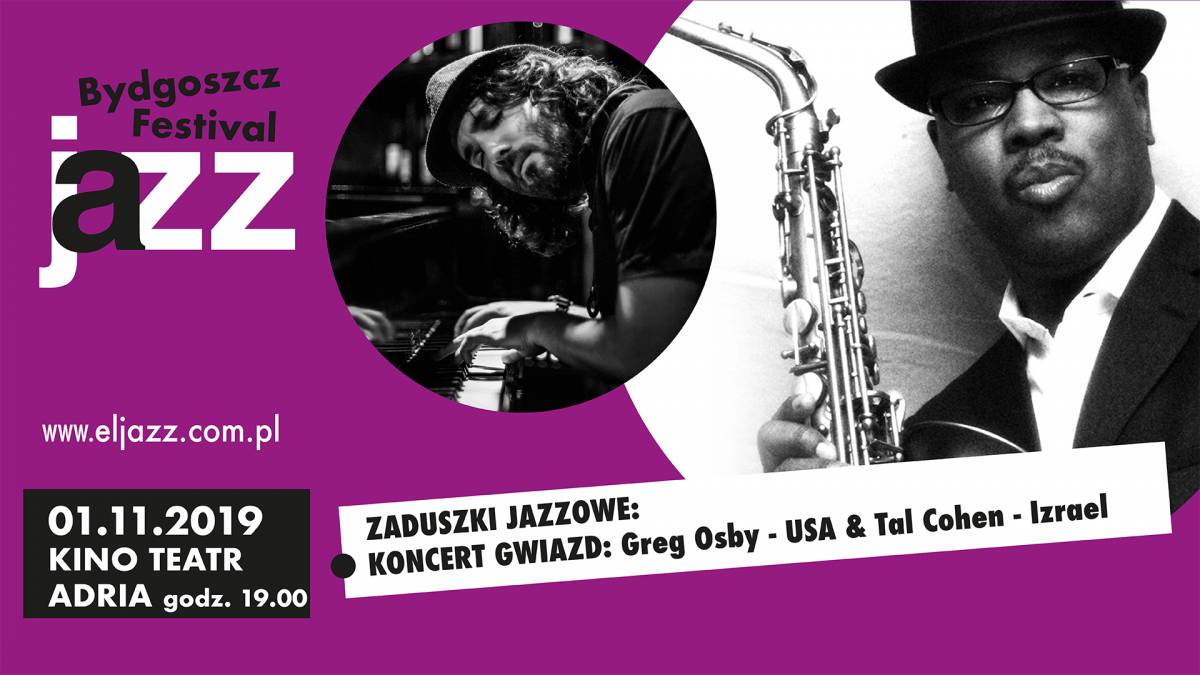 Greg Osby - Saksofonista amerykański, kompozytor, producent, pedagog.
Urodzony w 1960 r. i wychowany w St Louis. W latach 1980 - 1983 studiował w prestiżowym Berklee College of Music (Boston, MA). Po studiach na stałe osiadł w Nowym Jorku.Wywarł niezatarte piętno na współczesnym jazzie w ciągu ostatnich 30 lat. Ceniony za swoje wnikliwe i innowacyjne podejście do jazzowych kompozycji oraz koncertów. Osby jest czterokrotnym zdobywcą prestiżowej nagrody Jazz Journalists Award i laureatem nagrody kompozytorskiej przyznawanej przez Doris Duke Foundation. Biografia Grega Osby'iego to kawałek historii jazzu - od lat 80' występował i nagrywał z największymi gwiazdami, takimi jak Herbie Hancock, Dizzy Gillespie, Jack DeJohnette, Steve Coleman, Jim Hall i Andrew Hill. Występował w każdym zakątku świata, na najważniejszych festiwalach jazzowych. Nagrał piętnaście albumów dla legendarnego Blue Note Records. W 2008 roku, Osby uruchomił własną wytwórnię, "Inner Circle Music", która służy jako platforma dla wielu dzisiejszych najzdolniejszych artystów z całego świata. Osby wciąż szuka nowych talentów, którym umożliwia zaistnienie na rynku jazzowym.
Tal Cohen - urodzony 30 lat temu w Izraelu, wychowany w Australii, pianista i kompozytor, to jeden z najbardziej oryginalnych i utalentowanych muzyków na dzisiejszej scenie jazzowej, jest laureatem wielu nagród, w tym Wielkiej Nagrody prestiżowego Krajowego Konkursu Pianistycznego im. Barry'ego Harrisa oraz nagrody Narodowego Stowarzyszenia Pianistyki Jazzowej. Jego nowa płyta "Gentle Giants" zyskała wielkie uznanie, w tym 4 gwiazdki w prestiżowym magazynie "Down Beat". Unikatowa wiza "genius" została mu przyznana przez władze Stanów Zjednoczonych, gdzie obecnie mieszka. Tal Cohen stale koncertuje na całym świecie prezentując swój unikalny styl muzyki improwizowanej. Ostatnio podczas koncertu w wypełnionej po brzegi operze w Sydney, otrzymał nagrodę Freedman Fellowship, która zapewniła mu kontrakt płytowy.
"Tal Cohen jest jednym z najlepszych z tych nielicznych młodych, natchnionych pianistów, których spotkałem w moich podróżach ... Gra Tala jest pełna pasji, skupienia i kreatywności" - Joe Lovano
"I nagroda Tala w Krajowym Konkursie Pianistycznym im. Barry'ego Harrisa na Detroit Jazz Festiwal 2014 jest dowodem sukcesu tej inicjatywy w poszukiwaniu naprawdę wybitnych głosów w dzisiejszym świecie jazzu." - Chris Collins, Dyrektor Artystyczny, Detroit Jazz Festival
"Tal Cohen jest jedną z najjaśniejszych gwiazd wśród pianistów. Czekaliśmy na kogoś takiego od bardzo dawna i wygląda na to, że utrzyma się na szczycie tej krzywej, zmieniając nasze opinie na temat muzyki" - Terence Blanchard.
______________________
Kalendarz wydarzeń odbywających się w Bydgoszczy miej zawsze pod ręką dzięki aplikacji mobilnej (Android i iOS).
______________________
Informacje o wydarzeniach przesyłajcie na adres wydarzenia@visitbydgoszcz.pl
______________________
Bydgoskie Centrum Informacji nie ponosi odpowiedzialności za jakiekolwiek zmiany miejsc, godzin i dat wydarzeń.