Wojciech Cejrowski stand-up
Gdzie?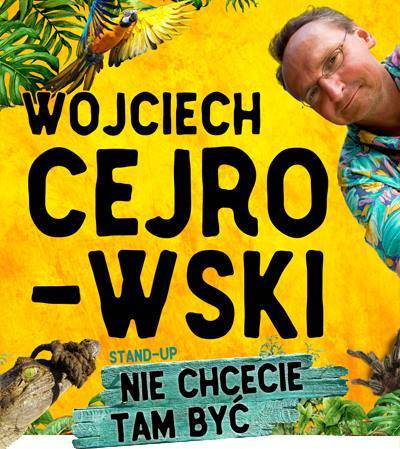 Trasa 2019 i najnowszy program stan-up comedy

Występy Wojciecha Cejrowskiego bez polityki, przekleństw, za to z ogromną dawką dobrego humoru ...

... trwają tyle co dobry seans kinowy - prawie 2 godziny. Na pustej scenie jedynie mikrofon i WC. Za plecami ekran i zdjęcia z projektora (chociaż nie wiemy jeszcze czy w tym roku pojawią się zdjęcia!)- jako dekoracje i rekwizyty. Samotny człowiek z mikrofonem, który zapewnia Państwu ubaw i łzy. Na jego występ można spokojnie zabrać dzieci i babcię, bo WC nie przeklina i nie świntuszy.

***
NAJNOWSZY PROGRAM - NIE CHCECIE TAM BYĆ
Zabawna opowieść o tych przygodach, których mi Państwo zazdroszczą. A ja się upieram, że jednak nie chcecie tam być. Oczywiście nikogo nie uda mi się przekonać; ale będę próbował.
Zanim się dotrze do Indian, trzeba najpierw płynąć blaszanym statkiem, na którym jest miejsc pięćdziesiąt, a ludzi trzystu – to jest romantyczne pierwszego dnia, ale rejs trwa tydzień. Potem przesiadasz się do pirogi i od tej chwili na kolację masz albo pieczoną anakondę, albo nic. Codziennie. To brzmi kusząco? A co robić, gdy wódz wciska ci do hamaka najbrzydszą ze swoich żon? Moim zdaniem NIE CHCECIE TAM BYĆ.
O takich rzeczach jest to przedstawienie. Pośmiejemy się wspólnie – ze mnie.

WC

***
Przed każdym występem WC stoi pod salą na stoisku z książkami i wita gości. Okazja do zdjęcia, do rozmowy. Po występie podobnie i WC nigdy nie ucieka do domu, lecz zawsze dzielnie trwa na posterunku do ostatniej chętnej osoby! Przy salach na 400-500 osób trwa to około godziny. W Krakowie, gdzie raz w roku dajemy występ na sali dla 1200 osób, dwie godziny! WC stoi, pozuje do zdjęć, wpisuje dedykacje do książek i z uśmiechem popija swoją yerbę. Jest cierpliwy jak żółwie błotne. (Choć potrafi też być szybki, jak grzechotnik.)
____________________
Kalendarz wydarzeń odbywających się w Bydgoszczy miej zawsze pod ręką dzięki aplikacji mobilnej (Android i iOS).
______________________
Informacje o wydarzeniach przesyłajcie na adres wydarzenia@visitbydgoszcz.pl
______________________
Bydgoskie Centrum Informacji nie ponosi odpowiedzialności za jakiekolwiek zmiany miejsc, godzin i dat wydarzeń.