Oko Nigdy Nie Śpi, GRA od 12.00 w Ostromecku, dzień III
Gdzie?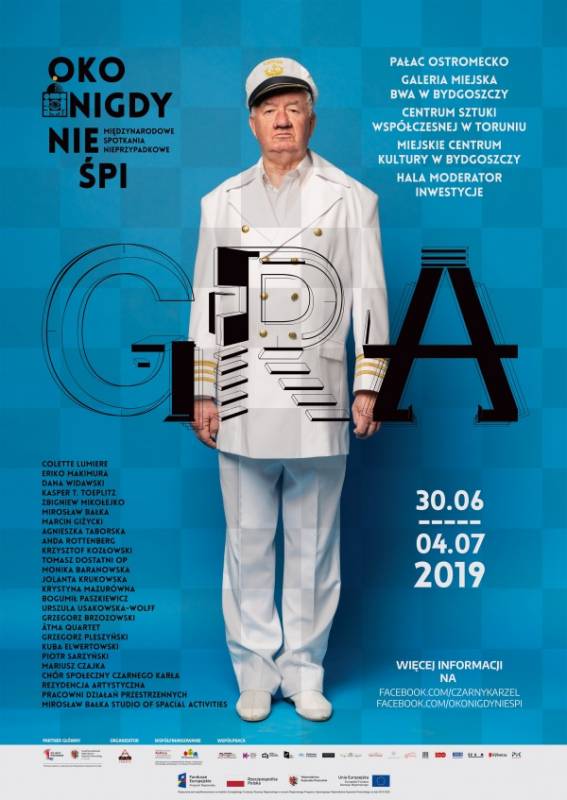 12:00 Agnieszka Taborska "Wyborny trup i inne przyjemności", wykład (Pałac Nowy)
16:00 Zbigniew Mikołejko – wykład "Potlacz, czyli gra mocy" (Pałac Nowy)
18:00 Grzegorz Brzozowski film "Obcy na mojej kanapie" (Pałac Nowy)
20:30 Wizyta w Studio Filmowym Czarnego Karła w Bydgoszczy / performance Eriko Makimura / postindustrialna hala Moderator Inwestycje Sp. z o.o.
22:00 Oratorium "Phoebe" na podstawie książki Agnieszki Taborskiej "Niedokończone życie Phoebe Hicks" – Chór Społeczny Czarnego Karła, reżyseria – Grzegorz Pleszyński, Jacek Puzinowski, muzyka – Grzegorz Pleszyński (Miejskie Centrum Kultury w Bydgoszczy)
23:00 Agnieszka Taborska, Marta Filipiak, Grzegorz Pleszyński, Jacek Puzinowski – rozmowa o oratorium Phoebe (Miejskie Centrum Kultury w Bydgoszczy)
Międzynarodowe Spotkania Nieprzypadkowe OKO NIGDY NIE ŚPI
Spotkania Nieprzypadkowe "OKO NIGDY NIE ŚPI" to festiwal nietypowy. To święto sztuki, kultury i kreatywności, tworzone od 6 lat przez Fundację Czarny Karzeł.
Motto tegorocznej edycji - "GRA", sformułował czołowy, polski filozof prof. Zbigniew Mikołejko i właśnie wokół tej idei będą sytuowały się wszystkie festiwalowe wydarzenia. Oczywiście temat spotkań jest tylko pretekstem do nawiązania kontaktu, wymiany doswiadczeń, dyskusji…i powstawania oraz kontynuacji wspólnych projektów.
Łączymy w jedną całość performance, literaturę, film, muzykę, wszelkie odmiany sztuki współczesej, włączając w to m.in. operę społeczną. Dzięki temu podczas "Oka" rodzą się nowe idee, koncepcje artystyczne i społeczne.
____________________
Kalendarz wydarzeń odbywających się w Bydgoszczy miej zawsze pod ręką dzięki aplikacji mobilnej (Android i iOS).
______________________
Informacje o wydarzeniach przesyłajcie na adres wydarzenia@visitbydgoszcz.pl
______________________
Bydgoskie Centrum Informacji nie ponosi odpowiedzialności za jakiekolwiek zmiany miejsc, godzin i dat wydarzeń.