Oko Nigdy Nie Śpi , GRA od 12.00 w Ostromecku, dzień IV
Gdzie?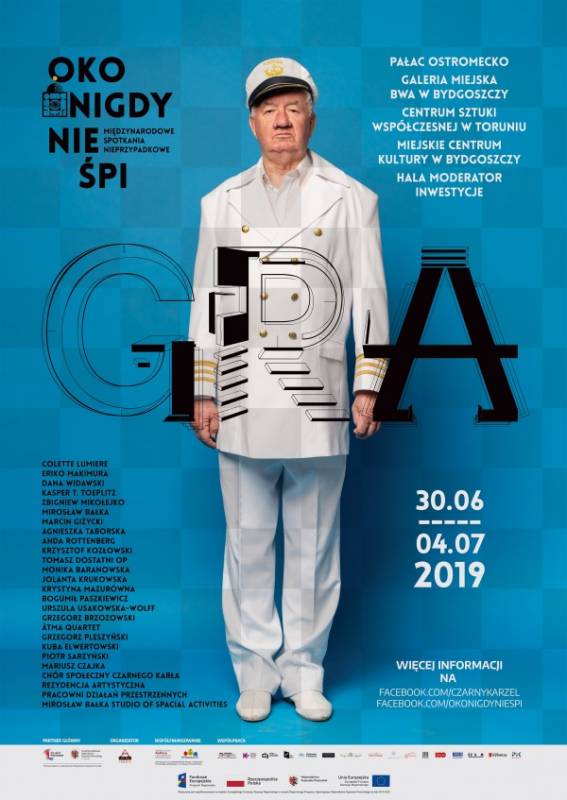 12:00 Bogumił Paszkiewicz – limeryki freewolne / tylko dla dorosłych (Pałac Stary)
13:00 Rezydencja artystyczna Pracowni Działań Przestrzennych Mirosław Bałka Studio of Spatial Activities (Zespół Parkowy Ostromecko)
15:00 Tomasz Dostatni i Zbigniew Mikołejko "Kościół w grze o 'duszę polską'", rozmowę poprowadzi Michał Nogaś (Pałac Nowy)
16:40 Wyjazd do Centrum Sztuki Współczesnej w Toruniu
18:30 Urszula Usakowska-Wolff, Olga Magieres, Anna Zielińska, Natasza Czerwińska, Agnieszka Zaręba – performance Czerwone rękawiczki (CSW w Toruniu)
19:00 "Ironia i prawda. Co znaczy dzisiaj autentyczność w kulturze?" – panel dyskusyjny z udziałem Andy Rottenberg, Mirosława Bałki, Zbigniewa Mikołejki, Krzysztofa Kozłowskiego i Grzegorza Brzozowskiego jako prowadzącego (CSW w Toruniu)
22:00 Kasper T. Toeplitz – koncert plenerowy (Pałac Stary – taras)
23:00 Jolanta Krukowska Akademia Ruchu, performance "Droga Czerwonego Kapturka" (Pałac Stary)
Międzynarodowe Spotkania Nieprzypadkowe OKO NIGDY NIE ŚPI
Spotkania Nieprzypadkowe "OKO NIGDY NIE ŚPI" to festiwal nietypowy. To święto sztuki, kultury i kreatywności, tworzone od 6 lat przez Fundację Czarny Karzeł.
Motto tegorocznej edycji - "GRA", sformułował czołowy, polski filozof prof. Zbigniew Mikołejko i właśnie wokół tej idei będą sytuowały się wszystkie festiwalowe wydarzenia. Oczywiście temat spotkań jest tylko pretekstem do nawiązania kontaktu, wymiany doswiadczeń, dyskusji…i powstawania oraz kontynuacji wspólnych projektów.
Łączymy w jedną całość performance, literaturę, film, muzykę, wszelkie odmiany sztuki współczesej, włączając w to m.in. operę społeczną. Dzięki temu podczas "Oka" rodzą się nowe idee, koncepcje artystyczne i społeczne.
____________________
Kalendarz wydarzeń odbywających się w Bydgoszczy miej zawsze pod ręką dzięki aplikacji mobilnej (Android i iOS).
______________________
Informacje o wydarzeniach przesyłajcie na adres wydarzenia@visitbydgoszcz.pl
______________________
Bydgoskie Centrum Informacji nie ponosi odpowiedzialności za jakiekolwiek zmiany miejsc, godzin i dat wydarzeń.