Atos Rocking for Wioleta
Gdzie?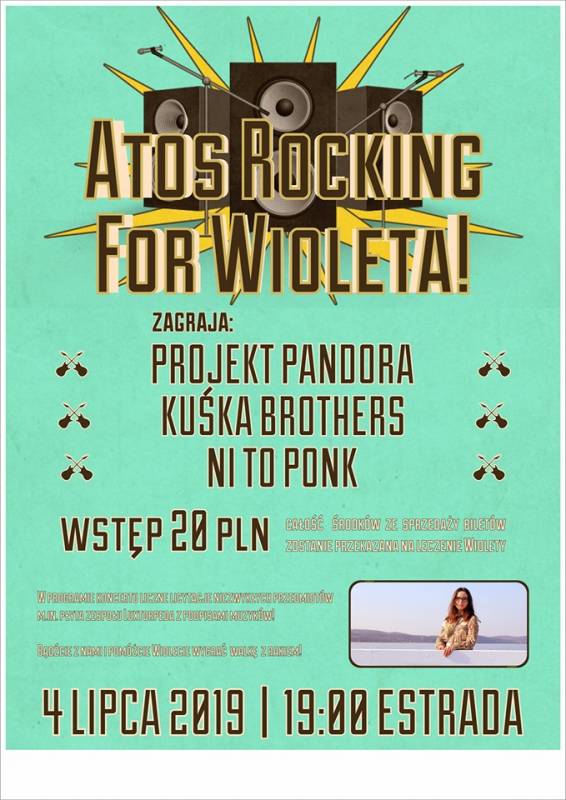 Estrada wspólnie z pracownikami bydgoskiego oddziału firmy ATOS zaprasza na wyjątkowe wydarzenie charytatywne "ATOS ROCKING FOR WIOLETA". Celem tego przedsięwzięcia jest pomoc dla Wiolety Antoniak, która rozpoczęła najtrudniejszą walkę w życiu - zmaganie z nowotworem.
Przeczytajcie sami apel Wiolety!
Śmiertelna choroba nie wybiera - najczęściej spada jak grom z jasnego nieba i to w najmniej oczekiwanym momencie. Podobnie było ze mną, po wielu miesiącach ciężkiej walki o swoje zdrowie pokonałam dolegliwości zdrowotne. Wróciłam do pracy, zapracowałam na awans, a w życiu prywatnym udało mi się w końcu odnaleźć prawdziwą miłość. I gdy wydawało się, że wszystko jest na najlepszej drodze do szczęśliwej przyszłości wiła się diagnoza - najbardziej agresywna odmiana nowotworu czyli potrójnie ujemny rak piersi.
Pomóżcie mi w walce o swoje zdrowie i swoje marzenia.
Liczy się każda pomoc.
W trakcie koncertu będziemy zbierać środki, które pomogą Wiolecie pokrycie wysokość przynajmniej jednego miesiąca leczenia. A te wynoszą dokładnie 10 933,93 zł miesięcznie.
4 lipca o godz. 19:00 na scenie Estardy dla Wiolety zagrają 3 świetne projekty:
Z Włocławka NI TO PONK
Z Bydgoszczy PROJEKT PANDORA
Z Olsztyna legendarna KUŚKA BROTHERS
Wstęp na kocert to 20 zł a całość zebranych środków będzie przeznaczona na pomoc Wiolecie. Dodatkowo, w trakcie koncertu liczne licytacje i niespodzianki (do wylicytowania m.in. płyta Luxtorpedy z autografami muzyków).
______________________
Kalendarz wydarzeń odbywających się w Bydgoszczy miej zawsze pod ręką dzięki aplikacji mobilnej (Android i iOS).
______________________
Informacje o wydarzeniach przesyłajcie na adres wydarzenia@visitbydgoszcz.pl
______________________
Bydgoskie Centrum Informacji nie ponosi odpowiedzialności za jakiekolwiek zmiany miejsc, godzin i dat wydarzeń.